Clarksville, TN – On Saturday, February 7th, Clarksville Parks and Recreation along with Planters Bank held the 3rd annual Chocolate Affair at the Wilma Rudolph Event Center located at 1190 Cumberland Drive.
Those in attendance had the opportunity to sample products from local vendors, restaurants and groceries. It was a festive event with everyone all smiles as they indulged in chocolate delights.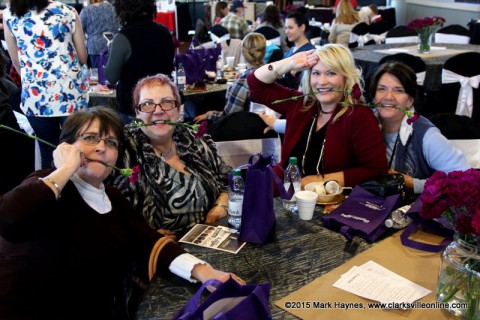 "I thought this was a very lovely event. I would definitely come back." said Deborah Dawson.
The event was broken down into two sessions. The first session went from 2:00pm until 4:00pm and had family friendly entertainment from Magician Russ Nowack and  music by D J Folley of Big Fish Entertainment. The second session was more an adult soiree from 6:00pm until 8:00pm.
Carol Cherich state, "I think it's a wonderful event."
Tickets for the Chocolate Affair were $15.00 and the event sold out quickly again this year.
"This is a chocoholic's heaven. I have been trying to come to this event for two years and this time I made it," said Cheryl Amro.
This year's vendors were:
Austin Peay State University Culinary
Fort Campbell Culinary
La Casa Taqueria
916 Providence Boulevard
Freeze Pleeze
700 Riverside Drive
Gallardo's Cakes and Bakery
215 Dover Road
Great American Cookies
Governor's Square Mall
Hops Road
101 Strawberry Alley
Healthier Lives
Krispy Kreme Doughnuts
2100 Lowes Drive
Kroger
2100 Lowes Drive
The Mixing Bowl Bakery
Publix
1771 Madison Street
Relish
149 Kender Rhea Court, Suite B
Tree of Life Center
30 Crossland Avenue
"We really enjoyed the event. It's very fast paced. It seemed like everyone liked the product. Everyone also seemed to have a really good time," stated Bonnita Lacey with B's Cheesecakes. "We would definitely do it again."
There was something for everyone available. Sweet chocolate creations from fried pies, flash frozen ice cream, cheesecake, spiced rum truffles, donuts, bourbon brownies, cookies,  caramel, candies, you name it.
"I absolutely loved the chocolate ribs. They were do die for. I would defiantly come back. Last year, I could not get a ticket to this event. So, this has been on my bucket list and I can say I am about in a chocolate coma for sure," Lauri Morrison.
This was a great opportunity for the businesses that took part to showcase their products to the local community.
"I think this event is awesome. I think it's a good way to bring the community together and showcase a lot of different businesses. It's a good way for us to get the word out about what we do at our shop," said Angela Seperghan with Freeze Pleeze Ice Cream Shop. "It was just a fun day."
"The event was fun. I just wish I had gotten to go around and taste all the chocolates, stated JoAnne Ross with Healthier Lives. "We had a good turnout at our booth. People seemed to love the smoothies and it was all good. I would absolutely come back to this event."
"The event has been extremely successful. We sold out like we do every year," said Clarksville Parks and Recreation Event Planning Specialist Kate Dula. "We've had a great response from everyone that's attended from both the venders and the public."
"Folks have liked the entertainment, the decorations in addition to the variety of chocolates that were available because we had so many different vendors from different types of vendors, restaurants and grocery stores in the area," stated Dula.
The Chocolate Affair is one of the most sought after tickets in Clarksville. If you missed it this year, make sure to keep an eye out for when they go on sale next year. It's a chocolate lovers dream and the tickets sell out fast.
Photo Gallery