Nashville, TN – The National Weather Service (NWS) has issued an ice storm warning, which is in effect until 9:00am CST Tuesday, February 17th, 2015 for the Clarksville-Montgomery County area as well as parts of Middle Tennessee. The winter storm warning has been cancelled.
An ice storm warning means severe winter weather conditions are expected or occurring. Significant amounts of ice accumulations will make travel dangerous or impossible.
Travel is strongly discouraged.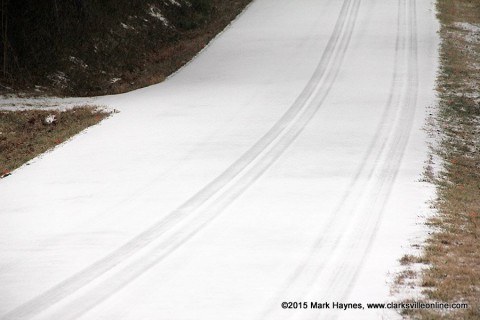 Commerce will likely be severely impacted.
If you must travel, keep an extra flashlight, food, and water in your vehicle in case of an emergency. Snapped power lines and falling tree branches will add to the danger.
The storm that was impacting Middle Tennessee on Monday had produced widespread significant ice amounts. Some additional freezing rain is possible into the evening before precipitation changes to sleet and snow, then tapers off.
The effects of this wintry precipitation will continue through the night and into early Tuesday morning, with very hazardous travel conditions across the mid state.
The ice storm warning has been extended for areas south of Interstate 40 and expanded to include areas along and north of Interstate 40 as well. This ice storm warning serves to raise awareness of significant travel and commerce dangers.
Ice has already collected on roads, trees and power lines across Middle Tennessee. Many surfaces have over one half inch of ice. Some additional ice is expected late today and a coating of snow is possible on top of the ice. Ice totals may reach over 1 inch in some spots by the time precipitation ends. Snowfall totals will exceed 6 inches for some spots along the Kentucky border.
Most other locations will have less than 1 inch of snow.
Ice and snow will cause hazardous travel conditions. Roads that have are slushy Monday afternoon will turn to a sheet of ice overnight as temperatures plummet into the teens.
The weight of ice on trees and power lines is likely to bring down some limbs. Scattered power outages are likely.
Counties Affected
Cheatham County, Clay County, Davidson County, Dickson County, Fentress County, Houston County, Humphreys County, Jackson County, Macon County, Montgomery County, Overton County, Pickett County, Putnam County, Robertson County, Smith County, Stewart County, Sumner County, Trousdale County, and Wilson County.