Clarksville, TN – The Clarksville Police Department reports there have been twenty-four reported collisions since 9:00am. Four of those involved injuries. Patrol cars have gotten stuck in all three districts. Any street with a significant hill is a problem.
The most problematic areas right now are the 1200 block of Needmore Road, New Providence Road at the Cumberland River Bridge (Boot Hill), the South Bypass, and Tiny Town Road near Peachers Mill Road. Most of these areas involve the aforementioned significant hills.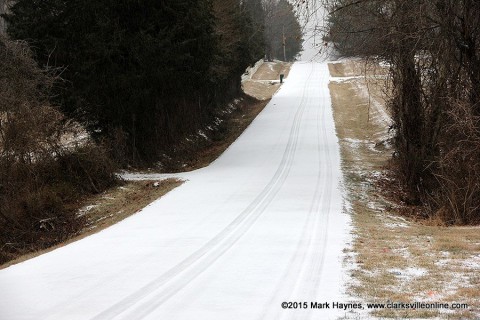 Another city-wide problem involves entering and exiting parking lots. Efforts to clear the roadways have built up large humps of snow and freezing sludge in front of parking lot entrances. Vehicles, including patrol cars, are 'high-centering' and getting stuck on these mounds.
Snow is covering the traffic light sensors and stop bars at major intersections. Drivers are not pulling up far enough to activate the sensors because they can't see the painted stop lines. This is causing congestion at the intersections.
There have been quite a few requests for motorist assistance. Sometimes officers have been able to help, but often the only thing they can do is contact a wrecker service. There have been a few cases where officers answering calls-for-service have had to get as close to the call as the street allows, then stop and walk the rest of the way to the call.
Now for the good news. Vehicle traffic remained very light and did not pick up until after lunch today. Even now, traffic is fairly light. A lot of people wisely heeded the advice to stay home. This has been a big help.
Clarksville Police are still unaware of any electrical outages anywhere in the City of Clarksville. All emergency services are fully staffed and operational.
Ironically, in the case of less drastic inclement weather in recent years our reported collisions have often been two or three times greater than the twenty-four reported today. It appears that people are taking this incident much more seriously.
Clarksville Police continue to ask people to please stay home unless absolutely necessary.