APSU Sports Information

Clarksville, TN – Despite 17 points from senior Kristen Stainback in her final appearance at the Dunn Center, Austin Peay State University women's basketball team couldn't overcome a sizable disadvantage on the boards, falling 77-62 to SIU Edwardsville, Thursday.
SIU Edwardsville (16-10, 11-2 OVC) outrebounded the Lady Govs 45-29, with five players (Gwen Adams, CoCo Moore, Tierny Austin, Donshel Beck and Raven Warford) pulling down at least five rebounds for the Cougars.
Austin Peay (9-18, 6-8 OVC) also struggled from beyond the arc, hitting just 3-for-18 (18.8 percent) from three as a team.
Things started out promisingly for the Lady Govs, who hit their first six shots from the floor to take a 15-11 lead in the early part of the first half.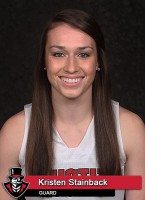 However, the Lady Govs would hit just eight more shots in the first half while the Cougars would go on a 13-4 run over the final seven minutes of the first half to take a 41-32 break into the intermission.
On the Cougars first second-half possession, Austin would convert on an old-fashion three-point play and the deficit would not be in single digits again. A 17-4 run beginning at 14:10 on a Shronda Butts lay-up finally concluded on a Warford free-throw with 7:37 remaining, but not before the  deficit had ballooned to 23 points.
Fittingly, Stainback's star shone brightest for the Lady Govs on her final evening in front of the home fans. The Georgetown, KY, native tied for the team high with 17 points to go with a career-high five blocks and three steals; she also hit the Lady Govs only three three-pointers on the night. With two games remaining in the regular season, Stainback needs just 11 points to reach 1,000 in her career.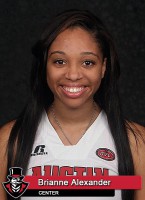 Freshman Brianne Alexander added a career-high 17 points and a team-high seven boards. While junior Tiasha Gray's 6-for-15, 12-point night was not her best offensive performance of the campaign, she did add a team-high five assists and five steals. Austin Peay's bench managed just two points, its worst output in 2014-15.
Butts led all scorers with 25 points for SIU Edwardsville, while Austin added 16 for the Cougars.
Austin Peay hits the road Saturday for an Ohio Valley Conference rematch against Murray State, which dealt the Lady Govs a 98-84 loss, February 4th.
Box Score
Austin Peay 62 (9-18 6-8 OVC) vs SIU Edwardsville 77 (16-10 11-2 OVC)
| | 1 | 2 | Total | Records |
| --- | --- | --- | --- | --- |
| SIU Edwardsville | 41 | 36 | 77 | 16-10 (11-2 OVC) |
| Austin Peay | 32 | 30 | 62 | 9-18 (6-8 OVC) |
SIU Edwardsville 77
##
Player
FGM-FGA
3FGM-3FGA
FTM-FTA
OFF-DEF
TOT
PF
TP
A
TO
BLK
STL
MIN
0
Butts, Shronda
10-13
1-2
4-5
4-0
4
2
25
3
4
0
1
26
24
Austin, Tierny
6-11
2-4
2-2
3-2
5
3
16
3
2
2
1
30
44
Adams, Gwen
2-8
0-0
4-4
1-6
7
2
8
1
4
0
2
23
1
Moore, CoCo
3-4
0-0
0-0
1-8
9
0
6
3
3
0
0
20
11
Jones, Micah
2-5
0-0
1-2
1-3
4
2
5
2
1
0
1
18
55
Warford, Raven
4-7
0-0
1-2
2-4
6
2
9
0
0
5
1
21
33
Smith, Sidney
2-4
2-4
0-0
0-0
0
1
6
0
3
0
0
17
23
Chappelle, Alexis
1-3
0-0
0-0
1-2
3
0
2
1
1
0
1
16
31
Beck, Donshel
0-3
0-0
0-1
1-4
5
2
0
1
4
0
5
17
10
Kelley, Erin
0-3
0-1
0-0
1-0
1
0
0
0
1
0
1
12
0
TEAM
0-0
0-0
0-0
1-0
1
0
0
0
0
0
0
0
Totals
30-61
5-11
12-16
16-29
45
14
77
14
23
7
13
200
Percentages
49.2%
45.5%
75.0%
Austin Peay 62
##
Player
FGM-FGA
FGM3-FGA3
FTM-FTA
OFF-DEF
TOT
PF
TP
A
TO
BLK
STL
MIN
4
Stainback, Kristen
7-13
3-7
0-0
0-3
3
1
17
0
0
5
3
39
11
Alexander, Brianne
5-8
0-0
7-7
4-3
7
3
17
3
4
0
0
23
1
Gray, Tiasha
6-15
0-4
0-0
2-2
4
1
12
5
5
1
5
37
21
Nwokocha, Jennifer
4-7
0-0
0-2
0-3
3
1
8
2
1
0
1
24
24
Rates, Beth
3-12
0-0
0-1
4-2
6
3
6
4
1
2
1
24
23
Gooch, Sydney
1-3
0-0
0-2
0-3
3
0
2
0
1
0
0
15
3
Rivers, April
0-2
0-1
0-0
0-0
0
1
0
1
3
0
2
16
12
Rich, Madison
0-3
0-3
0-0
0-0
0
0
0
0
1
0
1
12
44
Scott, Jacey
0-1
0-1
0-0
0-1
1
3
0
1
1
0
0
10
TM
TEAM
0-0
0-0
0-0
2-0
2
0
0
0
0
0
0
0
Totals
26-64
3-16
7-12
12-17
29
13
62
16
17
8
13
200
Percentages
40.6%
18.8%
58.3%