Austin Peay Sports Information

Homewood, AL – A failure to execute in key situations doomed Austin Peay State University's baseball team in an 11-3 series-opening loss to Samford, Friday night, at Joe Lee Griffin Field.
Austin Peay (2-1) left 14 men on base in the contest, including nine in scoring position, out of 17 baserunners allowed by Samford pitching.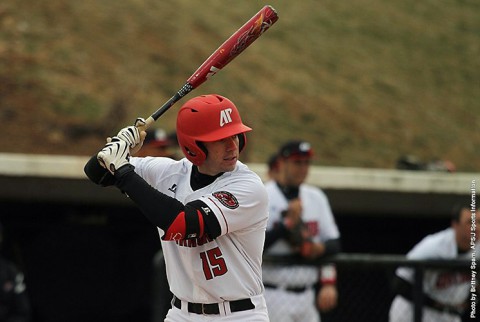 The Govs finished the game converting on just 2-of-17 opportunities with a runner on scoring position.
Samford (2-2) was far more efficient, leaving only three of the 14 base runners they created on base. The Bulldogs batted .600 (3-for-5) with runners in scoring position and were an impressive 11-for-18 (.611) advancing baserunners in the contest.
The Govs and Bulldogs slogged through a sloppy beginning to the contest as both teams acclimated to the sub-freezing (29 degrees at first pitch) weather. Austin Peay's first run was courtesy a Samford error in the first inning. Meanwhile, Samford took advantage of Austin Peay errors in the second and third inning to help it score its first four runs.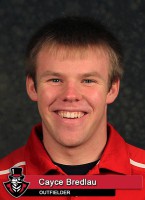 Samford led 4-3 after that error-filled opening three innings as both teams were held scoreless in the fourth and fifth innings. The Bulldogs broke the game open in their final three innings thanks to three home runs that scored seven runs.
Second baseman Hunter Swilling hit a two-run home run to center field in the sixth. Right fielder Heath Quinn hit a two-run home run in the seventh and catcher Richard Greene capped the scoring with a three-run home run in the seventh.
Left fielder Cayce Bredlau went 3-for-5 with a double and two runs scored to lead the APSU offense. Third baseman Logan Gray was 1-for-3 with a RBI double and second baseman Garrett Copeland was 2-for-4 with a RBI single. Austin Peay batters suffered 15 strikeouts in the contest with catcher Ridge Smith and shortstop Clayton Smithson the only starters to escape without being struck out in the game.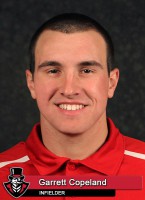 Third baseman Alex Lee, Swelling and first baseman Damon Waller – the 4-5-6 part of the Samford batting order – combined for two hits each and were 6-for-10 with four RBI combined.
Austin Peay starter Jared Carkuff (1-1) suffered the loss after allowing six runs (four earned) on eight hits and a walk over five-plus innings.
Samford starter Alex Ledford (1-1) picked up the win after holding Austin Peay to three runs (two warned) on seven hits while striking out eight batters in five innings.
Austin Peay and Samford resume the three-game series with an 11:00am, Saturday contest.
Box Score
Austin Peay 3 (2-1) vs Samford 11 (2-2)
| | 1 | 2 | 3 | 4 | 5 | 6 | 7 | 8 | 9 | | | R | H | E |
| --- | --- | --- | --- | --- | --- | --- | --- | --- | --- | --- | --- | --- | --- |
| Austin Peay | 1 | 0 | 2 | 0 | 0 | 0 | 0 | 0 | 0 | | 3 | 8 | 3 |
| Samford | 0 | 2 | 2 | 0 | 0 | 2 | 2 | 3 | X | | 11 | 13 | 2 |
W: Alex Ledford (1-1) L: CARKUFF, Jared (1-1)
Austin Peay (2-1)
| Player | AB | R | H | RBI | BB | SO | PO | A |
| --- | --- | --- | --- | --- | --- | --- | --- | --- |
| MASSONI, Patrick cf | 4 | 0 | 0 | 0 | 1 | 2 | 2 | 0 |
| BREDLAU, Cayce lf | 5 | 2 | 3 | 0 | 0 | 2 | 1 | 0 |
| GRAY, Logan 3b | 3 | 1 | 1 | 1 | 2 | 1 | 1 | 4 |
| ROBLES, Alex dh | 4 | 0 | 1 | 0 | 1 | 2 | 0 | 0 |
| SMITH, Ridge c | 3 | 0 | 0 | 0 | 1 | 0 | 7 | 1 |
| MARIK, T.J. ph | 1 | 0 | 0 | 0 | 0 | 1 | 0 | 0 |
| COPELAND, Garrett 2b | 4 | 0 | 2 | 1 | 0 | 1 | 0 | 2 |
| HAMILTON, Chase ph | 1 | 0 | 0 | 0 | 0 | 1 | 0 | 0 |
| GLEASON, Dre 1b | 4 | 0 | 1 | 0 | 0 | 2 | 10 | 0 |
| PURCELL, Wesley ph | 0 | 0 | 0 | 0 | 1 | 0 | 0 | 0 |
| BLACKBURN, Kyle rf | 3 | 0 | 0 | 0 | 0 | 1 | 2 | 0 |
| WILSON, Josh ph | 1 | 0 | 0 | 0 | 0 | 1 | 0 | 0 |
| WILLIS, Imani rf | 1 | 0 | 0 | 0 | 0 | 1 | 0 | 0 |
| SMITHSON, Clayton ss | 3 | 0 | 0 | 0 | 0 | 0 | 1 | 1 |
| GAURA, A.J. p | 0 | 0 | 0 | 0 | 0 | 0 | 0 | 0 |
| NEFF, Zach p | 0 | 0 | 0 | 0 | 0 | 0 | 0 | 0 |
| Totals | 37 | 3 | 8 | 2 | 6 | 15 | 24 | 8 |
Samford (2-2)
| Player | AB | R | H | RBI | BB | SO | PO | A |
| --- | --- | --- | --- | --- | --- | --- | --- | --- |
| T.J. Dixon cf | 5 | 1 | 3 | 0 | 0 | 2 | 1 | 0 |
| Jared Watson lf | 2 | 2 | 0 | 0 | 0 | 0 | 1 | 0 |
| Brandon Powell lf | 1 | 0 | 0 | 0 | 0 | 1 | 0 | 0 |
| Heath Quinn rf | 5 | 1 | 1 | 2 | 0 | 1 | 3 | 0 |
| Alex Lee 3b/1b | 3 | 2 | 2 | 0 | 1 | 0 | 1 | 2 |
| Hunter Swilling 2b | 4 | 1 | 2 | 3 | 0 | 1 | 0 | 0 |
| Damon Waller 1b | 3 | 1 | 2 | 1 | 0 | 1 | 5 | 0 |
| Anthony Gonzalez 3b | 1 | 1 | 1 | 0 | 0 | 0 | 0 | 1 |
| Austin Edens dh | 3 | 0 | 1 | 1 | 0 | 0 | 0 | 0 |
| Sam Teague pr | 0 | 1 | 0 | 0 | 0 | 0 | 0 | 0 |
| Richard Greene c | 4 | 1 | 1 | 3 | 0 | 1 | 11 | 1 |
| Grant Colton c | 0 | 0 | 0 | 0 | 0 | 0 | 3 | 0 |
| Danny Rodriguez ss | 4 | 0 | 0 | 0 | 0 | 0 | 0 | 1 |
| Alex Ledford p | 0 | 0 | 0 | 0 | 0 | 0 | 1 | 0 |
| Parker Curry p | 0 | 0 | 0 | 0 | 0 | 0 | 1 | 0 |
| Tristan Widra p | 0 | 0 | 0 | 0 | 0 | 0 | 0 | 0 |
| Totals | 35 | 11 | 13 | 10 | 1 | 7 | 27 | 5 |
BATTING:
HR: Heath Quinn 1; Hunter Swilling 1; Richard Greene 1
SF: Austin Edens 1
BASERUNNING:
HBP: Jared Watson 2
FIELDING:
E: Alex Lee 1; Danny Rodriguez 1