APSU Sports Information

Richmond, KY – Stop if you have heard this before.
Austin Peay men's basketball team rallies from a large second-half deficit, gets within striking distance, but is unable to pull off the come-from-behind victory.
That is what happened Monday night. The Govs rallied from a 13-point second-half deficit but could not find the offensive answers in the end as it fell to Eastern Kentucky, 76-64, the defending Ohio Valley Conference tournament champions, in Paul McBrayer Arena.
Blowing some early second-half scoring opportunities, the Govs watched their three-point halftime deficit swell to 13 points at 49-36 and 58-45.
But the Governors scrapped back, receiving inspired play from sophomore forward Assane Diop, who tipped in a Govs basketball and completed the three-point play after being fouled.
After Ed Dyson made one of two free throws, Khalil Davis hit both of his before Diop ended the 8-0 run with a tip-in to slice the lead to 48-53. Eastern Kentucky, now 17-10 overall and 9-5 in the OVC, ended the run as Ja'Mill made one of two free throws with 6:11 left..
Still the Govs had a chance to cut the six-point deficit in half as Diop's three-pointer from the corner barely came up short. Still the Govs got the defensive stop, at least the initial one, as Isaac McGlone's long three clanked off the rim. But Eric Stutz, the senior center, tipped in the miss.
The Govs were still in it as Davis found Davis for a wide-open three pointer with 5:00 left but the shot came up well short. Denzel Richardson then knocked down a three-pointer with 4:32 remaining and that all but slammed the door on the Govs' potential comeback victory.
"I have said this all year but we have just small margin for error," APSU coach Dave Loos said. "I thought our effort was good. We just turned it over too much (18 turnovers) and again we shot it in the 30s (39.3 percent/22 of 56). It is hard to win basketball games when you do that."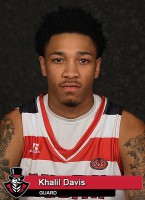 Despite opening the game with four turnovers on four successive trips, the Governors actually found themselves in a first-half see-saw affair. With Dyson finding his three-point shot early in the game—he connected for a trio of three pointers and 11 points in the opening half—the Govs twice held five-point advantages.
But when junior guard/forward Khalil Davis picked up his second first-half fouls and was forced to sit the final 10 minutes, the  Governors offense struggled.  Still it was a three-point game at halftime.
Then early in the second half freshman Josh Robinson could not convert a steal into a bucket and then Chris Horton lost the ball and what appeared to be a dunk.
"Right at the beginning of the second half  we were not able take advantage of those situations," Loos said. "We are team that struggles finding ways to score and you just can't let those type opportunities get away from you like that."
Eastern Kentucky did not waste their good fortune and quickly increased the lead to double digit as Timmy Knipp, who failed to connect on a three pointer in the opening half, nailed his first of two and Stutz scored four straight points. Held to four first-half points, Stutz scored 14 of his game-high 20 in the second half.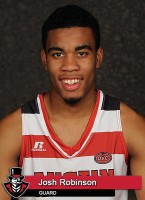 Richardson came off the bench to added 13 as EKU, playing much of the second half without star guard Corey Walden, still shot 51 percent (25 of 49) from the floor, including 12 of 28 (43 percent) from three-point territory.
Dyson and Robinson led the Govs with 13 points—Dyson, after the strong first half, was able to score just two second-half free throws while Robinson, playing much of the night at point guard, was just 4-of-15 from the floor.
Diop matched his career high with 10 points while Horton also had 10 points and nine rebounds, matching Chris Freeman for game honors. APSU held a 34-28 rebound edge in the contest, the Govs' eighth straight loss as they fell to 7-21 overall and 2-12 in the OVC.
Box Score
Eastern Kentucky University 76 (17-10 9-5 OVC) vs Austin Peay State University 64 (7-21 2-12 OVC)
| | 1 | 2 | Total | Records |
| --- | --- | --- | --- | --- |
| Austin Peay | 30 | 34 | 64 | 7-21 (2-12 OVC) |
| Eastern Kentucky | 33 | 43 | 76 | 17-10 (9-5 OVC) |
Austin Peay State University 64
##
Player
FGM-FGA
3FGM-3FGA
FTM-FTA
OFF-DEF
TOT
PF
TP
A
TO
BLK
STL
MIN
24
Dyson, Ed
4-7
3-6
2-4
0-1
1
2
13
0
2
0
1
40
5
Horton, Chris
4-9
0-0
2-2
7-2
9
4
10
0
1
1
1
36
11
Davis, Khalil
2-8
1-3
4-4
1-0
1
4
9
4
2
0
2
30
15
Freeman, Chris
4-8
0-0
1-2
4-5
9
2
9
0
1
2
1
30
22
Smith, Damarius
0-0
0-0
0-0
0-1
1
2
0
0
3
0
0
1
4
Robinson, Josh
4-15
1-5
4-6
2-3
5
3
13
2
4
0
1
35
1
Diop, Assane
4-7
1-3
1-1
2-4
6
0
10
0
1
0
0
14
2
Williams, Zavion
0-1
0-0
0-0
0-0
0
0
0
1
2
0
1
10
12
Purvis, Jeremy
0-1
0-1
0-0
0-0
0
0
0
0
1
0
0
4
0
TEAM
0-0
0-0
0-0
0-2
2
0
0
0
1
0
0
0
Totals
22-56
6-18
14-19
16-18
34
17
64
7
18
3
7
200
Percentages
39.3%
33.3%
73.7%
Eastern Kentucky University 76
##
Player
FGM-FGA
FGM3-FGA3
FTM-FTA
OFF-DEF
TOT
PF
TP
A
TO
BLK
STL
MIN
42
Stutz, Eric
8-11
1-2
3-4
3-2
5
1
20
0
1
0
1
33
22
Knipp, Timmy
4-9
2-7
2-2
0-3
3
0
12
4
2
2
1
33
32
Powell, Ja'Mill
4-9
3-6
1-2
0-3
3
1
12
2
1
0
1
20
5
McGlone, Isaac
2-6
2-6
0-0
0-3
3
4
6
5
2
0
4
35
2
Walden, Corey
1-2
0-0
1-2
0-1
1
1
3
0
1
0
2
17
3
Richardson, Denzel
4-6
3-5
2-2
1-3
4
2
13
1
1
0
0
20
Jackson, Paul
0-1
0-1
5-8
0-1
1
1
5
7
1
0
1
22
11
Babb-Harrison,Jaylen
1-1
1-1
0-0
0-0
0
2
3
1
2
0
0
5
33
Muff, Deverin
1-2
0-0
0-0
0-2
2
3
2
0
1
1
0
11
4
Matthews, Tommy
0-2
0-0
0-0
1-2
3
0
0
0
0
0
0
4
TM
TEAM
0-0
0-0
0-0
1-2
3
0
0
0
0
0
0
0
Totals
25-49
12-28
14-20
6-22
28
15
76
20
12
3
10
200
Percentages
51.0%
42.9%
70.0%