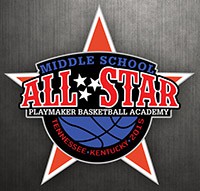 Clarksville, TN – The bleachers in William Workman Gymnasium at Clarksville High School were full Saturday afternoon as 48 of the best eighth grade student athletes from six different counties in Tennessee and Kentucky took the court for the first ever Playmakers Basketball Academy TN/KY Middle School All-Star games.
The multitude of fans were not disappointed as the players, divided into girls and boys blue and red teams, competed with tremendous effort. The games were filled with great  assists, sharp shooting, aggressive rebounding and floor-diving battles for possession. 
Terry Boykin, founder of the Playmaker Basketball Academy, was proud of the players skilled display.
"I was really impressed with the team work. They competed, the boys and the girls," Boykin said. "What it made me know is the process that we have selecting them is right on. We selected the right people for the game. They were class acts. They were good sportsman. At the same time they got after it and played good basketball."
The results of the games were victories by both the girls and boys red teams.
Girls: Red 63 Blue 53
The girls all-star game was a tight battle that came down to one final run.  After three quarters the blue team was ahead by only one point, 49-48. With 4:11 left in the game, Josie Neblett from William James Middle School made a free throw to tie the game at 51. The free throw turned out to be the beginning of a 12-2 run that sealed the win for the red team.
The blue teams last basket was made by Dickson Middle's Ryan Roberts with 1:45 remaining on the clock. Rossview Middle's Macy Rippy scored six points in the red team's final run including a 3-pointer that put the red team ahead 61-53 with 1:03 left in the game.
Roberts was one of the blue team's leading scorers with nine points. Raegan Hohl from Charlotte Middle School scored 10 points.
Rippy led the red team with 12 points. Kimia Carter from Kenwood Middle School scored 11 points.
Boys: Red 77 Blue 59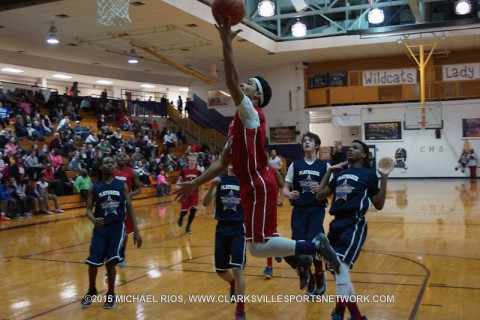 After gaining a small lead in the first half, the red team used smothering defense to take over the game in the second half of the boys all-star game.
The red team began the second half of the game with a six-point lead, 34-28. A 3-pointer by Richview Middle's Joshua Watch ignited a 9-0 run by the red team before Russellville Middle's Elijah Kemp scored for the blue to make the score 43-30.
The red team went on to outscore the blue team 24-17 in the third quarter. Down by thirteen at the beginning of the fourth, 58-45, turnovers kept the blue team from making up any ground.
Watch and Northeast Middle's Shaun Robinson both scored 15 points for the red team. Max Leineweber from Rossview Middle School scored eight.
Kody Pardue from Dickson Middle School led the blue team with 15 points. Russellville Middle's Jacob Naylor scored seven points.
"It felt great. Anytime playing basketball is fun obviously. I love the game," Naylor said. "We played well together. It took us a while to fit together. We started playing unselfishly and we started to come back, but it was too late at the end."
Kenwood High School Alum and Tennessee State Lady Tiger, Jasmin Shuler, coached both the girls and boys red teams. Also from Kenwood High and Morgan State, Brianna Coardes, coached the girls blue team. Former New Jersey Net Trent Hassell coached the boys blue team.
"Its an incredible feeling just to see the look on the kids faces, the smiles, seeing the light bulb come on, seeing them get this experience," Boykin said. "When they get to college one day, they will look back at their first media day, their first all-star experience, they will remember this for the rest of their lives. Not only what we gave them from a basketball stand point, but the things that they learned about education and giving back to people around and being grateful to people around them."
Girls Middle School All-Stars Box Score
Red Team 63, Blue Team 53
| | | | | | |
| --- | --- | --- | --- | --- | --- |
| | 1 | 2 | 3 | 4 | Final |
| Red Team | 12 | 19 | 17 | 15 | 63 |
| Blue Team | 19 | 12 | 18 | 4 | 53 |
Red Team
Macy Rippy 12, Kimia Carter 11, Emmy Nelson 8, Sidney Brake 7, Ashley Taylor Garrett 6, Charlton Kelley 5, Carlie Alvis 4, Josie Neblett 4, Ashley Roberts 3.
Blue Team
Raegan Hohl 10, Ryan Roberts 9, Bailey Hooper 6, Rachel McCutcheon 5, Madison Hayes 4, Eryn Nelson 4, Scottie Harrison 4, Jackie Harris 4, DeShala LeBlanc 3, Blayke Bingham 2, Lucy Chilcutt 2.
Boys Middle School All-Stars Box Score
Red Team 77, Blue Team 59
| | | | | | |
| --- | --- | --- | --- | --- | --- |
| | 1 | 2 | 3 | 4 | Final |
| Red Team | 12 | 22 | 24 | 19 | 77 |
| Blue Team | 13 | 15 | 17 | 14 | 59 |
Red Team
Shaun Robinson 15, Joshua Watch 15, Max Leineweber 8, Kelby Epley 6, Third Bell 6, Monte Boddie 6, Alec Kegler 5, Fred Orr 5, Tommy Krohn 4, Darian Burns 4, Freedom Dyer 2, Jerimiah Ramey 2.
Blue Team
Kody Pardue 15, Jacob Naylor 7, Amonti Moss 6, Vincent Chan 6, Kyler Hall 6, Elijah Kemp 5, Caden McKinnis 4, James Satterfield 3, Jaylen Negron 3, Branden Hurt 2, Devyn Bender 1.