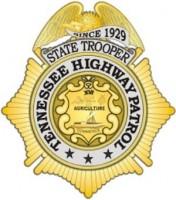 Nashville, TN – Tennessee Department of Safety and Homeland Security Commissioner Bill Gibbons and Tennessee Highway Patrol (THP) Colonel Tracy Trott presented Trooper Michael Sullivan and Dispatcher Andrew Lawson with the 2014 Trooper and Dispatcher of the Year award, respectively, at a special ceremony held Wednesday evening in Murfreesboro. Also, the THP Fall Branch District was awarded the 2014 District of the Year.

The University of Tennessee head football coach Butch Jones served as the keynote speaker. Coach Jones is the son of a long-time police chief and nephew to a Michigan State Police Commander.

The THP also recognized troopers and dispatchers in each of the agency's districts across the state, as well as honored those in specialized units, specifically for investigations, interdiction and commercial vehicle enforcement (CVE).

The top-10 troopers were also recognized for DUI and seat belt and child restraint device enforcement, while five troopers were honored for their work in stopping hazardous moving violators.

"Our state troopers and dispatchers serve on the front line in helping to ensure public safety for all Tennesseans. They truly are the finest public servants and most deserving of recognition. I'm glad that we were able to honor their commitment to the safety and security of Tennessee," Commissioner Gibbons said.

"The two honorees exemplify the very best of what it means to be a trooper and dispatcher," Colonel Trott said. "Trooper Sullivan works tirelessly to reduce crime and keep our roadways safer, while Dispatcher Lawson's professionalism, decisiveness and calm under pressure probably saved the life of a trooper on his shift. It was my privilege to recognize them as the gold standard in their professions in 2014," he added.
Trooper Michael Sullivan
Trooper Michael Sullivan, who represents the THP Jackson District, earned the 2014 Trooper of the Year honor. Trooper Sullivan led the 10-county district in DUI arrests with 128 and finished second in impaired driving arrests statewide. He consistently produces as a DUI task force member working the midnight shift in Henderson County, arresting 155 individuals, including 16 felony apprehensions.
Trooper Sullivan also investigated 76 crashes and issued 1,117 citations for violations, while conducting 97 commercial motor vehicle inspections last year.  A 13-year veteran of the THP, Trooper Sullivan looks beyond the citation and accepts any duty or task assigned.
Dispatcher Andrew Lawson
Dispatcher Andrew Lawson was named the 2014 Dispatcher of the Year after handling an incident involving Trooper Eric Miller on May 2nd, 2014 on Interstate 75. Trooper Miller had initiated a traffic stop at approximately 8:20am on that day.

Moments later, Dispatcher Lawson noticed that the trooper was no longer communicating with dispatch, but sounded as if he was in a struggle. Dispatcher Lawson requested assistance from Loudon County 911 and maintained telephone contact, while coordinating with other troopers to respond to the scene.

Soon after, Trooper Miller made contact and requested assistance, advising that the suspect fled the scene. During the struggle, shots were fired and the suspect attempted to run over Trooper Miller. Dispatcher Lawson determined Trooper Miller's location in an attempt to make contact with the suspect vehicle.

This event lasted for several hours, during which time, Dispatcher Lawson relayed information to other agencies and maintained constant contact with troopers on the scene. He remained calm throughout and presented himself as a seasoned professional.

The THP Fall Branch District earned the 2014 District of the Year award and District Captain Stephen Street took home the colonel's achievement award after reducing traffic fatalities in the region by 11.3 percent from the

previous year. State troopers in the district also increased DUI arrests 29 percent and seat belt citations by 122 percent, compared to 2013. The Greene County Scales Complex also placed unsafe commercial vehicles out of service at a rate of 41 percent, while commercial vehicle drivers were placed out of service at an 11 percent rate. Both rates were above the national average.

2014 District Trooper of the Year (* denotes statewide Trooper of the Year)
Trooper Jerry Watson, Knoxville District
Trooper Stoney Morton, Chattanooga District
Trooper Alex Campbell, Nashville District
Trooper Michael Bolton, Memphis District
Trooper James Knipper, Fall Branch District
Trooper Michael Robertson, Cookeville District
Trooper Chad Staggs, Lawrenceburg District
Trooper Michael Sullivan, Jackson District*
Sergeant Michael Morgan, Administrative (Protective Services Division)
2014 District Dispatcher of the Year (*denotes statewide Dispatcher of the Year)
Dispatcher Andrew Lawson, Knoxville District*
Dispatcher Julia Morrison, Chattanooga District
Dispatcher Joshua Murphy, Nashville District
Dispatcher Susan Ballard, Memphis District
Dispatcher Doug Boone, Fall Branch District
Dispatcher Stacy Lawson, Cookeville District
Dispatcher Cynthia Krause, Lawrenceburg District
Dispatcher Jessie Overman, Jackson District
2014 Specialized Unit Award Recipients
Brad Simpson, Investigator of the Year (Identity Crimes Unit)
Jeremy Miller, Interdiction Trooper of the Year
Trooper David McDonald, CVE Trooper of the Year
Trooper Jason Sherrod, Lifesaver Award
2014 Top 10 Troopers honored for DUI Enforcement
Stoney Morton, Chattanooga District – 163 arrests
Michael Sullivan, Jackson District – 128 arrests
Vince Mullins, Fall Branch District – 127 arrests
Adam Cash, Jackson District – 125 arrests
Chad Staggs, Lawrenceburg District – 110 arrests
Tommy Lyles, Chattanooga District – 102 arrests
William Satterfield, Knoxville District– 101 arrests
Shane Roberts, Nashville District – 89 arrests
Owen Grear, Memphis District – 88
Michael Bolton, Memphis District – 86 arrests
2014 Top 10 Troopers honored for Seat Belt & Child Restraint Device Enforcement
Jerry Watson, Knoxville District – 2,114 citations
William Head, Nashville District – 1,587 citations
Billy Smith, Nashville District – 1,382 citations
James Knipper, Fall Branch District– 1,090 citations
Charles Groce, Cookeville District – 1,060 citations
Stephen Barclay, Knoxville District–1,041 citations
Terry Milholen, Jackson District – 1,031 citations
Martin Herren, Cookeville District – 914 citations
Charles Childers, Jackson District – 910 citations
Joe Agee, Nashville District – 877 citations
2014 Top Five Troopers honored for Hazardous Moving Violations
Jerry Watson, Knoxville District – 1,571 citations
Carll Duryea, Knoxville District – 1,537 citations
Billy Jackson, Memphis District – 1,392 citations
David Osborne, Fall Branch District – 1,032 citations
Ronny Wright, Lawrenceburg District – 1,011 citations
Sections
News
Topics
Bill Gibbons, Butch Jones, DUI, Eric Miller, Henderson County, Loudon County, Nashville TN, Seat Belt, Tennessee Department of Safety and Homeland Security, Tennessee Highway Patrol, THP, Tracy Trott, Trooper of the Year, University of Tennessee