APSU Sports Information

Kennesaw, GA – Austin Peay State University's softball team didn't have a lot go its way, Friday at Bailey Field, in the opening day of the Kennesaw State Owl Invitational dropping a 10-1 decision to Saint Louis and a 11-0 contest to Kennesaw State.
The Lady Govs (1-10) did jump out early in its opener versus Saint Louis, getting a lead-off home run from
Chandler Groves
, but the Billikens answered back with three runs in the bottom of the inning to take the lead for good, 3-1.
Groves would finish the game going 3-for-3 at the plate, while Laurel Burroughs collected the only other hit – coming on a first-inning single – while Heather Norris and Savanna Oliver drew walks in the game for Austin Peay.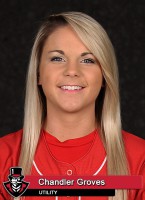 It would still be a two-run advantage for Saint Louis (8-6) heading into the bottom of the third inning, when it exploded for five runs on four hits to take control of the game, 8-1.
The Billikens would end the game in the bottom of the fifth inning on the eight-run mercy rule, with Elizabeth Everingham's second home run of the game ending the contest with the 10-1 final.
Things didn't get any better in Game 2 for Austin Peay.
Kennesaw State (11-5) did all of its offensive damage in the first three innings, including an eight-run third inning that saw the Lady Govs commit seven errors in the frame.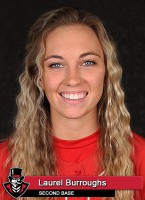 Those runs were more than enough for Owl's starter Paige Mathews, who opened the game recording the first eight outs of the game via the strikeout, finishing the game with nine total strikeouts.
Austin Peay would pick up its first hit of Game 2 in the top of the fourth inning on an infield single by Erica Inagaki, while the Lady Govs only other hit came in the top of the fifth on a single up the middle by Rikki Arkansas.
Burroughs would be the only Lady Gov to reach base twice, both on walks, while Alexis Hill also drew a base on balls.
The Lady Govs will conclude play in the Owl Invitational on Saturday with a context versus Indiana, at 11:00pm, CT, followed by a rematch versus Kennesaw State at 1:30pm.
Box Score – Game 1
Austin Peay 1 (1-9) vs Saint Louis 10 (8-6)
| | 1 | 2 | 3 | 4 | 5 | | | R | H | E |
| --- | --- | --- | --- | --- | --- | --- | --- | --- | --- |
| Austin Peay | 1 | 0 | 0 | 0 | 0 | | 1 | 4 | 3 |
| Saint Louis | 3 | 0 | 5 | 0 | 2 | | 10 | 10 | 0 |
W: KNEIB, Laney (3-0) L: BLACKWOOD, Allie (0-1)
Austin Peay (1-9)
| Player | AB | R | H | RBI | BB | SO | PO | A |
| --- | --- | --- | --- | --- | --- | --- | --- | --- |
| GROVES, Chandler lf | 3 | 1 | 3 | 1 | 0 | 0 | 0 | 0 |
| BURROUGHS, Laurel 2b | 2 | 0 | 1 | 0 | 0 | 0 | 0 | 2 |
| GABLE, Christiana 1b | 2 | 0 | 0 | 0 | 0 | 0 | 4 | 0 |
| SPARKS, Niya 3b | 2 | 0 | 0 | 0 | 0 | 0 | 3 | 2 |
| OLIVER, Savanna rf | 1 | 0 | 0 | 0 | 1 | 0 | 0 | 0 |
| BLACKWOOD, Allie p | 1 | 0 | 0 | 0 | 0 | 0 | 0 | 0 |
| NORRIS, Heather p | 0 | 0 | 0 | 0 | 1 | 0 | 0 | 0 |
| HILL, Alexis c | 2 | 0 | 0 | 0 | 0 | 2 | 3 | 1 |
| INAGAKI, Erica ss | 2 | 0 | 0 | 0 | 0 | 1 | 2 | 0 |
| BROWER, Courtney cf | 2 | 0 | 0 | 0 | 0 | 0 | 2 | 0 |
| Totals | 17 | 1 | 4 | 1 | 2 | 3 | 14 | 5 |
Saint Louis (8-6)
| Player | AB | R | H | RBI | BB | SO | PO | A |
| --- | --- | --- | --- | --- | --- | --- | --- | --- |
| NICKEL, Alex ss | 2 | 2 | 2 | 0 | 2 | 0 | 1 | 2 |
| WEAVERS, Hailey c | 2 | 0 | 0 | 0 | 2 | 1 | 2 | 1 |
| PETER, Mackenzie rf | 2 | 1 | 1 | 0 | 1 | 0 | 0 | 0 |
| WHEELER, Macie ph | 1 | 0 | 0 | 0 | 0 | 0 | 0 | 0 |
| EVERINGHAM, Elizabet 3b | 3 | 3 | 2 | 4 | 1 | 0 | 1 | 0 |
| MACFARLANE, Allie 2b | 3 | 2 | 3 | 0 | 0 | 0 | 1 | 2 |
| FRIEDMAN, Lindsay cf | 2 | 1 | 2 | 4 | 1 | 0 | 1 | 0 |
| TARQUINIO, Alyssa 1b | 2 | 0 | 0 | 0 | 0 | 1 | 8 | 1 |
| MEEKS, Taylor ph | 1 | 0 | 0 | 0 | 0 | 0 | 0 | 0 |
| LOCKETTE, Breanna dp | 2 | 0 | 0 | 0 | 1 | 1 | 0 | 0 |
| COTTON, Miranda pr | 0 | 1 | 0 | 0 | 0 | 0 | 0 | 0 |
| BUCKLES, Emma lf | 2 | 0 | 0 | 0 | 0 | 0 | 0 | 0 |
| KNESEL, Josie ph/lf | 1 | 0 | 0 | 0 | 0 | 0 | 1 | 0 |
| KNEIB, Laney p | 0 | 0 | 0 | 0 | 0 | 0 | 0 | 2 |
| Totals | 23 | 10 | 10 | 8 | 8 | 3 | 15 | 8 |
BATTING:
2B: PETER, Mackenzie 1; MACFARLANE, Allie 2; FRIEDMAN, Lindsay 1
HR: EVERINGHAM, Elizabet 2; FRIEDMAN, Lindsay 1
BASERUNNING:
SB: WEAVERS, Hailey 1; COTTON, Miranda 1
CS: WEAVERS, Hailey 1
Box Score – Game 2
Austin Peay 0 (1-10) vs Kennesaw State 11 (11-5)
| | 1 | 2 | 3 | 4 | 5 | | | R | H | E |
| --- | --- | --- | --- | --- | --- | --- | --- | --- | --- |
| Austin Peay | 0 | 0 | 0 | 0 | 0 | | 0 | 2 | 8 |
| Kennesaw State | 1 | 2 | 8 | 0 | X | | 11 | 7 | 0 |
W: MATHEWS, Paige (4-2) L: AYALA, Natalie (1-5)
Austin Peay (1-10)
| Player | AB | R | H | RBI | BB | SO | PO | A |
| --- | --- | --- | --- | --- | --- | --- | --- | --- |
| GROVES, Chandler lf | 3 | 0 | 0 | 0 | 0 | 2 | 0 | 0 |
| BURROUGHS, Laurel 2b | 1 | 0 | 0 | 0 | 2 | 0 | 2 | 2 |
| GABLE, Christiana 1b | 2 | 0 | 0 | 0 | 0 | 1 | 5 | 0 |
| SPARKS, Niya 3b | 2 | 0 | 0 | 0 | 0 | 1 | 0 | 0 |
| AYALA, Natalie p | 1 | 0 | 0 | 0 | 0 | 1 | 0 | 0 |
| BLACKWOOD, Allie p | 1 | 0 | 0 | 0 | 0 | 0 | 0 | 0 |
| INAGAKI, Erica ss | 2 | 0 | 1 | 0 | 0 | 1 | 1 | 0 |
| HILL, Alexis c | 1 | 0 | 0 | 0 | 1 | 1 | 1 | 2 |
| ARKANSAS, Rikki cf | 2 | 0 | 1 | 0 | 0 | 1 | 3 | 0 |
| BROWER, Courtney rf | 1 | 0 | 0 | 0 | 0 | 1 | 0 | 0 |
| Totals | 16 | 0 | 2 | 0 | 3 | 9 | 12 | 4 |
Kennesaw State (11-5)
| Player | AB | R | H | RBI | BB | SO | PO | A |
| --- | --- | --- | --- | --- | --- | --- | --- | --- |
| RHODES, Natalie cf | 3 | 3 | 2 | 0 | 1 | 0 | 0 | 0 |
| DENTON, Taylor rf | 3 | 1 | 0 | 1 | 1 | 0 | 1 | 0 |
| CHAMBERS, Kara ss | 3 | 1 | 1 | 1 | 0 | 0 | 1 | 0 |
| SUTTER, Courtney c | 2 | 1 | 1 | 1 | 1 | 0 | 8 | 0 |
| KARTMAN, Hillary dp/1b | 1 | 2 | 1 | 0 | 2 | 0 | 3 | 0 |
| DENNIS, Rachel lf | 1 | 0 | 0 | 1 | 1 | 0 | 1 | 0 |
| BISHOP, Emily 1b/c | 3 | 1 | 1 | 3 | 0 | 1 | 1 | 1 |
| PERKOWSKI, Missy 3b | 3 | 0 | 0 | 0 | 0 | 0 | 0 | 1 |
| BENNETT, Lauren 2b | 3 | 2 | 1 | 0 | 0 | 0 | 0 | 0 |
| VICKERY, Monica p | 0 | 0 | 0 | 0 | 0 | 0 | 0 | 0 |
| Totals | 22 | 11 | 7 | 7 | 6 | 1 | 15 | 2 |
BATTING:
2B: CHAMBERS, Kara 1; KARTMAN, Hillary 1
SH: DENNIS, Rachel 1
BASERUNNING:
SB: RHODES, Natalie 1; BENNETT, Lauren 2