Clarksville, TN – As expected, the inclement weather Clarksville experienced over the last two days initially created some issues with roadways. Clarksville Mayor Kim McMillan provides this update on the City's overall response.
The Clarksville Street Department has been working around the clock to clear roadways throughout the City. Major improvements have been made on all major roads. Crews began working on the secondary and neighborhood roads yesterday and will continue that work.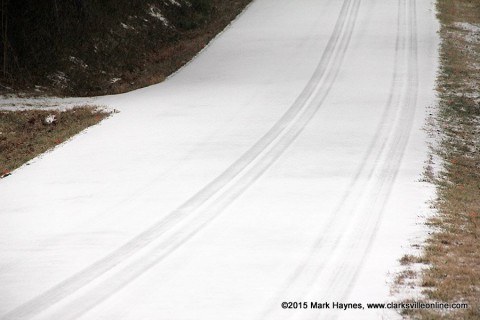 With temperatures above freezing and the sun shining, the salt should have more effect in clearing the roads. Street Department crews will work through the weekend if necessary to get all residential areas within the City cleared.
The Clarksville Gas and Water Department reports no significant issues at this time. There have been no reports of meters freezing, and gas pressures and flow are excellent.
The Clarksville Department of Electricity is reporting no outages related to the weather.
Clarksville Fire Rescue has consistently worked to make sure that the equipment on fire trucks does not freeze and is fully operational. Additionally, CFR is assigning two people on every rescue truck to respond to any medical calls. Also, our stations continue to be open to the public, as long as we are present, for warming stations.
The Clarksville Police Department reports activity on City streets as pretty close to normal. Streets within the City limits are in outstanding condition. Weather-related crashes and calls for assistance have almost completely subsided.
Clarksville Transit System buses are running almost completely on normal routes; however, there is no service on Fort Campbell at this time.
The Clarksville Parks and Recreation Department have assisted in clearing and salting parking areas and sidewalks in the downtown area, Liberty Park and at the Community Centers. Although the parking lot at the Marina has been cleared, the road to the Marina is currently closed due to flooding issues. That area and McGregor Park are being closely monitored for flooding as the snow and ice continue to melt.
The Homeless Coalition members, those partner agencies working with the Clarksville Office of Housing and Community Development, continue to have shelter available for those in need. Shelter is available for men, women and families and the partner agencies continue to work together to provide the best available solution for each case presented. Every person who has requested help with shelter has received assistance.
"Once again, our City employees have done an incredible job of responding to a very difficult situation. I am so proud of the work they do to keep our citizens safe," said Mayor McMillan. "We are not completely out of the woods yet as we continue to deal with cold temperatures and a lot of melting ice and snow but I believe we have certainly made it through the worst of the storm. Thanks to all the employees who went above and beyond during the past couple of days."