Clarksville, TN – The final performance of the Roxy Regional Theatre's classic country musical "Honky Tonk Angels" is tomorrow night, Saturday, March 7th at 8:00pm. A limited number of tickets still remain for this performance, so please visit www.roxyregionaltheatre.org or click on the button below to reserve your seats.
Thank you for bearing with us through this winter weather situation. Our patrons' and performers' safety is always the main concern.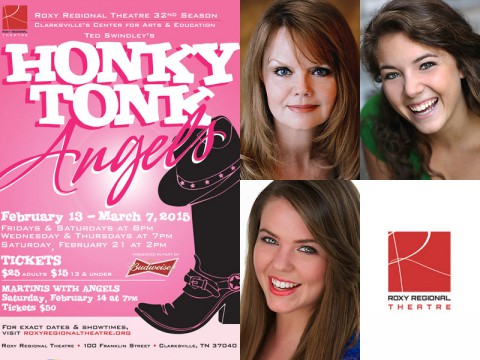 If you are attending tomorrow's performance, please use caution while driving and give yourself some extra time to be able to find parking in downtown.
While tomorrow night's performance is a go, tomorrow morning's Saturday School of the Arts classes have been cancelled, due to the potential re-freezing overnight of any remaining ice or snow on the roads.
Tickets for "Honky Tonk Angels" are $25.00 (adults) and $15.00 (ages 13 and under) and may be purchased online at www.roxyregionaltheatre.org , by phone at 931.645.7699, or at the theatre during regular box office hours (9:00am to 2:00pm, Monday through Friday, and one hour prior to curtain).
The Roxy Regional Theatre is located at 100 Franklin Street in Clarksville, TN.