APSU Sports Information

Kennesaw, GA – Austin Peay State University women's tennis team dropped its fifth road match of the season as the Lady Govs lost 6-1 to Kennesaw State, Saturday, at Kennworth Park.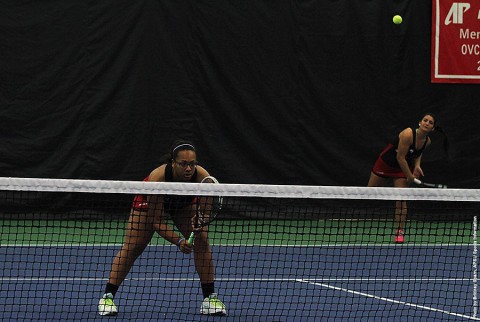 In doubles play for Austin Peay (1-8), the pairing of sophomore
Hannah Tatlock
and senior
Jovana Karac
earned an 8-5 victory at the No. 2 slot.
Unfortunately, Kennesaw State (1-6) was able to claim the doubles point by winning the other two matches.
In singles action, the Lady Govs picked up their only point of the afternoon when Karac defeated Ashleigh De Wet 7-5, 6-1 at the No. 6 position.
In other singles matches, senior Vanessa Tavares was able to force a third set before falling to Alexandra Mercado 6-2, 4-6, 6-3 at the No. 3 slot while freshman Brittney Covington dropped a 7-6, 6-3 match to Isabela Castro at the No. 4 position.
The Lady Govs will return to action with a 1:00pm, Tuesday contest against the College of Coastal Georgia in Brunswick, GA.
Box Score
Singles
No. 1 – Virginie Stein (KSU) def. Ornella Di Salvo (APSU) 6-3, 6-2
No. 2 – Jana Hueckinghaus (KSU) def. Hannah Tatlock (APSU) 6-1, 6-1
No. 3 – Alexandra Mercado (KSU) def. Vanessa Tavares (APSU) 6-2, 4-6, 6-3
No. 4 – Isabela Castro (KSU) def Brittney Covington (APSU) 7-6. 6-3
No. 5 – Cristina Martin (KSU) def. Isabela Jovanovic (APSU) 6-2, 6-2
No. 6. – Jovana Karac (APSU) def. Ashleigh De Wet 7-5, 6-1
Doubles
No. 1 – Stein/Heuckinghaus (KSU) vs. Di Salvo/Tavares (APSU) 8-2
No. 2 – Tatlock/Karac (APSU) def. De Wet/Gabriela Bueno (KSU) 8-5
No. 3 – Mercado/Martin (KSU) def. Covington/Jovanovic (APSU) 8-7