Murray State Sports Information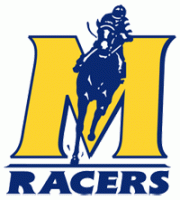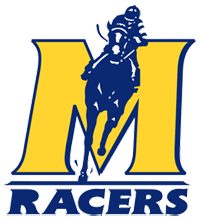 Nashville, TN – The Murray State Racers advanced to the finals of the Ohio Valley Conference men's basketball championship Friday with an 80-77 win over the Morehead State Eagles at Municipal Auditorium in Nashville, Tennessee.
The Racers (27-4) have a date in the OVC title game Saturday at 6:00pm Central Time on ESPN2. MSU meets the Belmont Bruins who scored a 53-52 win over the Eastern Kentucky Colonels in the second semifinal.
MSU extended the nation's second-longest winning streak to 25 and also extended the OVC record.
However, this was no ordinary win for the Racers who haven't lost since Thanksgiving.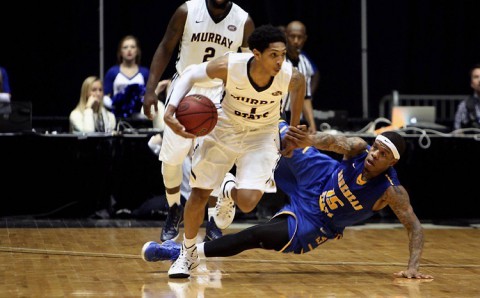 This was an amazing escape and Cameron Payne was right in the middle of it.
Down 71-60 with 6:30 remaining, the Racers finished the game with a 20-6 run and took the lead for good when Payne hit a 3-pointer with 53 seconds left.
The Racers found themselves in a tough spot after it looked like they were ready to run away with it at halftime. MSU used a six-point play in the first half. After Jarvis Williams and Jeffery Moss made three free throws completing a fouled play and a technical foul on the Eagles, T.J. Sapp hit a layup. The play helped the Racers build a 22-17 lead when Jonathan Fairell hit a hook shot at 10:10. With 5:27 left, Sapp hit a pair of free throws and the Racers led 29-22.
The Racers held a 43-32 lead at the break.
Before Payne's big shot, the Racers had many others in the 20-6 run. Payne set up Williams twice for dunks in the final minutes and Moss made an amazing assist on a broken play as he streaked down the floor with 1:44 remaining.
The Racers' second half comeback enables them to live to play another day as they are now one win from their 16th trip to the NCAA Tournament.
Payne led the Racers with 25 points to go with four assists, while Williams had his 25th career double-double with 23 points and 10 rebounds. Sapp scored 17 points and Moss added 10. Fairell had a game-high 13 rebounds.
The Racers were excellent from the free throw line where Sapp was 6-of-6 and Williams 5-of-6 as MSU finished 18-of-23.
Game Notes
Murray State improved their record in OVC semifinal games to 24-14 with the win. MSU is now 10-0 all-time against the Eagles in post-season play.
The Racers are 17-0 this season when scoring at least 80 points and 44-3 in the Head Coach Steve Prohm era.
Prohm is now 102-27 (.790) in his fourth season at Murray State.
The Racers are looking for their 16th OVC Tournament championship and NCAA Tournament appearance Saturday.  MSU's last title win was in 2012 over Tennessee State. MSU made it to the championship game in 2013 and lost in overtime to Belmont.
The Racers are 15-10 all-time in OVC championship games. MSU is 5-1 in their last six championship appearances. They had won five straight until the 2013 overtime loss to Belmont. MSU's last five championship wins were in: 2012, 2010, 2006, 2004 and 2002.
Senior Jarvis Williams took a step closer to becoming the 42nd member of the MSU 1000-Point Club. After his 23 points tonight, he has 989 (966). Junior Jeffery Moss scored 10 points tonight and has 921. Cameron Payne became the second-fastest MSU player to 1,000 points (Jan. 31) when he did it in 57 games.
Payne's 25 points is tied for fifth on the MSU list for the OVC Tournament. Garrett Beshear scored 37 points against Eastern Kentucky in 1951 to set the record. Second on the list are Isaiah Canaan's 29 against EKU in 2013.
Fairell's 13 rebounds are fourth on the MSU list behind the 18 boards that Popeye Jones had against Middle Tennessee in 1991.
Video