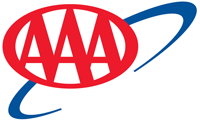 Tampa, FL – Gas prices fell for the eighth consecutive day Sunday. The national average price for a gallon of gasoline is nearly 3 cents cheaper than a week ago, but 18 cents more expensive than last month. Still, Sunday's average price of $2.43 is $1.27 less than the peak price last year, saving motorists more than $19.00 for a full tank of gas.
"The price of oil has not seen dramatic increases in the past couple of weeks and motorists are reaping the benefits," said Mark Jenkins, spokesman, AAA – The Auto Club Group. "Gas prices are at their lowest level this time of year since 2009, which will entice people to take a road trip this spring."The price of oil dropped like a rock last week, which could signal lower prices at the pump in the coming weeks.
West Texas Intermediate settled at $44.84 a barrel on the NYMEX Friday – a decline of $5.16 from the closing price on Monday. Friday's settlement is down 58 percent from the 52-week high of $107.73 reached June 20th. This was the lowest settlement since January 29th, and the third lowest since 2009.
"Record high domestic oil production continues outpacing demand, which has helped keep oil prices lower than recent years," Jenkins said. "Barring any unforeseen events, oil prices should remain below $100.00 a barrel this year, which would prevent gas prices from reaching $3.00 a gallon."
Current and Past Price Averages
Regular Unleaded Gasoline
| | | | | | |
| --- | --- | --- | --- | --- | --- |
| | Sunday | Saturday | Week Ago | Month Ago | Year Ago |
| National | $2.429 | $2.435 | $2.454 | $2.250 | $3.516 |
| Florida | $2.453 | $2.456 | $2.463 | $2.315 | $3.536 |
| Georgia | $2.272 | $2.278 | $2.295 | $2.176 | $3.339 |
| Tennessee | $2.194 | $2.201 | $2.224 | $2.111 | $3.26 |