APSU Sports Information

Clarksville, TN – A day after overcoming a seven-run deficit, Austin Peay State University's baseball team could not recover from a barrage of home runs in a 12-5 Ohio Valley Conference loss to Jacksonville State, Monday afternoon at Raymond C. Hand Park.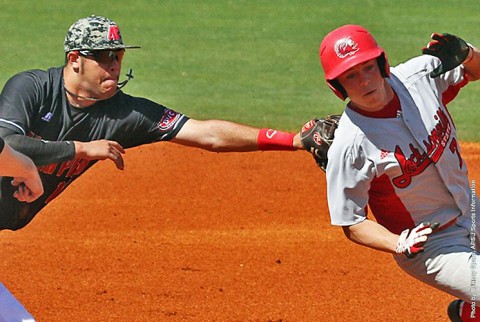 Jacksonville State (9-7, 2-4 OVC) hit four home runs, accounting for seven of its 10 runs.
Third baseman Ryan Sebra's two-run home run in the second got the Gamecocks on the board. Jacksonville State used two home runs in the sixth – a solo home run by right fielder Elliot McCummings and a three-run blast by designated hitter Paschal Petrongolo – to break the game open, 9-1.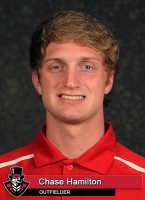 Austin Peay (10-6, 4-2 OVC) could not solve Jacksonville State starter Jake Walsh. The Govs recorded just four hits off the JSU starter. Center fielder Chase Hamilton doubled to start the third and Austin Peay ultimately manufactured a run with a sac bunt and sacrifice fly to bring in APSU's first run.
Jacksonville State added its fourth home run in the seventh, shortstop Taylor Hawthorne driving a solo blast down the right field line, pushing the JSU lead back to eight runs, 10-2.
Austin Peay cleaned up the score line with four runs on eight hits over the final four innings.  Designated hitter Josh Wilson, right fielder Patrick Massoni, center fielder Chase Hamilton and pinch hitter Caleb Mitchell each had a RBI in the closing frames.
Governors starter Jared Carkuff (2-3) was saddled for the loss after allowing five runs on seven hits and four walks in five-plus innings.
Jacksonville State starter Jake Walsh picked up the win after holding the Govs to one run on four hits, striking out four over five-plus innings.
Gamecocks third baseman Ryan Sebra hit for the cycle in a 4-for-5, two RBI performance. He started his day with a two-run home run in the second, hit a triple in the fourth, a bunt single in the fifth and finished the feat with a double in the ninth.
Hamilton led the Govs with a 2-for-4, two RBI outing with doubles to leadoff both the third and seventh innings.
Austin Peay begins a five-game road trip with a 5:00pm (CT), Tuesday contest at Tennessee. Governors left-hander Zach Hall will climb the hill against the Volunteers.
Box Score
Jacksonville State 12 (9-7 / 2-4) vs Austin Peay 5 (10-6 / 4-2)
| | 1 | 2 | 3 | 4 | 5 | 6 | 7 | 8 | 9 | | | R | H | E |
| --- | --- | --- | --- | --- | --- | --- | --- | --- | --- | --- | --- | --- | --- |
| Jacksonville State | 0 | 2 | 0 | 2 | 0 | 5 | 1 | 0 | 2 | | 12 | 13 | 1 |
| Austin Peay | 0 | 0 | 1 | 0 | 0 | 1 | 1 | 1 | 1 | | 5 | 10 | 2 |
W: Jake Walsh (1-0) L: CARKUFF, Jared (2-3)
Jacksonville State (9-7)
| Player | AB | R | H | RBI | BB | SO | PO | A |
| --- | --- | --- | --- | --- | --- | --- | --- | --- |
| Gavin Golsan cf/lf | 6 | 1 | 2 | 0 | 0 | 1 | 3 | 0 |
| Clayton Daniel 2b | 4 | 1 | 1 | 0 | 0 | 0 | 2 | 2 |
| Paschal Petrongolo dh | 4 | 1 | 1 | 3 | 1 | 1 | 0 | 0 |
| Tyler Gamble 1b | 2 | 1 | 0 | 0 | 3 | 0 | 6 | 0 |
| Ryan Sebra 3b | 5 | 2 | 4 | 2 | 0 | 0 | 0 | 1 |
| Josh Bobo pr/3b | 0 | 1 | 0 | 0 | 0 | 0 | 0 | 0 |
| Paul Angel lf | 4 | 0 | 0 | 0 | 0 | 1 | 2 | 0 |
| Chase Silvani cf | 1 | 0 | 0 | 0 | 0 | 0 | 1 | 0 |
| Elliot McCummings rf | 4 | 2 | 2 | 2 | 0 | 0 | 2 | 0 |
| Peyton Williams rf | 1 | 1 | 1 | 1 | 0 | 0 | 0 | 0 |
| Taylor Hawthorne ss | 4 | 2 | 2 | 1 | 1 | 0 | 3 | 5 |
| Hayden White c | 3 | 0 | 0 | 1 | 0 | 0 | 8 | 1 |
| Jack Pierce p | 0 | 0 | 0 | 0 | 0 | 0 | 0 | 1 |
| Joe McGuire p | 0 | 0 | 0 | 0 | 0 | 0 | 0 | 0 |
| Justin Hoyt p | 0 | 0 | 0 | 0 | 0 | 0 | 0 | 0 |
| Totals | 38 | 12 | 13 | 10 | 5 | 3 | 27 | 10 |
BATTING:
2B: Ryan Sebra 1; Elliot McCummings 1; Peyton Williams 1
3B: Clayton Daniel 1; Ryan Sebra 1
HR: Paschal Petrongolo 1; Ryan Sebra 1; Elliot McCummings 1; Taylor Hawthorne 1
SH: Hayden White 1
SF: Hayden White 1
BASERUNNING:
SB: Gavin Golsan 1
CS: Gavin Golsan 1
HBP: Clayton Daniel 1
FIELDING:
E: Taylor Hawthorne 1
Austin Peay (10-6)
| Player | AB | R | H | RBI | BB | SO | PO | A |
| --- | --- | --- | --- | --- | --- | --- | --- | --- |
| MASSONI, Patrick rf | 3 | 0 | 1 | 1 | 0 | 0 | 3 | 0 |
| BLACKBURN, Kyle ph/rf | 1 | 0 | 0 | 0 | 0 | 0 | 1 | 0 |
| BREDLAU, Cayce lf | 2 | 0 | 0 | 1 | 0 | 1 | 1 | 0 |
| PURCELL, Wesley ph/lf | 1 | 1 | 0 | 0 | 1 | 0 | 0 | 0 |
| ROBLES, Alex 3b/2b | 5 | 0 | 1 | 0 | 0 | 2 | 0 | 0 |
| GLEASON, Dre 1b | 5 | 0 | 2 | 0 | 0 | 1 | 11 | 2 |
| COPELAND, Garrett 2b | 2 | 1 | 0 | 0 | 1 | 0 | 1 | 2 |
| GRAY, Logan 3b | 1 | 1 | 1 | 0 | 1 | 0 | 0 | 2 |
| WILSON, Josh dh | 3 | 0 | 1 | 1 | 1 | 2 | 0 | 0 |
| MITCHELL, Caleb ph | 1 | 0 | 1 | 1 | 0 | 0 | 0 | 0 |
| SMITH, Ridge c | 3 | 0 | 0 | 0 | 0 | 1 | 3 | 0 |
| MARIK, T.J. c | 2 | 0 | 1 | 0 | 0 | 0 | 1 | 0 |
| HAMILTON, Chase cf | 4 | 2 | 2 | 1 | 0 | 0 | 3 | 0 |
| SMITHSON, Clayton ss | 0 | 0 | 0 | 0 | 0 | 0 | 2 | 4 |
| WILLIS, Imani ph/ss | 1 | 0 | 0 | 0 | 0 | 0 | 0 | 1 |
| CARKUFF, Jared p | 0 | 0 | 0 | 0 | 0 | 0 | 1 | 2 |
| PRIMASING, Levi p | 0 | 0 | 0 | 0 | 0 | 0 | 0 | 1 |
| WALTON, Zach p | 0 | 0 | 0 | 0 | 0 | 0 | 0 | 0 |
| COSTANZO, Michael p | 0 | 0 | 0 | 0 | 0 | 0 | 0 | 0 |
| GAURA, A.J. p | 0 | 0 | 0 | 0 | 0 | 0 | 0 | 0 |
| NEFF, Zach p | 0 | 0 | 0 | 0 | 0 | 0 | 0 | 0 |
| KIMBEL, Keirce p | 0 | 0 | 0 | 0 | 0 | 0 | 0 | 0 |
| Totals | 34 | 5 | 10 | 5 | 4 | 7 | 27 | 14 |
BATTING:
2B: GLEASON, Dre 1; HAMILTON, Chase 2
SH: MASSONI, Patrick 1
SF: BREDLAU, Cayce 1
BASERUNNING:
SB: PURCELL, Wesley 1; GRAY, Logan 1
HBP: SMITHSON, Clayton 2; WILLIS, Imani 1
FIELDING:
E: COSTANZO, Michael 1; KIMBEL, Keirce 1