APSU Sports Information

Clarksville, TN – Austin Peay State University's softball team couldn't slow down Eastern Illinois' offense down the stretch, Thursday, at Cheryl Holt Field, with the Lady Govs dropping the finale of its three-game Ohio Valley Conference series to the Panthers, 12-8.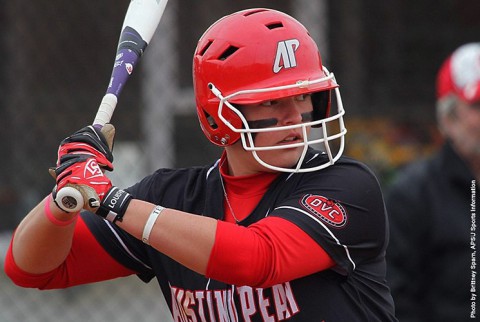 The Lady Govs (2-14, 1-2 OVC) were leading 7-4 heading into the top of the fifth inning, when EIU exploded for five runs on five hits.
Jennette Isaac opened the inning by drawing a walk, which was followed by four straight singles by Bailey O'Dell, Hannah Cole, April Markowski and Amber Toenyes to tie the game, 7-7. After a sacrifice to move Markowski and Toenyes into scoring position, Hannah Rachor put the Panthers (7-12, 2-1 OVC) up for good with a two-run double.
EIU would add three more runs in the top of the sixth, on Markowski's first home run of the season, to make it 12-7.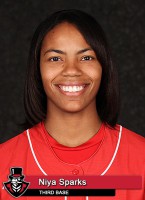 Markowski led the Panthers with four hits and four RBIs while Toenyes had three hits and five RBI.
Austin Peay got one final run in the bottom of the sixth inning on a Niya Sparks' solo home run – her fourth of the year – for the 12-8 final.
Rachor (1-1) got the win, in relief, while Heather Norris (0-4) took the loss.
Eastern Illinois took a 2-0 lead in the top of the first inning on a two run single by Toenyes and doubled it to a 4-0 advantage in the top of the third on Toenyes' third homer of the season, a two-run shot.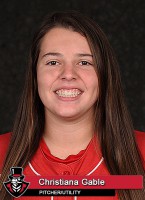 Austin Peay took the lead in the bottom of the third with its best offensive inning this season, scoring seven runs on five hits. Christiana Gable, who finished the day going 4-for-5 with two RBIs, got the inning going with her season's fifth home run. Sparks followed by drawing a walk and came around one out latter on a double by Allie Blackwood.
A single by Mel Pavel put runners at first and third, followed by pinch-hitter Sidney Hooper reaching on a fielder's choice, scoring Blackwood. A walk to Courtney Brower loaded the bases, followed by Chandler Groves being hit by a pitch to drive in a run. Laurel Burroughs drove in two with a single while Gable drove in her second run of the inning with a single for the 7-4 advantage.
Box Score
Eastern Illinois (7-12 / 2-1) -vs- Austin Peay (2-14 / 1-2)
| | 1 | 2 | 3 | 4 | 5 | 6 | 7 | R | H | E |
| --- | --- | --- | --- | --- | --- | --- | --- | --- | --- | --- |
| Eastern Illinois | 2 | 0 | 2 | 0 | 5 | 3 | 0 | 12 | 14 | 2 |
| Austin Peay | 0 | 0 | 7 | 0 | 0 | 1 | 0 | 8 | 11 | 0 |
W: RACHOR, Hannah (1-1) L: NORRIS, Heather (0-4)
Eastern Illinois 12
Player
AB
R
H
RBI
BB
SO
LOB
cf/3b
BECK, Haylee
5
0
1
0
0
2
1
lf
ISAAC, Jennette
3
2
1
0
1
0
1
ph
MIOKOVIC, Taylor
1
0
0
0
0
0
1
ss
O'DELL, Bailey
3
3
2
0
1
0
0
c
COLE, Hannah
3
2
1
1
1
0
0
rf/cf
MARKOWSKI, April
4
3
4
4
0
0
0
1b
TOENYES, Amber
4
2
3
5
0
1
0
dp
PAUL, Ashlynne
3
0
0
0
0
0
2
3b/p
RACHOR, Hannah
4
0
2
2
0
0
0
2b
WATSON, Katie
2
0
0
0
1
0
0
rf
JOHNSON, Tori
0
0
0
0
0
0
0
p
ROGERS, Michelle
0
0
0
0
0
0
0
Totals
32
12
14
12
4
3
5
Batting
2B: MARKOWSKI, April (1); RACHOR, Hannah (2)
HR: MARKOWSKI, April (1); TOENYES, Amber (1)
SH: PAUL, Ashlynne (1); WATSON, Katie (1)
Baserunning
SB: WATSON, Katie (1)
Fielding
E: COLE, Hannah (1); WATSON, Katie (1)

Austin Peay 8
Player
AB
R
H
RBI
BB
SO
LOB
lf
GROVES, Chandler
4
1
0
1
0
0
0
2b
BURROUGHS, Laurel
5
0
1
2
0
0
2
1b/p
GABLE, Christiana
5
1
4
2
0
0
1
pr
HOEG, Morgan
0
0
0
0
0
0
0
3b
SPARKS, Niya
3
2
1
1
2
0
3
dp
DiBENEDETTO, Vinchen
2
0
1
0
2
1
0
p/1b
BLACKWOOD, Allie
2
1
1
1
0
0
3
p
NORRIS, Heather
1
0
0
0
0
1
0
c
PAVEL, Mel
3
1
1
0
1
0
0
rf
ARKANSAS, Rikki
3
1
1
0
0
1
2
ph
HOOPER, Sidney
1
0
0
1
0
0
0
cf
BROWER, Courtney
3
1
1
0
1
0
0
ss
INAGAKI, Erica
0
0
0
0
0
0
0
Totals
32
8
11
8
6
3
11
Batting
2B: BLACKWOOD, Allie (1)
HR: GABLE, Christiana (1); SPARKS, Niya (1)
SH: BLACKWOOD, Allie (1)
Baserunning
SB: BURROUGHS, Laurel (1)
HBP: GROVES, Chandler (1)