APSU Sports Information

Ocala, FL – Austin Peay State University women's golf team played its best round of the 2015 MSU Ocala Spring Invitational, Tuesday, but were unable to move up in the final standings in the event played at the Juliette Falls Golf Resort.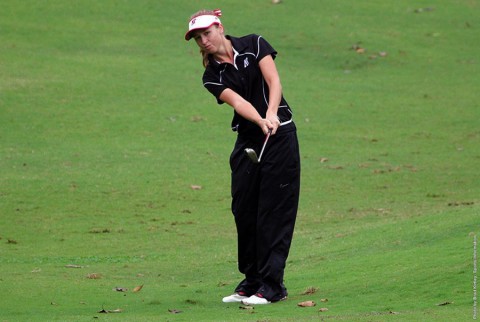 The Lady Govs shot a final-day 315 for a 958 total and took 17th-place in the three-day event. South Dakota State rallied with a 302 on the final on the final day to edge Daytona State, 899-900.
"We played better as a team today," APSU coach Sara Robson said. "We made better decisions on the course.
"We had some people who had some good rounds but literally one bad swing or one bad hole. AnnaMichelle (Moore), for instance, hit two in the water on No. 10 for a quad (quadruple bogey). Jessica (Cathey) hit one in the water on (No.) 13. Morgan (Kauffman) doubled 14—her final hole."
Despite those struggles that trio ended the final round with sub-80 scores. Cathey, the Lady Govs' lone junior, again led the Lady Govs with a 77. The two-time All-OVC selection finished at 227 and tied for 27th. Meanwhile Kauffman, a sophomore, and Moore, a freshman, each had final round 79s. A second freshman, Anna Pope, displayed her continued spring improvement with an 80 while sophomore Morgan Gardner shot an 81.
"Anna (Pope) is getting there," Robson said. "A little improvement on a few things and she will be consistently in the 70s.
"Kauffman tried a different approach today, one where she had to earn every shot and it paid off.
"Jessica is just playing really solid golf right now. She is normally right at or near par."