Austin Peay Sports Information

Martin, TN – Austin Peay State University's softball team couldn't come up with that final big hit against UT Martin, Saturday, at Bettye Giles Field, in dropping a pair of Ohio Valley Conference games by scores of 8-6 and 10-2.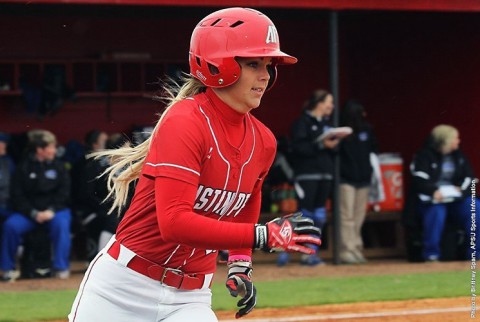 The Lady Govs (5-19, 2-7 OVC) entered the seventh inning of Game 1 down 8-5, but got a double from
Chandler Groves
to start the inning–Groves led the Lady Govs with three hits.
An out later, Christiana Gable drove in Groves to cut the deficit to 8-6 and bring up the potential tying run to the plate in Niya Sparks, who ripped a shot over the Tennessee Martin left fielder's head and off the fence for as double, putting runners at second and third – with one out.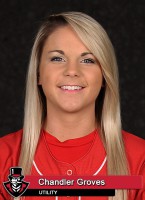 Heather Norris walked to load the bases, but that would be as close as Austin Peay would get, with Morgan Hoeg striking out on a change up and Mel Pavel lining out to short stop to end the game.
The Skyhawks (16-14, 4-4 OVC) took the lead with a run in the bottom of the second inning on a wild pitch by APSU starter Sidney Hooper, but Austin Peay responded in the top of the third with four runs.
Pavel opened the inning by drawing a walk, followed an out later by four straight singles from Courtney Brower, Groves, Laurel Burroughs and Gable, with Burroughs and Gable picking up RBI during that run.
Hooper would close out the inning's scoring an out later, driving in two runs with a double down the left field line to make it 4-1.
The Skyhawks cut into the Lady Govs' lead with a solo run in the bottom of the inning, but scored five times in the bottom of the fourth to take a 7-4 lead.
Gable scored a run in the top of the fifth to make it 7-5, but Tennessee Martin got the run back in the bottom of the inning.
Game 2 looked like it would be another back-and-fourth affair early on, with the Skyhawks jumping out to a 2-0 lead after one inning, with Austin Peay tying the game with two runs of its own in the top of the second. Norris got the inning going by earning a base on balls.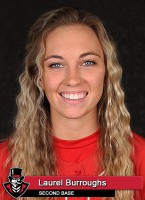 Two outs later she moved to second when Rikki Arkansas was hit by a pitch. Brower and Groves followed with back-to-back RBI singles to tie the game 2-2. Groves again had two hits to lead the Lady Govs.
But that would be the final Austin Peay runs, with Tennessee Martin closing out the game by scoring eight runs over its next four at bats to end the game in five innings, 10-2.
The Lady Govs will conclude their three-game series with the Skyhawks at 1:00pm, Sunday. with a single game.
Box Score – Game 1
Austin Peay (5-18 / 2-6) -vs- Tennessee Martin (15-14 / 3-4)
| | 1 | 2 | 3 | 4 | 5 | 6 | 7 | R | H | E |
| --- | --- | --- | --- | --- | --- | --- | --- | --- | --- | --- |
| Austin Peay | 0 | 0 | 4 | 0 | 1 | 0 | 1 | 6 | 12 | 0 |
| Tennessee Martin | 0 | 1 | 1 | 5 | 1 | 0 | X | 8 | 12 | 0 |
W: WIEGAND, Elizabeth (8-5)     L: HOOPER, Sidney (1-5)
Austin Peay 6
| | Player | AB | R | H | RBI | BB | SO | LOB |
| --- | --- | --- | --- | --- | --- | --- | --- | --- |
| lf | GROVES, Chandler | 4 | 2 | 3 | 0 | 0 | 0 | 0 |
| 2b | BURROUGHS, Laurel | 4 | 1 | 1 | 1 | 0 | 0 | 0 |
| 1b | GABLE, Christiana | 4 | 1 | 2 | 2 | 0 | 0 | 0 |
| pr | LAKE, Marissa | 0 | 0 | 0 | 0 | 0 | 0 | 0 |
| 3b | SPARKS, Niya | 4 | 0 | 2 | 0 | 0 | 1 | 0 |
| p | HOOPER, Sidney | 3 | 0 | 2 | 2 | 0 | 0 | 0 |
| p | NORRIS, Heather | 0 | 0 | 0 | 0 | 1 | 0 | 0 |
| ss | HOEG, Morgan | 4 | 0 | 0 | 0 | 0 | 2 | 4 |
| c | PAVEL, Mel | 3 | 1 | 0 | 0 | 1 | 0 | 3 |
| rf | ARKANSAS, Rikki | 3 | 0 | 1 | 0 | 0 | 1 | 0 |
| cf | BROWER, Courtney | 3 | 1 | 1 | 0 | 0 | 1 | 0 |
| | Totals | 32 | 6 | 12 | 5 | 2 | 5 | 7 |
Batting
2B:GROVES, Chandler (1); SPARKS, Niya (1); HOOPER, Sidney (1)
Baserunning
CS:ARKANSAS, Rikki (1)
Tennessee Martin 8
| | Player | AB | R | H | RBI | BB | SO | LOB |
| --- | --- | --- | --- | --- | --- | --- | --- | --- |
| dp | DAUGHERTY, Kacie | 3 | 1 | 2 | 2 | 0 | 0 | 0 |
| ss | MCCLURE, Samantha | 3 | 2 | 1 | 0 | 0 | 0 | 1 |
| cf | GONZALES, Carly | 4 | 1 | 3 | 2 | 0 | 0 | 0 |
| 1b | TATE, Kenzi | 3 | 0 | 0 | 0 | 0 | 2 | 1 |
| 1b | FEIGL, Lindsey | 1 | 0 | 0 | 0 | 0 | 0 | 0 |
| rf | HANSEN, Alicia | 3 | 1 | 2 | 3 | 0 | 1 | 0 |
| lf | DIXON, Kelsey | 3 | 0 | 1 | 0 | 0 | 0 | 3 |
| 3b | DUNCAN, Jodie | 1 | 1 | 1 | 0 | 1 | 0 | 0 |
| pr | SMITH, Chelsey | 0 | 0 | 0 | 0 | 0 | 0 | 0 |
| pr | ZIZZI, Bella | 0 | 1 | 0 | 0 | 0 | 0 | 0 |
| 3b | BLANCO, Kayla | 0 | 0 | 0 | 0 | 0 | 0 | 0 |
| c | MECKL, Renate | 3 | 1 | 2 | 0 | 0 | 0 | 0 |
| 2b | DODSON, Savannah | 1 | 0 | 0 | 0 | 0 | 0 | 1 |
| p | WIEGAND, Elizabeth | 0 | 0 | 0 | 0 | 0 | 0 | 0 |
| | Totals | 25 | 8 | 12 | 7 | 1 | 3 | 6 |
Batting
2B:GONZALES, Carly (2); HANSEN, Alicia (1)
SH:DODSON, Savannah (1)SF:DAUGHERTY, Kacie (1)
Baserunning
SB:HANSEN, Alicia (1); DIXON, Kelsey (1)
CS:DAUGHERTY, Kacie (1); DIXON, Kelsey (1)
HBP:MCCLURE, Samantha (1); HANSEN, Alicia (1); DUNCAN, Jodie (1); DODSON, Savannah (1)
Box Score – Game 2
Austin Peay (5-19 / 2-7) -vs- Tennessee Martin (16-14 / 4-4)
| | 1 | 2 | 3 | 4 | 5 | R | H | E |
| --- | --- | --- | --- | --- | --- | --- | --- | --- |
| Austin Peay | 0 | 2 | 0 | 0 | 0 | 2 | 3 | 0 |
| Tennessee Martin | 2 | 4 | 2 | 0 | 2 | 10 | 10 | 0 |
W: VINCENT, Casey (3-4)    L: NORRIS, Heather (1-5)
Austin Peay 2
| | Player | AB | R | H | RBI | BB | SO | LOB |
| --- | --- | --- | --- | --- | --- | --- | --- | --- |
| lf | GROVES, Chandler | 3 | 0 | 2 | 1 | 0 | 1 | 0 |
| 2b | BURROUGHS, Laurel | 2 | 0 | 0 | 0 | 1 | 0 | 2 |
| 1b | GABLE, Christiana | 2 | 0 | 0 | 0 | 1 | 1 | 1 |
| 3b | SPARKS, Niya | 2 | 0 | 0 | 0 | 0 | 2 | 1 |
| p | NORRIS, Heather | 1 | 1 | 0 | 0 | 1 | 1 | 0 |
| p | BLACKWOOD, Allie | 0 | 0 | 0 | 0 | 0 | 0 | 0 |
| ss | HOEG, Morgan | 2 | 0 | 0 | 0 | 0 | 0 | 0 |
| c | PAVEL, Mel | 2 | 0 | 0 | 0 | 0 | 1 | 0 |
| rf | ARKANSAS, Rikki | 1 | 1 | 0 | 0 | 0 | 0 | 0 |
| cf | BROWER, Courtney | 2 | 0 | 1 | 1 | 0 | 0 | 0 |
| | Totals | 17 | 2 | 3 | 2 | 3 | 6 | 4 |
Baserunning
CS:BURROUGHS, Laurel (1)
HBP:ARKANSAS, Rikki (1)
Tennessee Martin 10
| | Player | AB | R | H | RBI | BB | SO | LOB |
| --- | --- | --- | --- | --- | --- | --- | --- | --- |
| dp | DAUGHERTY, Kacie | 3 | 1 | 1 | 1 | 0 | 0 | 1 |
| ss | MCCLURE, Samantha | 2 | 2 | 1 | 0 | 1 | 0 | 0 |
| cf | GONZALES, Carly | 3 | 2 | 2 | 3 | 0 | 0 | 0 |
| 1b | TATE, Kenzi | 2 | 0 | 0 | 0 | 1 | 0 | 0 |
| rf | HANSEN, Alicia | 2 | 2 | 2 | 1 | 0 | 0 | 0 |
| lf | DIXON, Kelsey | 2 | 2 | 2 | 1 | 1 | 0 | 0 |
| 3b | DUNCAN, Jodie | 3 | 0 | 0 | 0 | 0 | 0 | 0 |
| c | SMITH, Aeron | 2 | 0 | 1 | 1 | 0 | 0 | 0 |
| pr | ZIZZI, Bella | 0 | 1 | 0 | 0 | 0 | 0 | 0 |
| 2b | DODSON, Savannah | 1 | 0 | 0 | 0 | 0 | 1 | 0 |
| ph | SMITH, Lauren | 1 | 0 | 1 | 2 | 0 | 0 | 0 |
| p | VINCENT, Casey | 0 | 0 | 0 | 0 | 0 | 0 | 0 |
| | Totals | 21 | 10 | 10 | 9 | 3 | 1 | 1 |
Batting
2B:DIXON, Kelsey (1)
HR:GONZALES, Carly (1)SF:HANSEN, Alicia (1); SMITH, Aeron (1)
Baserunning
SB:MCCLURE, Samantha (1); GONZALES, Carly (1); HANSEN, Alicia (1); DODSON, Savannah (1)
CS:DIXON, Kelsey (1)