Austin Peay Sports Information

Clarksville, TN – Austin Peay State University women's tennis team dropped a 4-1 decision to Morehead State, Friday, at the Austin Peay Indoor Tennis Center.
As a result of inclement weather and time constraints moving the match indoors, singles matches were played first and doubles matches were bypassed because MSU clinched the match victory in singles action.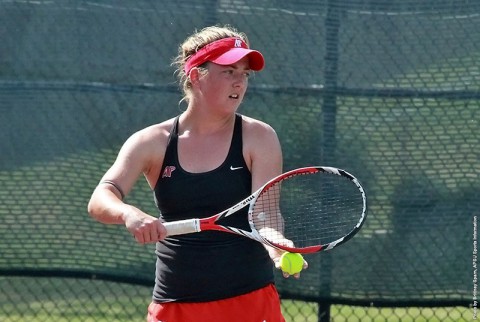 With the loss, the Lady Govs fall to 2-14 overall, with a 0-6 mark in the Ohio Valley Conference. MSU improves to 6-6 overall, with a 4-0 OVC record.
In singles action, the Lady Govs were led by senior Vanessa Tavares who claimed a thrilling 6-2, 4-6, 7-5 decision to Dominique-Chante Mclean. In other singles matches, sophomore Hannah Tatlock dropped a 7-5, 6-2 match to Ayaka Terashi at the No. 2 slot while senior Ornella Di Salvo lost 6-3, 6-3 to Andrea LeBlanc at No. 1.
The Lady Govs return to action with a 2:00pm, Saturday, contest against OVC rival Eastern Kentucky at the Governors Indoor Tennis Center.
Box Score
Singles
No. 1 – Andrea LeBlanc (MSU) def. Ornella Di Salvo (APSU) 6-3, 6-3
No. 2 – Ayaka Terashi (MSU) def. Hannah Tatlock (APSU) 7-5, 6-2
No. 3 – Vanessa Tavares (APSU) def. Dominique-Chante Mclean (MSU) 6-2, 4-6, 7-6 (5)
No. 4 – Alex Tachovsky (MSU) def. Brittney Covington (APSU) 6-2, 6-0
No. 5 – Hayley Wild (MSU) def. Isabela Jovanovic (APSU) 6-3, 6-2
No. 6. – Jovana Karac (APSU) def. Aleksandra Savic (MSU) 6-3, 5-5, (unfinished)