Clarksville, TN – Make your reservations now for the upcoming dinner theatre production of "Here Lies Jeremy Troy" scheduled for April 17th, 18th, 24th, and 25th.
"Here Lies Jeremy Troy" is a comedy written by Jack Sharkey and is being directed by Art Conn.
The play centers on a law clerk, who is up for promotion, and is visited by a school chum who lives by sponging off classmates.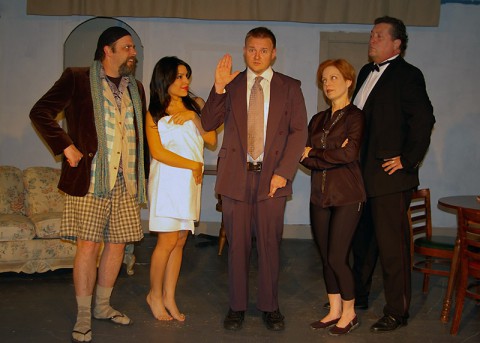 The sponger discovers that the lawyer's degree is a fraud, so he blackmails the lawyer into putting him up on the very night the boss is coming for dinner whereupon the wife leaves.
A model is hired to play the wife, a dumb beauty whose attempts to help backfire. More trouble erupts when the wife returns, but since the model is playing Jeremy's wife, she's introduced as the Queen of Romania.
The play stars many veteran local actors that include Alex Syler, Benny Jones, Bill Colclough, and Ila Mae Avitia. Making her Cumberland Arts Centre debut is Denise Fuller, a former Clarksvillian, who has been performing in Florida and California.
You can make reservations by calling the theatre at 931.552.1106.
Doors open at 6:00pm with dinner service starting at 6:30pm. Tickets are $30.00 + tax and includes dinner and show.