APSU Sports Information

Cape Girardeau, MO – Two bases loaded opportunities will haunt Austin Peay State University's baseball team as it dropped a 3-2 Ohio Valley Conference decision to Southeast Missouri, Saturday at Capaha Field.
Austin Peay (16-11, 9-5 OVC) trailed 1-0 in the fifth inning when it created the first bases-loaded chance against Southeast Missouri starter Travis Hayes.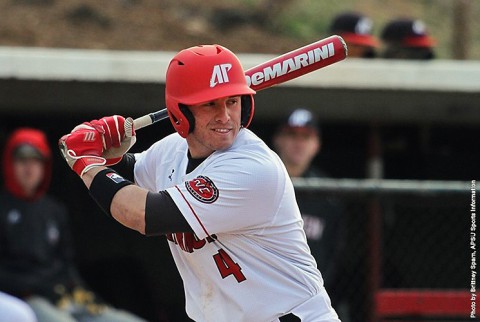 Catcher
Ridge Smith
singled to start the inning, second baseman
Garrett Copeland
walked and right fielder
Josh Wilson
reached on a bunt single to load the bases.
However, designated hitter Alex Robles hit a ground ball back to Hayes on the mound, who started a double play by throwing home. Hayes needed just one more pitch to end the inning by inducing a ground ball to first base.
Three innings later Hayes created another bases loaded opportunity when he walked the bases loaded with two out. However, the Redhawks right-hander worked out of the threat by striking out Govs third baseman Logan Gray.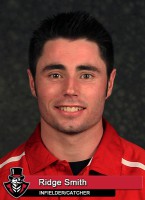 The Govs would break through in the ninth thanks to a Southeast Missouri error. Copeland singled through the left side to start the inning and Wilson walked to put two aboard with one out.
After a wild pitch allowed the runners to advance, Robles came to the plate and hit a ground ball that eluded the third baseman and allowed a run to score. Pinch hitter Wesley Purcell drove in another run with a fielder's choice, getting APSU within a run 3-2 with two out.
Pinch hitter Chase Hamilton followed with a walk, pushing the tying run to second base. Outfielder Patrick Massoni then hit a flare into shallow right center, but Redhawks shortstop Branden Boggetto was able to range back and make the catch to end the game.
The offensive outage came at the expense of Austin Peay starter Caleb Powell (4-1), who suffered his first loss despite holding Southeast Missouri to three runs on four hits and four walks in 5.1 innings, striking out six.
Southeast Missouri (18-12, 10-4 OVC) scored its runs in the second and sixth innings, both times taking advantage of a leadoff single off Powell. In the second, Powell saw the runner advance to second on a balk then to third on a ground ball where first baseman Ryan Rippee drove in the run with a sacrifice fly.
The Redhawks tacked on two more runs in the sixth. A leadoff single turned into runners on the corners when Boggetto walked, ending Powell's outing. Reliever Levi Primasing walked the only batter he faced to load the bases.
APSU reliever A.J. Gaura surrendered a run on another sacrifice fly by Rippee. He then appeared to have the inning ended on a bunt toward third base but the throw to first sailed wide, allowing another run to score, extending the lead to 3-0.
The three runs were enough for Hayes (5-3) who held on for the win after striking out 12 Governors batters in 8.1 innings. He allowed two runs on four hits and six walks. Reliever Matthew Wade walked one batter but recorded the final two outs to record his third save.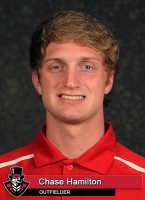 Rippee was 0-for-1 officially at the plate but had a pair of RBI thanks to two sacrifice flies. Third baseman Andy Lennington returned from an injury and went 2-for-4.
Copeland led the Govs with a 1-for-2 outing that also saw him earn a pair of walks. Pinch hitter Chase Hamilton appeared late in the game and walked in both of his plate appearances.
Austin Peay and Southeast Missouri will wrap up their three-game series, now tied 1-1, with a 1:00pm, Sunday contest at Capaha Field.
Box Score
Austin Peay (16-11 / 9-5) -vs- Southeast Missouri (18-12 / 10-4)
| Team | 1 | 2 | 3 | 4 | 5 | 6 | 7 | 8 | 9 | R | H | E |
| --- | --- | --- | --- | --- | --- | --- | --- | --- | --- | --- | --- | --- |
| Austin Peay | 0 | 0 | 0 | 0 | 0 | 0 | 0 | 0 | 2 | 2 | 4 | 1 |
| Southeast Missouri | 0 | 1 | 0 | 0 | 0 | 2 | 0 | 0 | X | 3 | 5 | 1 |
W: HAYES, Travis (5-3)     L: POWELL, Caleb (4-1)     S: WADE, Matthew (3)
Austin Peay 2
| | Player | AB | R | H | RBI | BB | SO | LOB |
| --- | --- | --- | --- | --- | --- | --- | --- | --- |
| cf/rf | MASSONI, Patrick | 5 | 0 | 1 | 0 | 0 | 1 | 2 |
| lf | BREDLAU, Cayce | 3 | 0 | 0 | 0 | 1 | 3 | 0 |
| 3b | GRAY, Logan | 4 | 0 | 0 | 0 | 0 | 3 | 3 |
| c | SMITH, Ridge | 4 | 0 | 1 | 0 | 0 | 2 | 0 |
| 2b | COPELAND, Garrett | 2 | 1 | 1 | 0 | 2 | 0 | 0 |
| rf/1b | WILSON, Josh | 3 | 1 | 1 | 0 | 1 | 0 | 1 |
| dh/ss | ROBLES, Alex | 4 | 0 | 0 | 1 | 0 | 0 | 0 |
| pr | SMITHSON, Clayton | 0 | 0 | 0 | 0 | 0 | 0 | 0 |
| 1b | GLEASON, Dre | 2 | 0 | 0 | 0 | 1 | 1 | 2 |
| pr | BLACKBURN, Kyle | 0 | 0 | 0 | 0 | 0 | 0 | 0 |
| ph | PURCELL, Wesley | 1 | 0 | 0 | 1 | 0 | 0 | 0 |
| ss | WILLIS, Imani | 2 | 0 | 0 | 0 | 0 | 2 | 0 |
| ph/cf | HAMILTON, Chase | 0 | 0 | 0 | 0 | 2 | 0 | 0 |
| p | POWELL, Caleb | 0 | 0 | 0 | 0 | 0 | 0 | 0 |
| p | PRIMASING, Levi | 0 | 0 | 0 | 0 | 0 | 0 | 0 |
| p | GAURA, A.J. | 0 | 0 | 0 | 0 | 0 | 0 | 0 |
| | Totals | 30 | 2 | 4 | 2 | 7 | 12 | 8 |
Baserunning
CS:MASSONI, Patrick (1)
Fielding
E:GRAY, Logan (1)
Southeast Missouri 3
| | Player | AB | R | H | RBI | BB | SO | LOB |
| --- | --- | --- | --- | --- | --- | --- | --- | --- |
| lf | EZELL, Trevor | 4 | 0 | 0 | 0 | 0 | 0 | 3 |
| 2b | BLUM, Jason | 3 | 0 | 0 | 0 | 1 | 2 | 0 |
| dh | GANDOLFO, Garrett | 3 | 0 | 0 | 0 | 1 | 3 | 0 |
| 3b | LENNINGTON, Andy | 4 | 1 | 2 | 0 | 0 | 1 | 0 |
| rf | HEWITT, Dalton | 4 | 0 | 0 | 0 | 0 | 1 | 3 |
| ss | BOGGETTO, Branden | 3 | 2 | 1 | 0 | 1 | 2 | 0 |
| c | MITCHELL, Scott | 1 | 0 | 0 | 0 | 1 | 0 | 0 |
| ph | FISHER, Nolan | 0 | 0 | 0 | 0 | 1 | 0 | 0 |
| c | BURRIDGE, Alex | 1 | 0 | 0 | 0 | 0 | 0 | 0 |
| 1b | RIPPEE, Ryan | 1 | 0 | 0 | 2 | 0 | 1 | 0 |
| cf | EVANS, Clayton | 3 | 0 | 2 | 1 | 0 | 0 | 1 |
| p | HAYES, Travis | 0 | 0 | 0 | 0 | 0 | 0 | 0 |
| p | WADE, Matthew | 0 | 0 | 0 | 0 | 0 | 0 | 0 |
| | Totals | 27 | 3 | 5 | 3 | 5 | 10 | 7 |
Batting
SF:RIPPEE, Ryan (2)
Baserunning
SB:BLUM, Jason (1)
Fielding
E:LENNINGTON, Andy (1)