APSU Sports Information

Clarksville, TN – Austin Peay State University women's tennis team concluded its 2015 slate when it dropped a 4-3 heartbreaker to Jacksonville State, Friday, at the Governors Tennis Courts.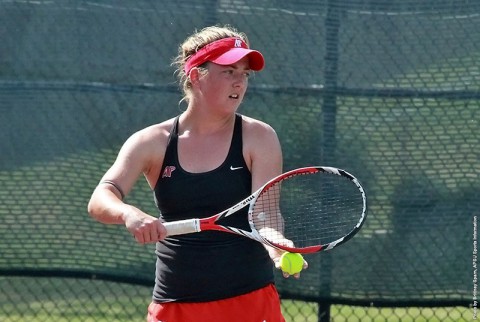 With the loss, the Lady Govs finish their season with a 3-17 overall record, with a 1-9 mark in the Ohio Valley Conference. JSU improves to 7-12 overall, with a 4-5 OVC record.
In doubles play, the duo of seniors Ornella Di Salvo and Vanessa Tavares earned an 8-7 (2) victory at the No. 1 position. Unfortunately, the Gamecocks claimed the doubles point by winning the two remaining matches.
In singles action, the Lady Govs were led by Di Salvo, who cruised to a 6-0, 6-1 victory against Claudia Marsala at No. 1 and Tavares, who picked up a 6-2, 6-1 win against Diana Mirceta at the No. 3 position.
In other singles matches, freshman Brittney Covington battled back from a first set deficit to claim a 4-6, 7-5, 7-6 (5) victory over Zoe Bizinos at the No. 4 position, while senior Jovana Karac dropped a hard-fought 6-2, 6-4 decision to Sadey St. Amant at No. 6.
Box Score
Singles
No. 1 – Ornella Di Salvo (APSU) def. Claudia Marsala (JSU) 6-0, 6-1
No. 2 – Genevie Ulanday (JSU) def. Hannah Tatlock (APSU) 6-2, 6-2
No. 3 – Vanessa Tavares (APSU) vs. Diana Mirceta (JSU) 6-2 6-1
No. 4 – Brittney Covington (APSU) vs. Zoe Bizinos (JSU) 4-6, 7-5, 7-6 (5)
No. 5 – Danielle Kerindi (JSU) def. Isabela Jovanovic (APSU) 6-0, 6-4
No. 6. – Sadey St. Amant (JSU) def. Jovana Karac (APSU) 6-2, 6-4
Doubles
No. 1 – Di Salvo/Tavares (APSU) def. Ulanday/Mirceta (JSU) 8-7 (2)
No. 2 – Marsala/Bizinos (JSU) def. Tatlock/Karac (APSU) 8-1
No. 3 – St. Amant/Kerindi (JSU) def. Covington/Jovanovic (APSU) 8-5