Austin Sports Information

Clarksville, TN – Austin Peay State University's softball team was held to one run in both ends of its Ohio Valley Conference doubleheader with Southern Illinois University Edwardsville, Saturday, dropping 2-1 and 7-1 decisions, at Cheryl Holt Field.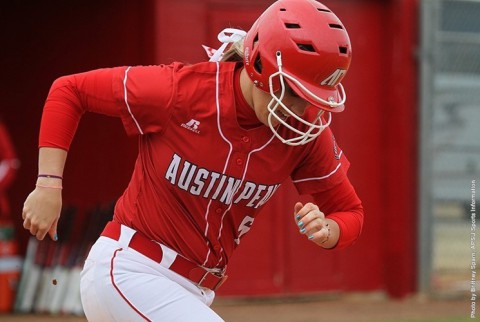 It was evident early on in Game 1 that the two teams would be locked in a pitcher's duel, with the Lady Govs' (8-25, 4-10 OVC)
Natalie Ayala
and SIUE's Haley Chambers matching zeroes for the first two-and-a-half innings, but Austin Peay broke on top of the Cougars with a run in the bottom of the third inning.
Rikki Arkansas opened the inning by drawing a base on balls, moved to second when Chandler Groves was hit by a pitch and then stole third. That brought up Laurel Burroughs, who singled through the left side of the Cougars (31-9, 13-3 OVC) infield to drive in Arkansas. Burroughs' hit and a second-inning Niya Sparks single would be the only base knocks for the Lady Govs.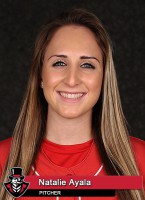 The score remained that way until the top of the fifth inning when SIUE took the lead with two runs. Amy Hunt got the SIUE rally started with a one-out walk, with Samantha Jones replacing her as a pinch runner. After an infield out moved Jones to third, she scored the tying run on a single by Chambers, who then herself scored on a double by Rebecca Gray.
That would be all that Chambers would need as she retired nine of the final 11 batters she faced to come away with the victory.
Chambers (18-4) finished the game allowing just two hits, while striking out 12 and walking three.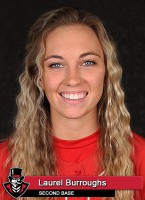 Ayala (4-9) took the complete-game loss, giving up six hits with two strikeouts and one walk.
Game 2 would see SIUE get out to a quick start, as the Cougars plated a couple of first-inning runs on four hits.
Gray would get the inning going with a one-out double and then scored an out later on a double by Alex McDavid. Rachel Keller then followed with a single to drive in McDavid to make it 2-0.
The score would remain that way until the top of the fourth inning, with the Cougars extending their lead to 5-0. Haley Adrien started things with a single, followed by back-to-back-to-back doubles by Jordan LaFave, Chambers and Gray, with each driving in a run.
Austin Peay scored its lone run in the bottom of the fourth, with Sparks drawing a one-out walk and scoring all the way from first base on a double off the left-field fence by Allie Blackwood.
Groves would have the other APSU hit in the bottom of the fifth inning.
The Cougars tacked on a couple of single runs late, with LaFave driving in a run in the fifth and McDavid in the sixth for the 7-1 final.
Baylee Douglass (12-4) got the win, permitting two hits and walking three, over five innings, while striking out six and walking three.
Austin Peay will conclude their three-game home OVC series with the Cougars, noon, Sunday with a single contest.
Box Score – Game 1
SIU Edwardsville (30-9 / 12-3) -vs- Austin Peay (8-24 / 4-9)
| | 1 | 2 | 3 | 4 | 5 | 6 | 7 | R | H | E |
| --- | --- | --- | --- | --- | --- | --- | --- | --- | --- | --- |
| SIU Edwardsville | 0 | 0 | 0 | 0 | 2 | 0 | 0 | 2 | 6 | 0 |
| Austin Peay | 0 | 0 | 1 | 0 | 0 | 0 | 0 | 1 | 2 | 1 |
W: Haley Chambers (18-4)    L: AYALA, Natalie (4-9)
SIU Edwardsville 2
| | Player | AB | R | H | RBI | BB | SO | LOB |
| --- | --- | --- | --- | --- | --- | --- | --- | --- |
| p | Haley Chambers | 3 | 1 | 2 | 1 | 0 | 0 | 0 |
| lf | Rebecca Gray | 3 | 0 | 2 | 1 | 0 | 0 | 0 |
| 2b | Allison Smiley | 2 | 0 | 0 | 0 | 0 | 0 | 2 |
| 1b | Rachel Keller | 3 | 0 | 0 | 0 | 0 | 1 | 1 |
| ss | Alex McDavid | 3 | 0 | 1 | 0 | 0 | 0 | 0 |
| rf | Brittany Toney | 2 | 0 | 0 | 0 | 0 | 0 | 0 |
| 3b | Whitney Lanphier | 2 | 0 | 0 | 0 | 0 | 1 | 0 |
| ph | Haley Adrian | 1 | 0 | 0 | 0 | 0 | 0 | 0 |
| c | Amy Hunt | 2 | 0 | 0 | 0 | 1 | 0 | 1 |
| pr | Samantha Jones | 0 | 1 | 0 | 0 | 0 | 0 | 0 |
| cf | Jordan LaFave | 3 | 0 | 1 | 0 | 0 | 0 | 0 |
| | Totals | 24 | 2 | 6 | 2 | 1 | 2 | 4 |
Batting
2B:Rebecca Gray (1)
SH:Allison Smiley (1); Brittany Toney (1)
Baserunning
SB:Rebecca Gray (1)
Austin Peay 1
| | Player | AB | R | H | RBI | BB | SO | LOB |
| --- | --- | --- | --- | --- | --- | --- | --- | --- |
| lf | GROVES, Chandler | 3 | 0 | 0 | 0 | 0 | 1 | 1 |
| 2b | BURROUGHS, Laurel | 3 | 0 | 1 | 1 | 0 | 1 | 0 |
| 1b | GABLE, Christiana | 3 | 0 | 0 | 0 | 0 | 3 | 0 |
| 3b | SPARKS, Niya | 1 | 0 | 1 | 0 | 1 | 0 | 0 |
| dp | HOEG, Morgan | 2 | 0 | 0 | 0 | 0 | 2 | 3 |
| ph | DiBENEDETTO, Vinchen | 1 | 0 | 0 | 0 | 0 | 1 | 0 |
| c | PAVEL, Mel | 3 | 0 | 0 | 0 | 0 | 0 | 1 |
| ss | INAGAKI, Erica | 2 | 0 | 0 | 0 | 0 | 1 | 1 |
| ph | HOOPER, Sidney | 1 | 0 | 0 | 0 | 0 | 1 | 0 |
| cf | ARKANSAS, Rikki | 1 | 1 | 0 | 0 | 2 | 0 | 0 |
| rf | BROWER, Courtney | 2 | 0 | 0 | 0 | 0 | 1 | 0 |
| ph | NORRIS, Heather | 1 | 0 | 0 | 0 | 0 | 1 | 0 |
| p | AYALA, Natalie | 0 | 0 | 0 | 0 | 0 | 0 | 0 |
| | Totals | 23 | 1 | 2 | 1 | 3 | 12 | 6 |
Baserunning
SB:GROVES, Chandler (1); BURROUGHS, Laurel (1); ARKANSAS, Rikki (1)
HBP:GROVES, Chandler (1); SPARKS, Niya (1)
Fielding
E:BROWER, Courtney (1)
Box Score – Game 2
SIU Edwardsville (31-9 / 13-3) -vs- Austin Peay (8-25 / 4-10)
| | 1 | 2 | 3 | 4 | 5 | 6 | 7 | R | H | E |
| --- | --- | --- | --- | --- | --- | --- | --- | --- | --- | --- |
| SIU Edwardsville | 2 | 0 | 0 | 3 | 1 | 1 | 0 | 7 | 12 | 1 |
| Austin Peay | 0 | 0 | 0 | 1 | 0 | 0 | 0 | 1 | 2 | 2 |
W: Baylee Douglass (12-4)    L: HOOPER, Sidney (2-8)
SIU Edwardsville 7
| | Player | AB | R | H | RBI | BB | SO | LOB |
| --- | --- | --- | --- | --- | --- | --- | --- | --- |
| dp | Haley Chambers | 4 | 1 | 1 | 1 | 0 | 0 | 1 |
| lf | Rebecca Gray | 4 | 2 | 2 | 1 | 0 | 0 | 0 |
| 2b | Allison Smiley | 3 | 0 | 2 | 0 | 0 | 0 | 0 |
| ss | Alex McDavid | 3 | 1 | 2 | 2 | 1 | 0 | 0 |
| 1b | Rachel Keller | 4 | 0 | 1 | 1 | 0 | 0 | 2 |
| c | Tess Eby | 4 | 0 | 1 | 0 | 0 | 0 | 3 |
| rf | Kelsey Hansen | 4 | 1 | 0 | 0 | 0 | 0 | 2 |
| 3b | Haley Adrian | 3 | 1 | 1 | 0 | 1 | 0 | 0 |
| pr | Samantha Jones | 0 | 0 | 0 | 0 | 0 | 0 | 0 |
| cf | Jordan LaFave | 3 | 1 | 2 | 2 | 0 | 0 | 0 |
| ph | Allie Hill | 1 | 0 | 0 | 0 | 0 | 1 | 0 |
| p | Baylee Douglass | 0 | 0 | 0 | 0 | 0 | 0 | 0 |
| p | Alexis Kohrs | 0 | 0 | 0 | 0 | 0 | 0 | 0 |
| | Totals | 33 | 7 | 12 | 7 | 2 | 1 | 8 |
Batting
2B:Haley Chambers (1); Rebecca Gray (2); Alex McDavid (1); Jordan LaFave (1)
SH:Allison Smiley (1)
Baserunning
SB:Alex McDavid (2); Kelsey Hansen (1); Haley Adrian (1)
CS:Samantha Jones (1)
Fielding
E:Allison Smiley (1)
Austin Peay 1
| | Player | AB | R | H | RBI | BB | SO | LOB |
| --- | --- | --- | --- | --- | --- | --- | --- | --- |
| lf | GROVES, Chandler | 3 | 0 | 1 | 0 | 0 | 0 | 0 |
| 2b | BURROUGHS, Laurel | 2 | 0 | 0 | 0 | 1 | 0 | 1 |
| 1b | GABLE, Christiana | 2 | 0 | 0 | 0 | 0 | 1 | 0 |
| ph/1b | EISENBRAUN, Ashley | 1 | 0 | 0 | 0 | 0 | 1 | 2 |
| 3b | SPARKS, Niya | 2 | 1 | 0 | 0 | 1 | 2 | 1 |
| dp | DiBENEDETTO, Vinchen | 3 | 0 | 0 | 0 | 0 | 2 | 0 |
| p | HOOPER, Sidney | 1 | 0 | 0 | 0 | 0 | 1 | 0 |
| p | BLACKWOOD, Allie | 2 | 0 | 1 | 1 | 0 | 1 | 0 |
| p | NORRIS, Heather | 0 | 0 | 0 | 0 | 0 | 0 | 0 |
| c | PAVEL, Mel | 2 | 0 | 0 | 0 | 0 | 0 | 1 |
| ph | HILL, Alexis | 1 | 0 | 0 | 0 | 0 | 1 | 0 |
| cf | LAKE, Marissa | 3 | 0 | 0 | 0 | 0 | 1 | 0 |
| rf | ARKANSAS, Rikki | 2 | 0 | 0 | 0 | 1 | 0 | 0 |
| ss | INAGAKI, Erica | 0 | 0 | 0 | 0 | 0 | 0 | 0 |
| | Totals | 24 | 1 | 2 | 1 | 3 | 10 | 5 |
Batting
2B:BLACKWOOD, Allie (1)
Baserunning
SB:BURROUGHS, Laurel (1)
Fielding
E:EISENBRAUN, Ashley (1); INAGAKI, Erica (1)