Montgomery County, TN – A man who led a Montgomery County Sheriff's deputy on a pursuit yesterday morning was apprehended Friday.
Zachary Allen Dertz, 20, who gave a 1502 Shadeland Drive address, was charged with evading arrest, resisting arrest, speeding, reckless driving, reckless endangerment and simple possession. His bond was set at $70,000.
Deputy David Phillips yesterday saw the defendant's vehicle traveling 92 miles per hour in a 65 miles per hour zone. Phillips attempted to stop the vehicle, which continued speeding and weaving in and out of traffic on Dover Road.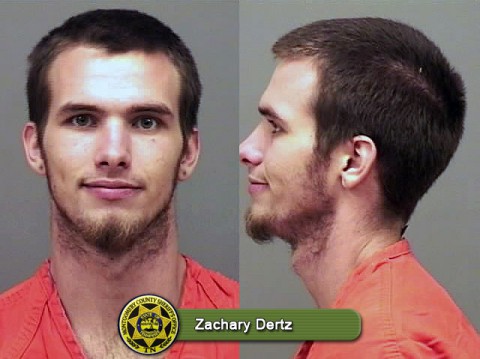 As the suspect attempted to turn left on Liberty Church Road, his vehicle nearly struck several other vehicles, jumped the curb and stopped.
Dertz then fled on foot and deputies were unable to locate him.
Friday, Sgt. Kenny Austion was looking for another fugitive at a bus station when Dertz walked in, looked directly at Austion then quickly turned and walked out and began to flee.
Clarksville Police Department Officer Matt Pena, who was assisting Austion, apprehended Dertz after a short foot pursuit.
Zachary Dertz
Name: Zachary Allen Dertz
Date of Birth: 8/ 1/ 94
Gender: M
Race: W
Address: 1502 Shadeland Drive, Clarksville, TN
Arresting Officer: David Phillips
Charged With: Evading Arrest, Resisting – Stop Frisk Halt Search, Speeding, Reckless Driving, Reckless Endangerment, Simple Possession
Booked Into: Montgomery County Jail
Bond: $70,000.00