Written by David E. Gillespie
Blanchfield Army Community Hospital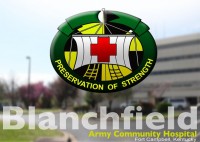 Fort Campbell, KY – Blanchfield Army Community Hospital (BACH) served as a fitting backdrop as Command Sgt. Maj. Thomas D. Sutphin assumed responsibility as the top noncommissioned officer in a ceremony on the parade field Thursday morning.
A familiar face to many in the Fort Campbell community, Sutphin previously served as first sergeant at the post's Dental Activity nearly a decade ago.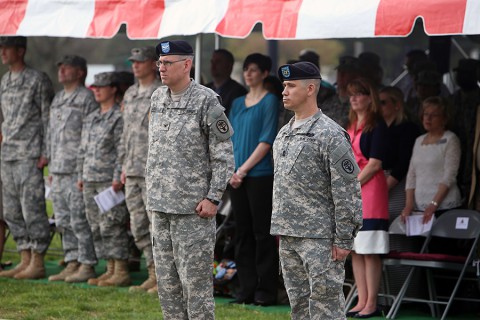 Since then, his assignments have included command sergeant major positions in Task Force 14 Medical in Afghanistan and 14th Combat Support Hospital at Fort Benning, GA.
He also served in Germany as G3 Training Readiness Exercise Division (TREX) sergeant major of the 30th Medical Command and Clinical Operation sergeant major of the Europe Regional Medical Command. He and his family are returning to their home in Clarksville, TN.
"Over the last few weeks, I've had the opportunity to meet some really great folks here and I'm truly impressed with the hospital and team I'm joining today," Sutphin said to the crowd in attendance at the ceremony.
Before Sutphin's arrival, the hospital's troop sergeant major, Sgt. Maj. Earl Senter, had filled in as interim command sergeant major since October, doing both jobs simultaneously. Hospital Commander Col. George N. Appenzeller recognized him for his efforts during the past six months.
"Thank you, Sgt. Maj. Senter for stepping up in a time of need. Just to put it simply, you made a difference to the community, to Blanchfield, and to the Soldiers and Civilian staff of our hospital," Appenzeller said.
"Command Sgt. Maj. Sutphin, I want to welcome you and your family to the BACH family. You are taking charge and have the privilege to serve the absolute best Soldiers and Civilians Army Medicine has to offer. Welcome aboard."
In his role at Blanchfield, Sutphin said he plans to focus on assisting the commander in increasing fiscal capabilities. "It's imperative that as a hospital, we ensure we perform our mission, we are fiscally responsible, and we are able to build for the future," Sutphin said.
The role of chief medical NCO makes Sutphin a senior advisor to commanders, directors and department chiefs. He said that requires him to be knowledgeable in technical missions, responsibilities and operations of all medical functional activities.
"Soldier development is also on my radar, and I will certainly ensure Sgt. Maj. Senter has what he needs to take care of Soldiers," Sutphin said. "He and the first sergeant will have my continued support and mentorship."
Hitting the ground running, Sutphin said he is already looking closely at how the hospital conducts day-to-day operations.
"My ears are already perked up. I'm interested in learning why some things are done the way they are here. They are different than what I've experienced elsewhere, so I am simply interested in learning how some of these processes were developed and how they could be improved," Sutphin explained.
Part of his inquisitive nature stems from his interest in Internet Technology, where he enjoys building, repairing and creating network security systems. That hobby is on pause because of his new role – not his assumption of responsibility at Blanchfield, but that as a new father to a 7-month-old son. He and his wife, Alexandra, also have two dogs, Brandy and Winston, rescued from Fort Campbell's Stray Animal Impound facility in 2006.
Sutphin said he is also exploring ways to demonstrate his appreciation for those who go above and beyond what is expected.
"To the hospital staff, both uniformed and civilian, I recognize that I can't be everywhere at once; so, I'm counting on you to keep me aware of those who are in your areas that go above and beyond their normal duty so their efforts can be recognized for all they do."