Austin Peay Sports Information

Clarksville, TN – Austin Peay State University men's basketball has announced the signing of three junior college basketball products, all originally from Indiana, and one high school senior as it completed its 2015-16 recruiting class.
However it is the name of prep senior that will more than interest APSU basketball fans and harken memories of Govs' days gone by.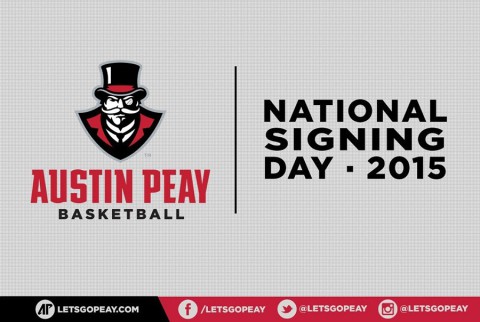 Jared Savage, a 6-5, 186-pound guard/forward from Warren Central and son of former Govs great Jermaine Savage (1992-95), has signed a national letter of intent to follow in the Hall of Fame footsteps of his father.
Meanwhile, the Governors also have added 6-1 point guard Terrell Thompson, from Wabash Valley Community College, and a pair of junior college teammates, 6-4 All-American guard John Murry and 6-7 forward Kenny Jones, who starred at Owens Community College in Perrysburg, Ohio.
With the most recent signees the 2015-16 recruiting class will be split down the middle with three junior college transfers and a trio of prep signees—APSU signed two St. Louis natives in Zach Glotta, a second-team St. Louis Metro and Class 5A All-State performer from Fort Zumwalt North, and Stephen Harris, a 6-4 guard from Webster Groves.
Jared Savage, 6-5, 186-pound, guard/forward
After averaging a more than respectable 13 points and five rebounds per game as a junior while earning all-district honors, Savage came into his own as a senior, averaging 18 points and 9.4 rebounds per outing playing guard and forward. He shot 48 percent from the floor, including 56 percent from two-point range and better than 33 percent from three.
He earned all-district for a second straight season and first-team all-region. He also was named to district and region all-tournament teams. He scored career-high 38 points—including seven three pointers—against University Heights Academy, only five points shy of Warren Central's  single-game scoring record. Savage scored 20 or more points on 15 different occasions. He was named one of Kentucky High School's top 50 best players by Rick Bolus Blue Chip Recruiting Service.
Savage, who scored 836 points over his last two seasons at Warren Central, joins former prep teammate, Chris Porter-Bunton.
"Jared really blossomed during his senior year," APSU coach Dave Loos said. "He is a good three-point shooter with range. He is getting stronger and is someone with athletic ability. He is developing as a rebounder.
"Jared just needs strength and experience to become a good college player."
Terrell Thompson, 6-1, 185-pound, point guard
Originally from Indianapolis, the 6-1 point guard drew the attention of multiple OVC schools during the recruiting process but committed to the Govs in early March after a season in which he averaged 11 points and 6.0 assists per game for Wabash Valley. Known more for his ability to distribute the basketball, he did score double figures on 16 occasions, including a pair of 20-point outings. He shot 50.3 percent from the floor and 67.0 percent from the free-throw line. He had nine assists in three contests and eight in another.
On the defensive end he had one contest with five steals and multiple steals in six others. He also had 10 games with five or more rebounds, including a season-high nine against Olney Central.
He earned all-conference and all-region as a sophomore after averaging 9.8 points per game, shooting 47 percent from the floor as a freshman.
He played his prep basketball for former Indiana standout guard Greg Graham at Warren Central in Indianapolis. He was ranked as the 17th best guard in the state as a senior.
"Terrell can push the ball in transition and he gets it to the open man," Loos said. "He is one of those point guards who makes those around him better. He is a good penetrator off the bounce and can finish.
"He shoots well enough to keep you honest from three. He was a first-team all-conference in a good league."
John Murry, 6-4, 190-pound, guard/forward
Another Indianapolis product, Murry earned National Junior College Athletics Association third-team All-American honors after a second straight superb season. The team's leading scorer averaged 17.9 points, 5.6 rebounds and 3.1 assists per game as a sophomore. For a second straight he finished second in the Ohio Community College Athletic Conference (OCCAC) Player of the Year voting. He earned first-team OCCAC and All-Region XII honors for the 25-7 Express.
As a sophomore, he reached double figures in all but three games and scored a season-high 34 points against Jackson in a game he finished 12-for-13 from the field and seven-for-seven from three-point range. Overall, he scored 20 or more points in 12 games in 2014-15. He shot 48 percent from the floor, including 34 percent from three-point range and 73 percent from the free-throw line.
Murry arrived as a freshman at Owens in 2013-14 and averaged 17.3 points, 4.5 rebounds, 2.4 assists and 1.1 steals per game overall. In OCCAC play, he fell just short of the scoring title, averaging 20.5 points, 4.6 rebounds, 2.6 assists and 1.6 steals per game.
During the season, Murry reached double figures in scoring in 28 of 31 games. He scored at least 20 points in 10 games, while achieving his season-high of 30 in the team's district semifinal win against Sinclair. He scored 20 or more points in 7 of 12 league games.
In his two-year career, Murry averaged 17.6 points, scoring 1,107 points, while averaging 5.1 rebounds and 2.7 assists per game. He displayed a penchant of getting to the free-throw line—he left as the program's all-time leader in free throws made (274) and free throws attempted (371), a 74 percent free-throw percentage for a team that finished 53-13 over those seasons.
He was a six-time conference player of the week selection in addition to being chosen all-conference and all-region both seasons.
In the summer of 2014, Murry was invited to and participated in the All-American Elite 80 JUCO Showcase in Augusta, Georgia.
Prior to Owens, Murry played three seasons at North Central High School, one of the top programs in Indiana high school basketball. Prior to his senior year, Murry transferred to TAAG Academy in Tampa, FL where he averaged 26 points and four assists per game.
"John has good size at 6-4," Loos said. "He is a guy who I feel who can play three positions. He put up some really good numbers at Owens and was an All-American selection.
"He really has good handles and is not afraid to attack the basketball—John has great ability to get to the free-throw line. He is a guy who just really plays hard."
Kenny Jones, 6-7, 190-pound forward
A South Bend, Ind., native, Jones was one of the most improved players in the OCCAC in 2014-15.  After averaging 5.8 points and 3.9 rebounds per game as a freshman in 2013-14, he nearly doubled his statistics this season, averaging 11.6 points, shooting 53 percent from the floor, along with 7.5 rebounds, 1.2 assists, 1.1 steals and 1.6 blocks per game.
In OCCAC play, Jones averaged 13.1 points, shooting 63 percent from the floor, 8.0 rebounds and 1.8 blocks per game en route to second-team All-OCCAC honors. Additionally, he finished eighth in the league in rebounding and second in blocked shots. In two seasons, Jones averaged 8.8 points, 5.8 rebounds and 1.1 blocks per game.
As a prep senior at South Clay, Jones averaged 11 points, 8.0 rebounds, 3.2 assists and 3.3 blocks per game. He was named honorable mention All-Northern Indiana Conference (NIC) following the season.
"Kenny has a really good motor and really runs the floor well," Loos said. "He is a guy who really put up good numbers this year. He is thin but is basketball strong and athletic.
"Kenny can face up or can score with his back to the basket."
Notes About APSU'S 2015-16 Recruiting Class
With rising redshirt senior guard Zavion Williams electing to graduate this spring and rising senior forward/center Serigne Mboup choosing to use next year to prepare academically to potentially attend Harvard, it freed up two more APSU scholarship opportunities, raising the potential spring signing class from two to four and six overall for 2015-16.
APSU's first two prep signees, Zach Glotta and Stephen Harris are from Missouri—the St. Louis area—while the three junior college signees—John Murry, Terrell Thompson, Kenny Jones—are from Indiana, all playing their juco basketball, however, outside that state.
For the second straight year APSU has signed a player whose father formerly played at APSU. Last season, APSU signed point guard Tre' Ivory, the son of former Govs forward/guard Willie Ivory. This year the Govs signed Jared Savage, the son of guard Jermaine Savage, the lanky defensive stopper extraordinaire who also scored 1,345 points in his APSU Hall of Fame career (inducted 2006).
Savage will join his former prep teammate Chris Porter-Bunton as freshmen in 2015-16. Bunton redshirted this season after a leg stress fracture and subsequent tibial nail surgery forced him to miss the 2014-15 campaign.
Two newcomers—Savage and Thompson—played at Warren Central in their respective states. Savage played for Warren Central in Bowling Green, Ky., while Thompson played for Warren Central in Indianapolis, Ind.
Thompson's coach at Warren Central was Greg Graham, the former Indiana star who played against the Govs in the 1992 season as part of a tournament in Bloomington, Ind.
For the second straight year APSU has signed a third-team junior college All-American in Murry. Last year, APSU signed Khalil Davis, who earned third-team All-America at Lawson (Ala.) State.
Thompson previously has gone by Sam but now prefers to go by his middle name Terrell.