APSU Sports Information

Jacksonville, AL – Austin Peay State University's softball team didn't have many answers in slowing down the Jacksonville State offense, Sunday, as the Lady Govs were swept in an Ohio Valley Conference doubleheader by the Gamecocks 9-5 and 18-4.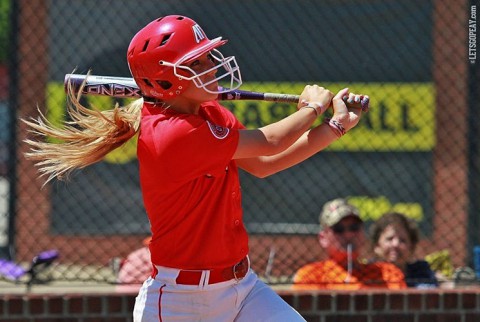 In looked early-on that Austin Peay (8-30, 4-15 OVC) and Jacksonville State would be locked up in a pitcher's duel in Game 1, with JSU scoring a run in the bottom of the first inning and the Lady Govs matching that score with an RBI single by
Niya Sparks
in the top of the third.
Sparks would finish with two hits before leaving the game in the top of the seventh inning due to an injury.
Austin Peay would take its only lead of the day in the top of the fourth inning, with Morgan Hoeg opening the inning with a single and move to second an out later on a single by Rikki Arkansas.
Arkansas collected two hits in Game 1.
Chandler Groves would load the bases by being hit by a pitch, an out later, followed by Laurel Burroughs ripping a 0-1 pitch over the right field fence for a grand slam homer and a 5-1 lead.
Burroughs would lead the Lady Govs with three hits in the opener.
But Jacksonville State (30-14, 13-5 OVC) would answer back with three runs of its own in the bottom of the inning, cutting the APSU lead to one, then following that with a five-run fifth inning to give them what would be the 9-5 final margin.
Game 2 would be all Gamecocks, with JSU scoring at least three runs in every inning and finishing with 18 total runs on 17 hits.
The 18 runs tie for the second most runs given up by the Lady Govs in a game in school history, tying the total given up to Chattanooga in 2001.
Austin Peay would score a solo run in the top of the third inning on a sacrifice fly by Groves, while adding three more in the top of the fifth inning – aided by a wild pitch and an error by JSU – with Burroughs also picking up an RBI in the inning.
Box Score – Game 1
Austin Peay (8-29 / 4-14) -vs- Jacksonville State (29-14 / 12-5)
| | 1 | 2 | 3 | 4 | 5 | 6 | 7 | R | H | E |
| --- | --- | --- | --- | --- | --- | --- | --- | --- | --- | --- |
| Austin Peay | 0 | 0 | 1 | 4 | 0 | 0 | 0 | 5 | 8 | 1 |
| Jacksonville State | 1 | 0 | 0 | 3 | 5 | 0 | X | 9 | 11 | 0 |
W: Logan Green (12-4)    L: AYALA, Natalie (4-12)
Austin Peay 5
| | Player | AB | R | H | RBI | BB | SO | LOB |
| --- | --- | --- | --- | --- | --- | --- | --- | --- |
| lf | GROVES, Chandler | 2 | 1 | 0 | 0 | 0 | 0 | 1 |
| 2b | BURROUGHS, Laurel | 4 | 1 | 3 | 4 | 0 | 1 | 0 |
| 1b | GABLE, Christiana | 4 | 0 | 0 | 0 | 0 | 1 | 0 |
| 3b | SPARKS, Niya | 3 | 0 | 2 | 1 | 0 | 1 | 0 |
| ph | PAVEL, Mel | 0 | 0 | 0 | 0 | 1 | 0 | 0 |
| dp | DiBENEDETTO, Vinchen | 3 | 0 | 0 | 0 | 1 | 2 | 3 |
| ss | HOEG, Morgan | 2 | 1 | 1 | 0 | 0 | 0 | 0 |
| c | HILL, Alexis | 3 | 0 | 0 | 0 | 0 | 2 | 0 |
| cf | ARKANSAS, Rikki | 3 | 1 | 2 | 0 | 0 | 0 | 2 |
| rf | BROWER, Courtney | 2 | 1 | 0 | 0 | 0 | 0 | 0 |
| p | AYALA, Natalie | 0 | 0 | 0 | 0 | 0 | 0 | 0 |
| p | BLACKWOOD, Allie | 0 | 0 | 0 | 0 | 0 | 0 | 0 |
| | Totals | 26 | 5 | 8 | 5 | 2 | 7 | 6 |
Batting
2B:BURROUGHS, Laurel (1); SPARKS, Niya (1)
HR:BURROUGHS, Laurel (1)
SH:GROVES, Chandler (1); HOEG, Morgan (1)
Baserunning
HBP:GROVES, Chandler (1); BROWER, Courtney (1)
Fielding
E:GABLE, Christiana (1)
Jacksonville State 9
| | Player | AB | R | H | RBI | BB | SO | LOB |
| --- | --- | --- | --- | --- | --- | --- | --- | --- |
| rf | Ella Denes | 4 | 0 | 0 | 1 | 0 | 0 | 0 |
| c | Savannah Sloan | 3 | 1 | 1 | 0 | 0 | 0 | 1 |
| 1b | Sara Borders | 4 | 1 | 3 | 1 | 0 | 0 | 2 |
| ss | Cadi Oliver | 2 | 1 | 0 | 1 | 0 | 1 | 2 |
| ph | Jamie McGuire | 0 | 0 | 0 | 0 | 0 | 0 | 0 |
| lf | Stephanie Lewis | 4 | 2 | 2 | 2 | 0 | 0 | 1 |
| dp | Whitney Gillespie | 3 | 2 | 1 | 0 | 1 | 0 | 0 |
| 3b | Caitlyn Sapp | 3 | 1 | 2 | 1 | 0 | 1 | 0 |
| pr | Taylor Sloan | 0 | 1 | 0 | 0 | 0 | 0 | 0 |
| 2b | Jordan Bullock | 2 | 0 | 1 | 0 | 0 | 0 | 0 |
| cf | Emily Woodruff | 3 | 0 | 1 | 2 | 0 | 0 | 0 |
| p | Taylor West | 0 | 0 | 0 | 0 | 0 | 0 | 0 |
| p | Logan Green | 0 | 0 | 0 | 0 | 0 | 0 | 0 |
| | Totals | 28 | 9 | 11 | 8 | 1 | 2 | 6 |
Batting
2B:Stephanie Lewis (1)
HR:Sara Borders (1); Stephanie Lewis (1)
SF:Cadi Oliver (1)
Baserunning
SB:Ella Denes (1); Savannah Sloan (1)
HBP:Savannah Sloan (1); Jamie McGuire (1); Jordan Bullock (1)
Box Score – Game 2
Austin Peay (8-30 / 4-16) -vs- Jacksonville State (30-14 / 13-5)
| | 1 | 2 | 3 | 4 | 5 | R | H | E |
| --- | --- | --- | --- | --- | --- | --- | --- | --- |
| Austin Peay | 0 | 0 | 1 | 0 | 3 | 4 | 3 | 2 |
| Jacksonville State | 3 | 4 | 8 | 3 | X | 18 | 17 | 1 |
W: Whitney Gillespie (9-5)     L:  NORRIS, Heather (1-6)
Austin Peay 4
| | Player | AB | R | H | RBI | BB | SO | LOB |
| --- | --- | --- | --- | --- | --- | --- | --- | --- |
| lf | GROVES, Chandler | 2 | 1 | 1 | 1 | 0 | 0 | 0 |
| 2b | BURROUGHS, Laurel | 3 | 1 | 1 | 1 | 0 | 0 | 1 |
| 1b | GABLE, Christiana | 1 | 0 | 0 | 0 | 2 | 0 | 0 |
| 3b | DiBENEDETTO, Vinchen | 2 | 0 | 0 | 0 | 0 | 1 | 1 |
| ss | HOEG, Morgan | 2 | 0 | 0 | 0 | 0 | 0 | 0 |
| c | PAVEL, Mel | 2 | 0 | 0 | 0 | 0 | 0 | 1 |
| p | NORRIS, Heather | 0 | 0 | 0 | 0 | 0 | 0 | 0 |
| p | HOOPER, Sidney | 1 | 1 | 1 | 0 | 0 | 0 | 0 |
| p | BLACKWOOD, Allie | 0 | 0 | 0 | 0 | 0 | 0 | 0 |
| p | AYALA, Natalie | 1 | 0 | 0 | 0 | 0 | 0 | 0 |
| cf | ARKANSAS, Rikki | 2 | 0 | 0 | 0 | 0 | 0 | 0 |
| rf | BROWER, Courtney | 0 | 1 | 0 | 0 | 0 | 0 | 0 |
| | Totals | 16 | 4 | 3 | 2 | 2 | 1 | 3 |
Batting
SF:GROVES, Chandler (1)
Baserunning
HBP:DiBENEDETTO, Vinchen (1); BROWER, Courtney (2)
Fielding
E:HOEG, Morgan (2)
Jacksonville State 18
| | Player | AB | R | H | RBI | BB | SO | LOB |
| --- | --- | --- | --- | --- | --- | --- | --- | --- |
| rf | Ella Denes | 3 | 2 | 2 | 1 | 0 | 0 | 0 |
| ph | Leila Chambers | 1 | 1 | 0 | 0 | 0 | 0 | 0 |
| c | Savannah Sloan | 3 | 2 | 1 | 1 | 0 | 0 | 0 |
| ph | Jamie McGuire | 1 | 1 | 1 | 3 | 0 | 0 | 0 |
| 1b | Sara Borders | 3 | 3 | 3 | 5 | 0 | 0 | 0 |
| ph | Brooke Carvey | 1 | 0 | 0 | 0 | 0 | 0 | 0 |
| lf | Stephanie Lewis | 3 | 2 | 1 | 0 | 1 | 0 | 0 |
| p/dp | Whitney Gillespie | 3 | 1 | 2 | 0 | 0 | 0 | 0 |
| cf | Emily Woodruff | 3 | 1 | 3 | 3 | 0 | 0 | 0 |
| 3b | Taylor Sloan | 2 | 2 | 2 | 1 | 0 | 0 | 0 |
| 2b | Jordan Bullock | 1 | 0 | 0 | 0 | 0 | 0 | 0 |
| ph | Melanie Steer | 2 | 1 | 1 | 2 | 0 | 0 | 2 |
| ss | Cadi Oliver | 1 | 1 | 1 | 1 | 1 | 0 | 0 |
| ph | Peyton Barthel | 0 | 1 | 0 | 0 | 1 | 0 | 0 |
| p | Taylor West | 0 | 0 | 0 | 0 | 0 | 0 | 0 |
| p | Jordan Sims | 0 | 0 | 0 | 0 | 0 | 0 | 0 |
| | Totals | 27 | 18 | 17 | 17 | 3 | 0 | 2 |
Batting
2B:Ella Denes (1); Savannah Sloan (1); Sara Borders (2); Whitney Gillespie (1); Melanie Steer (1)
HR:Jamie McGuire (1); Sara Borders (1)
SH:Taylor Sloan (1)
Baserunning
SB:Stephanie Lewis (1)
HBP:Whitney Gillespie (1)
Fielding
E:Savannah Sloan (1)