APSU Sports Information

Owens Cross Roads, AL – Par 3 scoring stood between Austin Peay State University women's golf team and a superb round of golf, Tuesday, during the second day of the Ohio Valley Conference championship.
After shooting an opening-day 313, the Lady Govs improved to 311, Tuesday, but the overall 624 left them in seventh place heading to the final day of the conference championship, being played oh Hampton Cove's Highland Course on the The Robert Trent Jones Golf Trail.
All the Lady Govs have to do is look at their Par 3 scoring to know where the round potentially escaped their grasp. On the four Par 3s, APSU was 14-over par.
"As overall holes, we didn't play the Par 3s very well and we also didn't finish as well as we would have liked," APSU coach Sara Robson. "We didn't finish 16, 17 and 18 as well as we should have. But to shoot 311 and struggle from top to bottom in the lineup, that was a good score."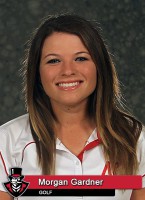 Sophomore Morgan Gardner, who was a non-counter (82) in Monday's first round, was APSU's top scorer Tuesday, with a 75. Gardner has one birdie and four bogeys for his 3-over tally.
"Gardner had a lot of putts yesterday," Robson said. "She didn't putt well yesterday but today she did. She chipped well yesterday and today, but the difference was on the green. She is hitting the ball well and learned to adjust to the wind out here. As a result, she is clubbing up a lot—hitting 3-wood a lot, a 5-wood a lot. But she can thread a needled with those two clubs."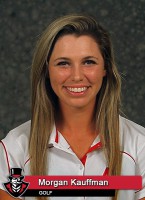 Interesting enough APSU's other Monday 80-scorer (81), Morgan Kauffman shot a 76, Tuesday, the Lady Govs' second lowest score. Kauffman had three birdies—the most by a Lady Gov, Tuesday—but also had one double bogey and five bogeys.
"Kauffman has been on the verge of 76 for a while," Robson said. "She can do it, but sometimes she just gets in her own way. She just needs to relax and play shot by shot and not worry about what it looks like."
Jessica Cathey made it back-to-back sub-80s with a 79. Her 156 total has her tied for 16th overall. Cathey shot the 79 with a trio of doubles bogeys, two on the par-3s.
"She had some three putts today," Robson said. "She played well minus the three-putts on the par 3s.
"She is going to come back tomorrow and end the year with a good score."
AnnaMichelle Moore (81) and Kelsey Schutt (83) struggled late and saw their scores swell on the closing holes. In fact, Moore had a triple bogey on 16 and a bogey a hole later. Schutt, after her 77 yesterday, played the final three holes at 7-over, including a quintuple bogey on No. 16.
"Kelsey struggled somewhat with her irons today," Robson said. "But to be honest she battled and kept it respectable. She had one bad hole (bogey on No. 3), but other than that was even on the front, The back nine got her a little bit, especially those last three.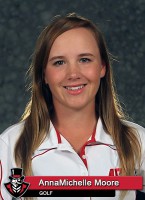 "AnnaMichelle played well but she played a little quick. She still is not used to being a position to trust herself when she is playing well. She will have some hiccups along the way. We just got to get her comfortable. We have to get her comfortable looking at 75 or 76 with four or five holes left. She has made strides this year."
Jacksonville State increased Monday's one shot lead to four with back-to-back 301s (602). Eastern Kentucky slipped past Tennessee Tech late to move into second (606), followed by the Golden Eagles (608).
The Lady Govs will tee off at 8:50am, Wednesday, for the final round. Live stats are available at www.Golftstat.com
Box Score
2015 Ohio Valley Conference Women's Golf Championship
RTJ Golf Trl at Hampton Cove – 2015 OVC Women's Championship Par: 72 Yardage: 6050
April 20th-22nd, 2015
| Pos. | Team/Player (seed) | Round 1 | Round 2 | Total |
| --- | --- | --- | --- | --- |
| 7 | Austin Peay State | 313 | 311 | 624 |
| T16 | Jessica Cathey (1) | 77 | 79 | 156 |
| T20 | Morgan Kauffman (2) | 81 | 76 | 157 |
| T20 | Morgan Gardner (3) | 82 | 75 | 157 |
| T26 | AnnaMichelle Moore (4) | 78 | 81 | 159 |
| T29 | Kelsey Schutt (5) | 77 | 83 | 160 |