APSU Sports Information

Clarksville, TN – A late-inning two-run homer by Christiana Gable backed a three-hit performance by Natalie Ayala, Wednesday at Cheryl Holt Field, as Austin Peay State University's softball team defeated Eastern Kentucky 3-1 in Game 1 of their Ohio Valley Conference doubleheader before falling in the nightcap, 10-5.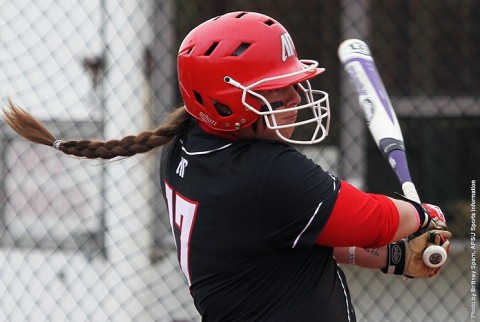 With the scored tied 1-1 heading into the bottom of the sixth inning in Game 1, Austin Peay (9-31, 5-16 OVC) got a lead-off double from Laurel Burroughs – putting the go-head run into scoring position, with no outs.
That brought up Christiana Gable, who had doubled in the sixth inning, who blasted a 2-2 over the center field wall for a two-run homer to give the Lady Govs a 3-1 lead.
That proved to be more than enough for Ayala (5-12), who capped a three-hit complete-game victory by setting the Colonels (21-23, 11-7 OVC) down in order in the top of the seventh to seal the victory for Austin Peay.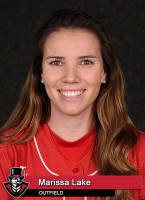 Ayala, along with just giving up three hits, didn't walk a batter and struck out three, while needing only 75 total pitches to pick up her seventh complete game of the season.
Leanna Pittsenbarger (9-10) took the loss for EKU, giving up six hits and one walk, while striking out seven.
Austin Peay broke a 0-0 deadlock in the bottom of the fifth inning, with Marissa Lake reaching on a one-out bunt single, then scoring all the way around from first base on a triple to straight away center field by Rikki Arkansas.
Eastern Kentucky would tie the game in the top of the sixth inning on an RBI double by Sarah Fobbs, driving in Paige Murphy – who had tripled.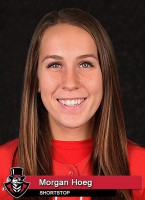 In Game 2, things started off well for Austin Peay – jumping out to a 4-2 lead after three innings – but the Lady Govs were touched up for eight runs over the final four innings, while they were held to a seventh-inning home run by Morgan Hoeg.
The Lady Govs would score two unearned runs in the first inning, with Sidney Hooper picking up an RBI on a single.
EKU would answer with an RBI single by Shannon McQueen in the top of the second to make it 2-1, but Austin Peay matched the run in its half of the inning on a steal of home by Arkansas.
A RBI double by Murphy in the top of the third inning got EKU back to within one, 3-2, but Hoeg matched the run in the bottom of the inning – scoring on a wild pitch.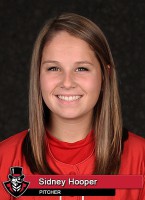 But that is where the Colonels would get their offense rolling, hitting three home runs over the next two innings – highlighted by a three-run shot by McQueen – to put EKU ahead 7-4.
Eastern Kentucky would closeout it's scoring with three more runs in the top of the seventh, with Krislyn Campos, Fobbs and Kayla Joyce picking up RBIs.
Hayley Flynn (4-5) got the win, in relief of EKU starter Shaylon Robb, going the final 5.1 innings and giving up two runs on three hits, while striking out five and walking three.
Sidney Hooper (2-10) took the loss of Austin Peay.
Box Score – Game 1
Eastern Kentucky (20-23 / 10-7) -vs- Austin Peay (9-30 / 5-15)
| | 1 | 2 | 3 | 4 | 5 | 6 | 7 | R | H | E |
| --- | --- | --- | --- | --- | --- | --- | --- | --- | --- | --- |
| Eastern Kentucky | 0 | 0 | 0 | 0 | 0 | 1 | 0 | 1 | 3 | 0 |
| Austin Peay | 0 | 0 | 0 | 0 | 1 | 2 | X | 3 | 6 | 1 |
W: AYALA, Natalie (5-12)    L: PITTSENBARGER, L. (9-10)
Eastern Kentucky 1
| | Player | AB | R | H | RBI | BB | SO | LOB |
| --- | --- | --- | --- | --- | --- | --- | --- | --- |
| ss | CAMPOS, Krislyn | 3 | 0 | 1 | 0 | 0 | 1 | 0 |
| cf | MURPHY, Paige | 3 | 1 | 1 | 0 | 0 | 0 | 0 |
| lf | FOBBS, Sarah | 3 | 0 | 1 | 1 | 0 | 0 | 0 |
| 1b | TACKETT, Katie | 3 | 0 | 0 | 0 | 0 | 1 | 2 |
| c | MURRAY, Amber | 3 | 0 | 0 | 0 | 0 | 1 | 0 |
| dp | JACKSON, Sarah | 3 | 0 | 0 | 0 | 0 | 0 | 0 |
| 3b | McQUEEN, Shannon | 3 | 0 | 0 | 0 | 0 | 0 | 0 |
| 2b | STEWART, Taylor | 2 | 0 | 0 | 0 | 0 | 0 | 1 |
| rf | JOYCE, Kayla | 2 | 0 | 0 | 0 | 0 | 0 | 0 |
| p | PITTSENBARGER, L. | 0 | 0 | 0 | 0 | 0 | 0 | 0 |
| | Totals | 25 | 1 | 3 | 1 | 0 | 3 | 3 |
Batting
2B:FOBBS, Sarah (1)
3B:MURPHY, Paige (1)
Austin Peay 3
| | Player | AB | R | H | RBI | BB | SO | LOB |
| --- | --- | --- | --- | --- | --- | --- | --- | --- |
| lf | GROVES, Chandler | 3 | 0 | 0 | 0 | 0 | 0 | 1 |
| 2b | BURROUGHS, Laurel | 2 | 1 | 1 | 0 | 1 | 0 | 0 |
| 1b | GABLE, Christiana | 3 | 1 | 2 | 2 | 0 | 1 | 0 |
| 3b | DiBENEDETTO, Vinchen | 3 | 0 | 1 | 0 | 0 | 0 | 0 |
| pr | HILL, Alexis | 0 | 0 | 0 | 0 | 0 | 0 | 0 |
| ss | HOEG, Morgan | 2 | 0 | 0 | 0 | 0 | 1 | 2 |
| c | PAVEL, Mel | 3 | 0 | 0 | 0 | 0 | 1 | 0 |
| dp | LAKE, Marissa | 3 | 1 | 1 | 0 | 0 | 2 | 1 |
| cf | ARKANSAS, Rikki | 2 | 0 | 1 | 1 | 0 | 1 | 0 |
| rf | BROWER, Courtney | 2 | 0 | 0 | 0 | 0 | 1 | 0 |
| p | AYALA, Natalie | 0 | 0 | 0 | 0 | 0 | 0 | 0 |
| | Totals | 23 | 3 | 6 | 3 | 1 | 7 | 4 |
Batting
2B:BURROUGHS, Laurel (1); GABLE, Christiana (1)
3B:ARKANSAS, Rikki (1)
HR:GABLE, Christiana (1)
SH:HOEG, Morgan (1)
Baserunning
SB:BURROUGHS, Laurel (1)
Fielding
E:AYALA, Natalie (1)
Box Score – Game 2
Eastern Kentucky (21-23 / 11-7) -vs- Austin Peay (9-31 / 5-16)
| | 1 | 2 | 3 | 4 | 5 | 6 | 7 | R | H | E |
| --- | --- | --- | --- | --- | --- | --- | --- | --- | --- | --- |
| Eastern Kentucky | 0 | 1 | 1 | 3 | 2 | 0 | 3 | 10 | 16 | 3 |
| Austin Peay | 2 | 1 | 1 | 0 | 0 | 0 | 1 | 5 | 7 | 5 |
W: FLYNN, Hayley (4-5)     L: HOOPER, Sidney (2-10)
Eastern Kentucky 10
| | Player | AB | R | H | RBI | BB | SO | LOB |
| --- | --- | --- | --- | --- | --- | --- | --- | --- |
| ss | CAMPOS, Krislyn | 5 | 2 | 2 | 1 | 0 | 0 | 0 |
| cf | MURPHY, Paige | 4 | 0 | 2 | 1 | 1 | 1 | 0 |
| lf | FOBBS, Sarah | 5 | 0 | 2 | 1 | 0 | 1 | 2 |
| 1b | TACKETT, Katie | 5 | 1 | 1 | 1 | 0 | 0 | 3 |
| c | MURRAY, Amber | 4 | 2 | 2 | 0 | 0 | 1 | 2 |
| dp | JACKSON, Sarah | 4 | 3 | 1 | 1 | 0 | 1 | 0 |
| 3b | McQUEEN, Shannon | 4 | 1 | 3 | 4 | 0 | 0 | 0 |
| 2b | STEWART, Taylor | 3 | 1 | 1 | 0 | 0 | 1 | 0 |
| ph | ALSTON, Johnkyria | 1 | 0 | 0 | 0 | 0 | 0 | 0 |
| rf | JOYCE, Kayla | 4 | 0 | 2 | 1 | 0 | 0 | 2 |
| p | ROBB, Shaylon | 0 | 0 | 0 | 0 | 0 | 0 | 0 |
| p | FLYNN, Hayley | 0 | 0 | 0 | 0 | 0 | 0 | 0 |
| | Totals | 39 | 10 | 16 | 10 | 1 | 5 | 9 |
Batting
2B:MURPHY, Paige (1)
HR:TACKETT, Katie (1); JACKSON, Sarah (1); McQUEEN, Shannon (1)
Baserunning
SB:FOBBS, Sarah (1); MURRAY, Amber (1); McQUEEN, Shannon (1)
Fielding
E:McQUEEN, Shannon (1); STEWART, Taylor (1); JOYCE, Kayla (1)
Austin Peay 5
| | Player | AB | R | H | RBI | BB | SO | LOB |
| --- | --- | --- | --- | --- | --- | --- | --- | --- |
| lf | GROVES, Chandler | 4 | 0 | 1 | 0 | 0 | 1 | 0 |
| 2b | BURROUGHS, Laurel | 3 | 1 | 1 | 0 | 1 | 1 | 0 |
| 1b | GABLE, Christiana | 3 | 1 | 0 | 0 | 1 | 0 | 2 |
| 3b | DiBENEDETTO, Vinchen | 4 | 0 | 0 | 0 | 0 | 1 | 2 |
| ss | HOEG, Morgan | 3 | 2 | 1 | 1 | 1 | 1 | 0 |
| p | HOOPER, Sidney | 2 | 0 | 1 | 1 | 0 | 1 | 0 |
| p | NORRIS, Heather | 0 | 0 | 0 | 0 | 0 | 0 | 0 |
| p | AYALA, Natalie | 0 | 0 | 0 | 0 | 1 | 0 | 0 |
| p | BLACKWOOD, Allie | 0 | 0 | 0 | 0 | 1 | 0 | 0 |
| c | PAVEL, Mel | 4 | 0 | 1 | 0 | 0 | 0 | 3 |
| cf | ARKANSAS, Rikki | 4 | 1 | 2 | 0 | 0 | 0 | 1 |
| rf | BROWER, Courtney | 3 | 0 | 0 | 0 | 0 | 1 | 1 |
| | Totals | 30 | 5 | 7 | 2 | 5 | 6 | 9 |
Batting
HR:HOEG, Morgan (1)
Baserunning
SB:ARKANSAS, Rikki (2)
Fielding
E:BURROUGHS, Laurel (1); DiBENEDETTO, Vinchen (1); HOEG, Morgan (2); PAVEL, Mel (1)