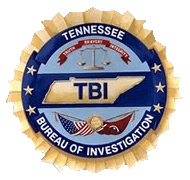 Nashville, TN – Special Agents from the Tennessee Bureau of Investigation have arrested and charged a Dickson man accused of soliciting a crime victim's father and offering to murder his child's killer.
On Monday, while conducting the investigation into last week's double homicide in Dickson, TBI Agents received information that Jamey Earl Donegan had approached the family of one of the homicide victims and offered himself for hire to murder their child's killer in exchange for money.
At the request of 23rd District Attorney General Ray Crouch, TBI Agents began investigating the information and determined Donegan furthered the solicitation plot when he manufactured a confession by having another individual pose as the killer and offer a false confession to the family.
On Monday night, TBI Agents arrested the 43-year-old and charged him with one count of Solicitation to Commit First Degree Murder. At the time of this release, he was being held on $1,000,000 bond in the Dickson County Jail.
The investigation into last week's incident remains acting and ongoing. Anyone with information pertinent to the case should contact the TBI at 1.800.TBI.FIND.