Palmyra, TN – In 1865, Queen Victoria ruled England. Abraham Lincoln was elected to his second term in the United States. And Reverend Nute Larkins organized the Shiloh Cumberland Presbyterian Church in Palmyra, Tennessee. This year, the Shiloh Cumberland Presbyterian Church celebrates its 150th birthday.
The old Ebeneezer Cumberland Presbyterian Church, which was founded in 1846, was renamed Shiloh Cumberland Presbyterian Church in 1865. Originally, a one room log cabin in the hollow of East Creek, the early location was on the creek, subject to flooding.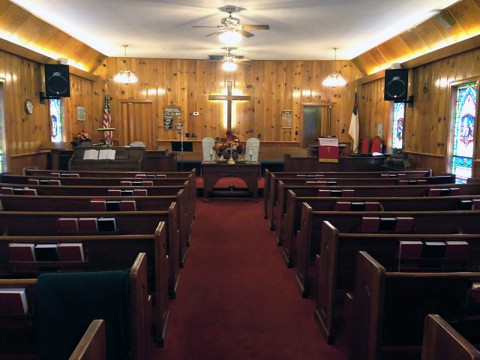 The congregation persevered, building three different buildings on that site until they purchased the land that houses the current sanctuary. The congregation continues to worship in that sanctuary which was placed into service in 1945.
The church was adjacent to the Shiloh School, where some of today's members were taught as children. When that school fell below the state's requirements for a teacher in 1955, the Shiloh church purchased it for $2,050. That school is now the Shiloh fellowship hall, the site of many pot luck meals throughout the years.
In celebration, the church is having their 150th anniversary birthday party May 3rd. The church will begin the celebration May 3rd at 11:00am with a special service featuring the southern gospel music group, Damascus Road.
The current minister, Reverend Gregory Jones, will speak and Holy Communion will be celebrated with the Moderator of the General Assembly, Lisa Anderson. In keeping with the church tradition of hospitality, a fellowship meal will be served after the service.
Afterwards, at 2:00pm that evening, a birthday party will follow with music by the Maple Valley Boys bluegrass group and an address from Reverend Anderson. Birthday cake and punch will be served.
As part of the celebration, the church will recognize all who were baptized in the Shiloh Cumberland Presbyterian church. For many years, it was one of the few churches in the region, so many local residents attended. If you were baptized by the church, you are encouraged to attend and be recognized during the service.
They also hope to recognize all the elders of the church, past and present. If you were an elder of the church, or are the descendant of an elder of the church, the church would like to also recognize the service of those who were a part of the church throughout the years.
The Shiloh Cumberland Presbyterian Church is located at 4812 Shiloh Canaan Road, Palmyra, TN.