Austin Sports Information

Martin, TN – Austin Peay State University's baseball team fell victim to a home run barrage in a 16-7 Ohio Valley Conference loss to UT Martin, Saturday Night, at Skyhawk Field.
Austin Peay (23-22, 14-12 OVC) jumped out to a three-run lead in the first inning.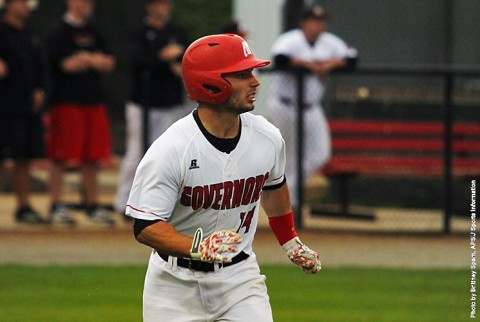 First baseman
Josh Wilson
and designated hitter
Alex Robles
hit back-to-back RBI singles, then combined on a delayed double steal that saw Wilson steal home for the 3-run advantage.
However, UT Martin starter Carter Smith (3-8) settled in after the rough first frame and held the Govs without a run for the next five innings. He was only threaten again in the fourth inning when Austin Peay loaded the bases with two outs, but induced a line drive out to end the threat.
UT Martin's (14-30, 6-17 OVC) offense then found its voice, blasting five home runs in a six-inning span. Designated hitter Austin Taylor began the barrage with a two-run shot in the second inning. Left fielder Andrew Castillo then added a two-out, three-run home run to put the Skyhawks ahead 5-3 after two innings.
Castillo hit a leadoff home run and right fielder Taylor Douglas added a solo home run in the fourth inning. But it was Douglas' grand slam in the seventh that put the game out of reach.
Austin Peay would get in on the home run display in both the eighth and ninth innings. Catcher T.J. Marik hit his season's second home run in the eighth and Chase Hamilton added a two-run pinch hit home run in the ninth, setting the final score.
Govs starter Zach Hall (1-7) suffered the loss after allowing five runs on three this in 1.2 innings. Four Govs pitchers took the mound, each allowing a run.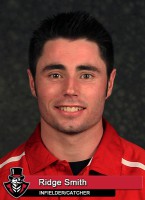 Austin Peay third baseman Ridge Smith went 1-for-3 with three walks to pace the Govs offense. Second baseman Garrett Copeland, Wilson and Robles each had two hits.
UTM closer Patrick Bernard followed Smith on the mound and picked up the three-inning save, his seventh of the year. He allowed four runs on six hits in the outing.
Douglas finished the night with a 3-for-6 outing that included two home runs and six RBI. Castillo also had two home runs as part of a 3-for-5, four RBI performance.
Austin Peay and UT Martin, who have split the first two games of their three-game set, will play the rubber match at 1:00pm, Sunday.
Box Score
Austin Peay (23-22 / 14-12) -vs- UT Martin (14-30 / 6-17)
| | 1 | 2 | 3 | 4 | 5 | 6 | 7 | 8 | 9 | R | H | E |
| --- | --- | --- | --- | --- | --- | --- | --- | --- | --- | --- | --- | --- |
| Austin Peay | 3 | 0 | 0 | 0 | 0 | 0 | 0 | 2 | 2 | 7 | 12 | 3 |
| UT Martin | 0 | 5 | 1 | 2 | 3 | 0 | 5 | 0 | X | 16 | 16 | 0 |
W: SMITH, Carter (3-8)    L: HALL, Zach (1-7)    S: BERNARD, Patrick (7)
Austin Peay 7
| | Player | AB | R | H | RBI | BB | SO | LOB |
| --- | --- | --- | --- | --- | --- | --- | --- | --- |
| 3b | SMITH, Ridge | 3 | 1 | 1 | 0 | 3 | 0 | 0 |
| lf | BREDLAU, Cayce | 4 | 0 | 2 | 0 | 0 | 1 | 1 |
| rf | HAMILTON, Chase | 2 | 0 | 1 | 0 | 0 | 0 | 2 |
| 2b | COPELAND, Garrett | 4 | 1 | 2 | 0 | 1 | 1 | 1 |
| 1b | WILSON, Josh | 5 | 1 | 2 | 1 | 0 | 0 | 5 |
| dh | ROBLES, Alex | 5 | 1 | 2 | 1 | 0 | 0 | 0 |
| cf/lf | MASSONI, Patrick | 2 | 0 | 0 | 0 | 2 | 0 | 1 |
| ph | BLACKBURN, Kyle | 1 | 1 | 1 | 2 | 0 | 0 | 0 |
| rf | PURCELL, Wesley | 3 | 0 | 0 | 0 | 0 | 1 | 1 |
| cf | WILLIS, Imani | 1 | 1 | 0 | 0 | 1 | 1 | 0 |
| c | MARIK, T.J. | 5 | 1 | 1 | 2 | 0 | 3 | 2 |
| ss | SMITHSON, Clayton | 4 | 0 | 0 | 0 | 1 | 1 | 0 |
| p | HALL, Zach | 0 | 0 | 0 | 0 | 0 | 0 | 0 |
| p | SPARKS, John | 0 | 0 | 0 | 0 | 0 | 0 | 0 |
| p | WALTON, Zach | 0 | 0 | 0 | 0 | 0 | 0 | 0 |
| p | CORUM, Jake | 0 | 0 | 0 | 0 | 0 | 0 | 0 |
| p | KIMBEL, Keirce | 0 | 0 | 0 | 0 | 0 | 0 | 0 |
| | Totals | 39 | 7 | 12 | 6 | 8 | 8 | 13 |
Batting
2B:COPELAND, Garrett (1)
HR:BLACKBURN, Kyle (1); MARIK, T.J. (1)
Baserunning
SB:WILSON, Josh (2); ROBLES, Alex (1)
Fielding
E:PURCELL, Wesley (1); SMITHSON, Clayton (2)
UT Martin 16
| | Player | AB | R | H | RBI | BB | SO | LOB |
| --- | --- | --- | --- | --- | --- | --- | --- | --- |
| lf | CASTILLO, Andrew | 5 | 4 | 3 | 4 | 1 | 0 | 0 |
| ss | HIRSCH, Matt | 5 | 1 | 2 | 2 | 0 | 2 | 0 |
| rf | DOUGLAS, Taylor | 6 | 2 | 3 | 6 | 0 | 1 | 1 |
| 1b | ZYCH, Nico | 3 | 2 | 0 | 0 | 2 | 0 | 3 |
| dh | TAYLOR, Austin | 5 | 2 | 4 | 2 | 0 | 1 | 0 |
| 2b | PRIBBLE, Nick | 5 | 1 | 1 | 0 | 0 | 0 | 1 |
| 3b | MASSEY, Andrew | 3 | 1 | 2 | 0 | 1 | 0 | 0 |
| c | PAUBLINI, Luis | 4 | 1 | 1 | 1 | 0 | 1 | 2 |
| cf | JOHNSON, Fletcher | 3 | 2 | 0 | 0 | 1 | 1 | 1 |
| p | SMITH, Carter | 0 | 0 | 0 | 0 | 0 | 0 | 0 |
| p | BERNARD, Patrick | 0 | 0 | 0 | 0 | 0 | 0 | 0 |
| | Totals | 39 | 16 | 16 | 15 | 5 | 6 | 8 |
Batting
2B:DOUGLAS, Taylor (1); TAYLOR, Austin (1); PRIBBLE, Nick (1); MASSEY, Andrew (1)
HR:CASTILLO, Andrew (2); DOUGLAS, Taylor (2); TAYLOR, Austin (1)
SH:JOHNSON, Fletcher (1)SF:PAUBLINI, Luis (1)
Baserunning
CS:DOUGLAS, Taylor (1)
HBP:HIRSCH, Matt (1); MASSEY, Andrew (1)