Austin Peay Sports Information

Martin, TN – Austin Peay State University's baseball team could not hold UT Martin quiet at the right times and dropped a 9-7 Ohio Valley Conference decision, Sunday afternoon at Skyhawk Field.
Austin Peay (23-23, 14-13 OVC) scored the game's first run, capitalizing on an error when shortstop Clayton Smithson singled to center field.
UT Martin (15-30, 7-17 OVC) scored the game's next five runs. The combination of first baseman Nico Zych and designated hitter Austin Taylor were the crux of the Govs problems.
That duo, who batted back-to-back, reached base to start the both the second and fourth innings. Each time the Skyhawks were able to manufacture runs, building a 5-2 lead after four innings.
The Govs would score in the sixth and seventh innings. Center fielder Chase Hamilton hit a leadoff home run in the sixth, trimming the deficit to 5-3. Second baseman Garrett Copeland added a three-run home run in the seventh.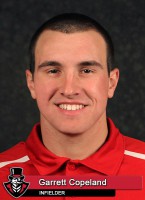 However, the Skyhawks responded after each of those outbursts, striking for two runs in both innings. The sixth again was sparked by the Zych and Taylor duo as they led off with back-to-back singles and scored.
In the seventh, it was shortstop Matt Hirsch and right fielder Taylor Douglas that led off the inning with a single and being hit by a pitch, both ultimately scoring as the UTM lead hit 9-5.
In the eighth, Austin Peay would get another leadoff home run from Hamilton, getting within three runs. Designated hitter Patrick Massoni then walked, stole a base and advanced to third on a wild pitch. Third baseman Ridge Smith drove in the run with a single, getting APSU to within two runs, 9-7.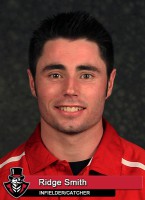 Austin Peay reliever John Sparks would hold the line in the bottom of the eighth, retiring the side in order. The Govs offense saw first baseman Josh Wilson reach on a one-out walk in the ninth, but could not get a hit to extend the inning.
Govs starter Jared Carkuff (4-5) was tagged for the loss after allowing seven runs on six this and two walks in five-plus innings.
UTM's Dillon Symon (1-2) picked up the win after holding Austin Peay to one unearned run on two hits in five innings. Closer Patrick Bernard notched his season's eight save with a scoreless ninth inning.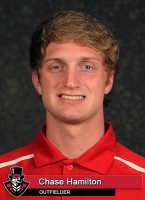 Hamilton's 2-for-5, two home run, two RBI outing led the Govs offense. Copeland ended the day 1-for-4 with three RBI.
Skyhawk third baseman Andrew Massey went 2-for-4 with three RBI. Designated hitter Austin Taylor went 3-for-3 with a RBI and three runs scored.
UT Martin won an OVC series against the Govs for the first time since 1994. The series loss pushed Austin Peay back to seventh place in the OVC regular season race.
Austin Peay will look to climb out of that seventh-place positioning when it hosts second place SIU Edwardsville in a three-game league set. That series – the Govs final OVC series – begins with a 6:00pm, Friday contest at Raymond C. Hand Park.
Box Score
Austin Peay (23-23 / 14-13) -vs- UT Martin (15-30 / 7-17)
| | 1 | 2 | 3 | 4 | 5 | 6 | 7 | 8 | 9 | R | H | E |
| --- | --- | --- | --- | --- | --- | --- | --- | --- | --- | --- | --- | --- |
| Austin Peay | 0 | 1 | 0 | 0 | 0 | 1 | 3 | 2 | 0 | 7 | 6 | 0 |
| UT Martin | 0 | 2 | 0 | 3 | 0 | 2 | 2 | 0 | X | 9 | 9 | 1 |
W: SYMON, Dillon (1-2)    L: CARKUFF, Jared (4-5)    S: BERNARD, Patrick (8)
Austin Peay 7
| | Player | AB | R | H | RBI | BB | SO | LOB |
| --- | --- | --- | --- | --- | --- | --- | --- | --- |
| 3b/c | SMITH, Ridge | 3 | 1 | 1 | 1 | 2 | 0 | 0 |
| lf | BREDLAU, Cayce | 3 | 1 | 0 | 0 | 2 | 1 | 1 |
| 2b | COPELAND, Garrett | 4 | 1 | 1 | 3 | 1 | 1 | 2 |
| rf/1b | WILSON, Josh | 4 | 0 | 0 | 0 | 1 | 0 | 3 |
| 1b/3b | ROBLES, Alex | 5 | 1 | 0 | 0 | 0 | 2 | 0 |
| cf/rf | HAMILTON, Chase | 5 | 2 | 2 | 2 | 0 | 1 | 1 |
| dh | GLEASON, Dre | 2 | 0 | 0 | 0 | 1 | 1 | 0 |
| pr/dh | MASSONI, Patrick | 0 | 1 | 0 | 0 | 1 | 0 | 0 |
| ss | SMITHSON, Clayton | 4 | 0 | 1 | 1 | 0 | 1 | 1 |
| c | MARIK, T.J. | 2 | 0 | 1 | 0 | 1 | 1 | 0 |
| cf | WILLIS, Imani | 1 | 0 | 0 | 0 | 0 | 1 | 0 |
| p | CARKUFF, Jared | 0 | 0 | 0 | 0 | 0 | 0 | 0 |
| p | GAURA, A.J. | 0 | 0 | 0 | 0 | 0 | 0 | 0 |
| p | PRIMASING, Levi | 0 | 0 | 0 | 0 | 0 | 0 | 0 |
| p | WALTON, Zach | 0 | 0 | 0 | 0 | 0 | 0 | 0 |
| p | SPARKS, John | 0 | 0 | 0 | 0 | 0 | 0 | 0 |
| | Totals | 33 | 7 | 6 | 7 | 9 | 9 | 8 |
Batting
2B:MARIK, T.J. (1)
HR:COPELAND, Garrett (1); HAMILTON, Chase (2)
Baserunning
SB:COPELAND, Garrett (1); MASSONI, Patrick (1)
CS:SMITHSON, Clayton (1)
UT Martin 9
| | Player | AB | R | H | RBI | BB | SO | LOB |
| --- | --- | --- | --- | --- | --- | --- | --- | --- |
| lf | CASTILLO, Andrew | 5 | 0 | 0 | 0 | 0 | 1 | 2 |
| ss | HIRSCH, Matt | 5 | 1 | 1 | 0 | 0 | 2 | 0 |
| rf | DOUGLAS, Taylor | 4 | 1 | 0 | 0 | 0 | 2 | 0 |
| 1b | ZYCH, Nico | 3 | 3 | 2 | 0 | 1 | 0 | 0 |
| dh | TAYLOR, Austin | 3 | 3 | 3 | 1 | 1 | 0 | 0 |
| 2b | PRIBBLE, Nick | 0 | 0 | 0 | 1 | 1 | 0 | 0 |
| 3b | MASSEY, Andrew | 4 | 0 | 2 | 3 | 0 | 0 | 0 |
| c | PAUBLINI, Luis | 1 | 0 | 0 | 0 | 0 | 1 | 0 |
| ph | GAVELLO, Nick | 1 | 1 | 1 | 2 | 0 | 0 | 0 |
| c | NANTZE, Mikey | 1 | 0 | 0 | 1 | 0 | 1 | 0 |
| cf | JOHNSON, Fletcher | 3 | 0 | 0 | 0 | 1 | 0 | 4 |
| p | SYMON, Dillon | 0 | 0 | 0 | 0 | 0 | 0 | 0 |
| p | MARTIN, Alex | 0 | 0 | 0 | 0 | 0 | 0 | 0 |
| p | BERNARD, Patrick | 0 | 0 | 0 | 0 | 0 | 0 | 0 |
| | Totals | 30 | 9 | 9 | 8 | 4 | 7 | 6 |
Batting
HR:GAVELLO, Nick (1)
SH:PRIBBLE, Nick (1)
SF:PRIBBLE, Nick (1); NANTZE, Mikey (1)
Baserunning
HBP:DOUGLAS, Taylor (1); PRIBBLE, Nick (1)
Fielding
E:MASSEY, Andrew (1)