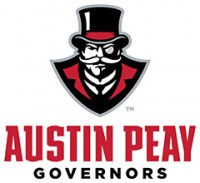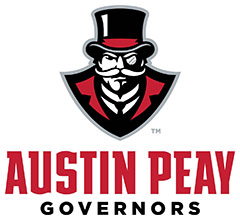 Clarksville, TN – Forty-three Austin Peay State University student-athletes participated in Spring Commencement ceremonies, Friday, at the APSU Dunn Center.
The following Austin Peay student-athletes, athletics alumni and departmental employees were bachelor's degree candidates for the May 2015 Commencement.
APSU Graduating Student-Athletes
Erika Adams, track and field
Miranda Beard, athletics department
Alex Belew, baseball
Javier Booker, football
Hunter Branch, football
Ben Campbell, football
Frankie Carbajal, women's soccer
Deandre Carroll, football
Jake Corum, baseball
Antonio Diaz, men's cross country
Ed Dyson, men's basketball
Ashley Eisenbraun, softball
Jamaar Embry, football
Cami Fields, volleyball
Chris Freeman, men's basketball
Fred Garmon, men's basketball
Malcolm Goines, football
Cleve Guinn, men's golf
Mark Hendrick, baseball
John Houston Jr., football
Serigne Mboup, men's basketball
Meghan Mueller, women's golf
Adam Noble, football
Shelby Olszewski, women's soccer
Thomas Owen, men's cross country
Hillary Plybon, volleyball
Will Pryor, athletics department
Claire Pultz, women's soccer
Jeremy Purvis, men's basketball
Nathan Sanders, football
Jacob Sexton, football
Haylee Shoaff, women's soccer
Johnathan Shuler, football
Damarius Smith, men's basketball
Mickey Springer, athletics department
Kristen Stainback, women's basketball
Jada Stotts, volleyball
Jacob St. Louis, athletics department
P.J. Torres, baseball
Isaiah Tuiasosopo, football
Aleksas Tverijonas, men's tennis
Britte Underwood, baseball
Julian Virgo, football
Tucker Wallace, men's golf
Zavion Williams, men's basketball
Travis Williams, football
Bradford Wilmer, football
These athletes weren't just names on a roster or numbers on a field. They also were…
3 National Football Foundation Hampshire Society Scholars
1 1,000-point scorer in women's basketball
7 All-Ohio Valley Conference honorees
1 Ohio Valley Conference Scholar-Athlete Award Winner
1 NCAA Golf Regional competitor
1 member of the 1,000 kills/1,000 digs club
5 Ohio Valley Conference Champions
5 NCAA Tournament Competitors
2 All-Ohio Valley Conference Tournament honorees
2 Arthur Ashe Jr. Sports Scholars
55m, 60m and 100m dash record-holder in women's track and field
2 Ohio Valley Conference All-Newcomer honorees
14 Ohio Valley Conference Medal of Honor award recipients
40 Ohio Valley Conference Commissioner's Honor Rollees
Austin Peay's all-time leader in punts and punt yardage
3 International Student-Athletes
And so much more that made Austin Peay a unique, wonderful place. Thank you for your contributions to the program, the university, the brand and in the classroom. We wish you well in the future and as always… LET'S GO PEAY!