May is American Stroke Month
Nashville, TN – This month, the American Heart Association is bringing attention to stroke in a creative, colorful way.
Strokes for Stroke is a unique local art show featuring original pieces created by –  and for – those affected by stroke. Many of the pieces to be displayed were created by stroke survivors, while other pieces have been created and donated by artists in honor of someone they know who's had a stroke.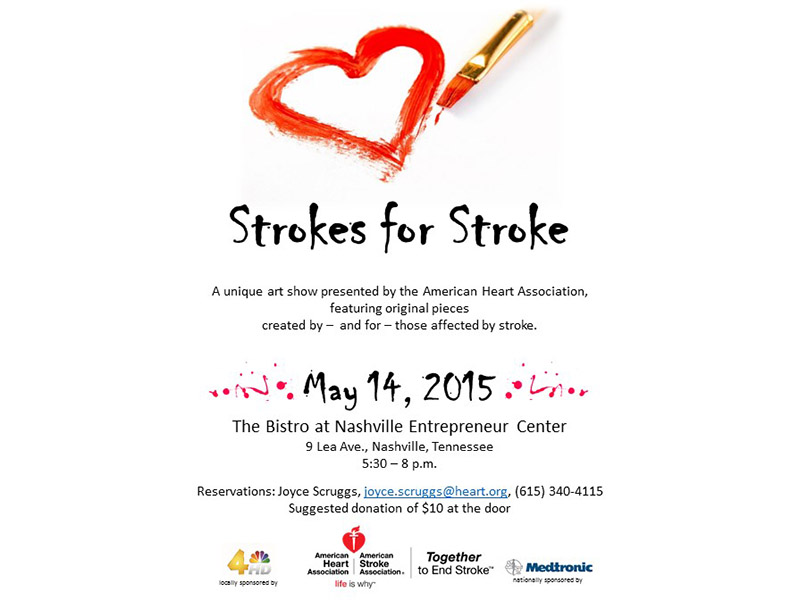 The Strokes for Stroke art show will honor those affected by stroke, celebrating what they can do and the many ways they express themselves through art, while bringing attention to the 795,000 Americans who suffer a stroke each year and the long lasting battle for recovery many face.
More than twenty artists will be represented among the forty-plus pieces on display at the show.
Stroke is the No. 5 killer in the U.S., and is a leading cause of severe, long term disability. Stroke can affect motor skills, coordination, speech and comprehension.
Among the stroke survivor artists whose work will be shown:
Stroke survivor Sophie Salveson, who had a stroke at the age of 19. Her mother, artist Marabeth Quin, is also donating a piece
Stroke survivor Frank Rusch, age 87, grandfather to a Saint Thomas Health stroke coordinator, who was a juried artist before his stroke last fall, and continues to produce art at a prolific pace
Stroke survivor Pete Huttlinger, renowned Nashville guitarist, who had to learn how to play the guitar all over again after his stroke four years ago
Stroke survivor Lisa Smith, who thought her stroke at age 48 was a case of vertigo
Stroke survivor and stained glass artisan Danny Davenport, who continues to produce beautiful work
Stroke survivor and famed Nancy cartoonist Guy Gilchrist, who is the official "hand" behind the iconic 80-year-old comic strip read in 80 countries
Stroke facts
Stroke is the No.5 cause of death among adults in the U.S. – and No. 2 in the world. It kills 128,000 Americans a year – that's about one in every 20 deaths.
Stroke kills 3200 Tennesseans each year.
Every 40 seconds, someone in America has a stroke. On average, every four minutes, someone dies from stroke.
Between 2012 and 2030, total annual costs of stroke are projected to increase to $240.67 billion by 2030, an increase of 129 percent.
Among the other artists who are donating in honor of others are well-known Nashville artists John Cannon and Kellie Montana, a group of pediatric patients at Monroe Carell Jr. Children's Hospital at Vanderbilt and residents at the Hearth at Franklin, with several stroke survivors among them.
The public is invited to visit the show. Ticket cost is free, with a suggested donation of $10.00 at the door. All proceeds will go to the American Heart Association.
Strokes for Stroke Art Show, presented by the American Heart Association / American Stroke Association takes place Thursday, May 14th, from 5:30pm to 8:00pm at the Bistro located at Nashville Entrepreneur Center, 9 Lea Avenue, Nashville, TN.
There will be live entertainment by Pretty Ravens.
The American Heart Association's Together to End Stroke is nationally sponsored by Medtronic. Local media sponsor is WSMV Channel 4.
Learn more about stroke at www.strokeassociation.org