Written by Sgt. Leejay Lockhart
101st Sustainment Brigade, 101st Airborne Division (AA) Public Affairs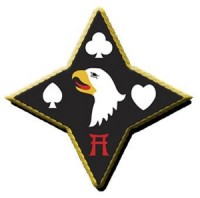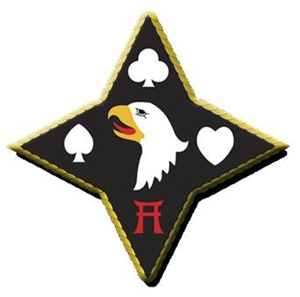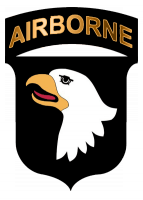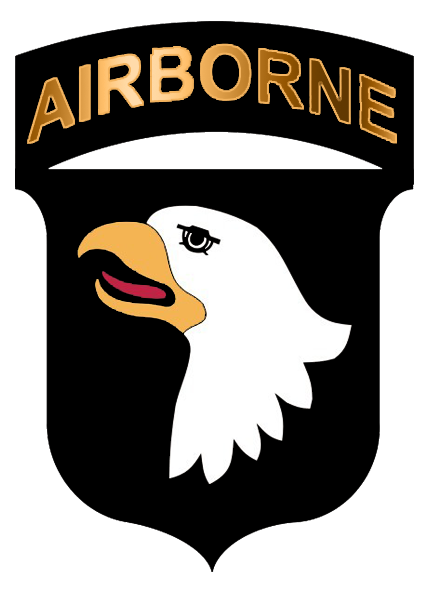 Fort Campbell, KY – Soldiers from the 716th Military Police Battalion, supported by the 101st Sustainment Brigade, 101st Airborne Division, participated in a battalion safety training exercise May 1st at Fort Campbell, Kentucky.
The battalion and their Families trained on many topics, including vehicle safety, safe alcohol use and the value of life.
Subject matter experts from the battalion and partners from Fort Campbell and Clarksville led the training.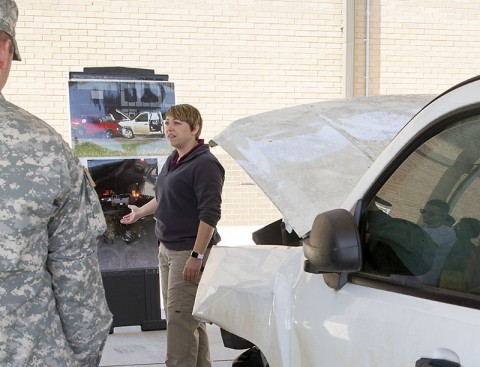 They brought a variety of training aids – everything from boats to motorcycles to a trailer that simulated a burning building – to give the military police the best possible safety training.
The battalion held an opening formation to start the day and then broke down into smaller groups who trained concurrently at different stations.
Lt. Col. Leevaine Williams Jr., the battalion commander, said the Army and the battalion's higher headquarters have an ongoing requirement to have safety training, but that wasn't the main reason the unit held the event.
"We have a battalion safety stand down because it's the right thing to do," said Williams. "You can't talk about a culture of safety. You have to live and establish a culture of safety, and you have to be proactive about it. Everything we do, we connect it to force preservation and force protection."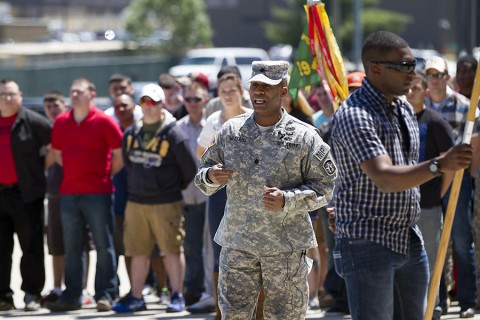 "As the weather warms up and more people spend time outdoors, there are more opportunities for accidents to occur, so the unit needed to proactively address the causes of those accidents and provide Soldiers with information and education," said Williams. "Typically, a Soldier injured in an accident will affect three Soldiers in some way, often times pulling them from their usual duties and responsibilities."
Since safety training can help Soldiers prevent accidents, this training contributes directly to the unit's readiness to provide law enforcement on Fort Campbell and deploy in support of combat operations. It is the unit's goal to incorporate safety into all of its activities, educate Soldiers on the standard and then help them exceed the standard.
"We only have one MP battalion for this great division," said Williams. "So we have to make sure we take care of our MPs and their Families, because if one goes down, it's a significant impact to our mission."
As Williams worked with his operations officer and battalion safety officer, he directed them to establish a concept to reach down to the lowest Soldier-level and integrate the Family Readiness Group. The battalion took a holistic approach to safety.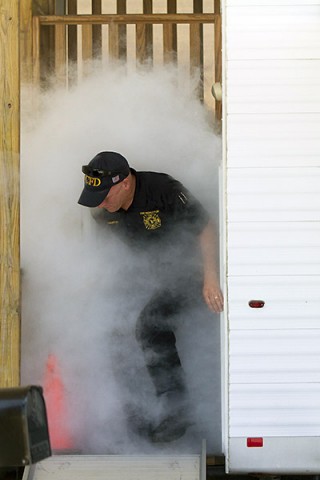 Williams said integrating Family members in training to educate them as part of the team reinforced positive behaviors in the Soldiers. Plus, having their families with them made it a fun event that motivated them.
"Once a kid is informed, if they see a parent doing something unsafe, the kid will say 'Daddy you're driving too fast,'" said Williams. "This is a low-cost, high-yield opportunity to take advantage of – the Family benefits, the Soldiers' morale and esprit de corps goes up, and we show we care.
"Safety has to be a value – within the Army values … once it's ingested and folks embody that, then the culture comes alive and becomes a living, breathing thing in everything we do," said Williams.
The battalion had nine training stations – fire safety, boating safety, motorcycle safety, value of life training, heat injury prevention, rental equipment safety, safe alcohol use and vehicle safety, financial and behavior health counseling. The FRG also had a stations with food and children's activities. Each station had visual training aids and safety experts conducting training and answering questions.
One of the training aids was a demolished white truck the Clarksville Police Department used as a somber reminder for the Soldiers about alcohol safety. Its driver was an intoxicated Fort Campbell Soldier who caused one death and went to prison for vehicular homicide.
Two other training aids that demonstrated how alcohol degrades motor skills was a set of glasses that simulated having a high blood alcohol content and a similar pair of glasses Soldiers wore as they drove a slow moving go cart on a fixed track. Although the Soldiers were going less than five miles per hour, they still managed to run over three cutouts that represented pedestrians in just a few hours of training.
Spc. Shawn Carrington, a military intelligence analyst with Headquarters and Headquarters Detachment, 716th MP Bn., said the safe alcohol use training resonated with him the most. He watched his friends use the glasses, and it demonstrated to him how dangerous alcohol can be – especially when it involves a vehicle.
"They were supposed to go in a straight line, and they could not walk in a straight line; I mean they were falling over," said Carrington. "They would definitely hurt somebody."
Carrington had some simple advice for anybody who had been drinking and was thinking about driving.
"They need to stay away from driving and call a friend," said Carrington. "Soldiers around here are not off the hook just because we're protecting our country. Anybody who's caught while driving impaired is getting arrested."
One other thing the unit addressed was the value of life. Capt. Mark Smith, the battalion's chaplain, led the training, and he said it could help give a new perspective to the Soldiers and families going through the training.
"Sometimes in life we get stuck and we're not able to pursue the things that bring meaning and value to our lives," said Smith. "By getting some outside information that helps us see what we're doing wrong or how we can do things differently, we can then achieve the goals that bring fulfillment in our lives."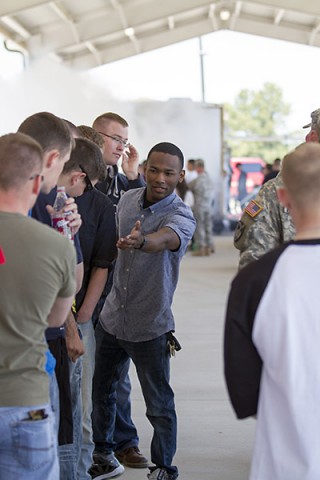 For the training, Smith had participants divided into separate groups facing each other, and they had to work together to reverse their order. Movement rules presented challenges that participants could only solve by cooperating and helping each other.
Called traffic jam, the activity proved true to its name, when at first it would result in the groups getting stuck and not being able to move. With a little outside guidance and teamwork, the groups soon figured it out and bypassed the traffic jam.
"We are going to face hard times and challenges, but with the right support system in place, with the right information, we can get through those hard times and succeed in the things that are valuable to us," said Smith. "By having the Families involved, it reminds us that not only are we a part of our military family but we're all involved in this together."
By having so many subject matter experts on hand, and taking the training out of the classroom, it made the event more effective. By incorporating it into everything the battalion does, safety becomes part of its culture.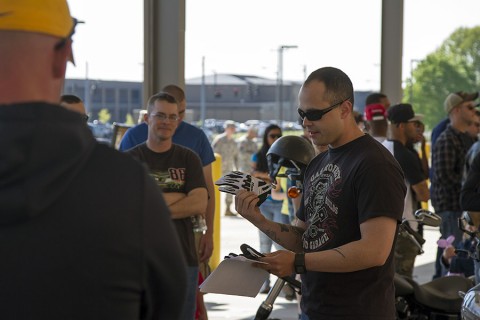 High quality training prevents accidents and keeps readiness high so the unit can provide law enforcement service to Fort Campbell and protect the nation.
"I want safety to be in all of us," said Williams. "In every Screaming Eagle in this battalion, I want safety to be in their blood, to be part of their DNA for the rest of their lives, and not just when they're in the Army."