Clarksville, TN – The 50 Magnificent Men Book Release and Signing Event is one moment in time to be held in Clarksville, TN, Sunday, May 31st from 1:00pm-4:00pm at the Wilma Rudolph Event Center, Clarksville,TN.
The book Magnificent Men compiled by author and visionary Treva R. Gordon, of Clarksville, TN combines 50 stories from men who have each authored their very own chapter to share inside the book Magnificent Men, and each share their personal stories of inspiration and faith.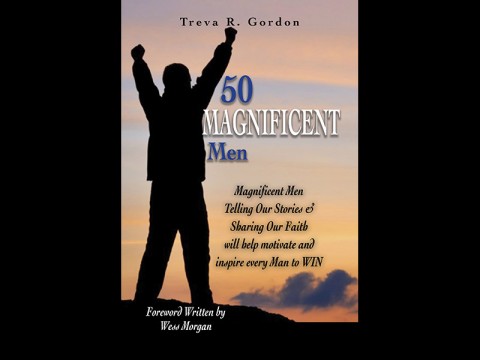 Clarksville Councilman Richard "Reason" Garrett, CEO of Liberated Publishing of Clarksville, TN will publish the book Magnificent Men Telling Our Stories and Sharing Our Faith.
The book signing will kick off with a Red Carpet event from 1:00pm-2:00pm with the live music of Clarksville 's own Groove Therapy. The event is hosted by Comedian DJ Pryor, host of the DJ Pryor Radio Show on WJZM 1400AM, and Dr. Toi Dennis, CEO of Serenity House Women's Shelter.
Authors in the book include: Clarksville Councilman Dr. David Allen, pastor Delbert Brown, actor and recording artist Wess Morgan, actor Cylk Cozart, ambassador Dr. Bobby Jones of B.E.T, Kelvin Braxton of Braxton Photography, Billy Mason Professional Drummer, Damon King Nashville Radio Personality at 760AM, producer Marvin Winans Jr, Pastor Joseph Morgan, Grammy Producer Tre' Corley, Attorney Quenton White, National Recording Artist Joshua Rogers, Meteorologist Lelan Statom, ICM Award Winner Russ Murphy, and many more.
The VIP Red Carpet Reception begins from 1:00pm-2:00pm and will be covered by Entertainment Nashville and Host Adrian Longoria, The Treva and Kevin TV show on WUXP MY TV 30, The DJ Pryor Radio Show on WJZM 1400AM, The Tennessee Tribune of Nashville, TN, CJ's Photography and Talent, and more. The book features authors from all across the 50 United States.
The VIP reception includes appetizers, Meet N Greet and is $7.50 per person. VIP Tickets are available at Queen City College at 1594 Fort Campbell Boulevard, Clarksville , TN , or online at www.TrevaGordon.com . The cost of 50 Magnificent Men is $19.99 per soft and $29.99 per hard bound. We are now accepting pre-orders in advance. To order the book Magnificent Men contact www.liberatedpublishing.com orwww.TrevaGordon.com for book purchase or event information.
Like our event on Facebook @https://www.facebook.com/events/1455005294738614/ for updated photos and information.
Treva R. Gordon, is a veteran of the U.S. Army, and is a graduate of Austin Peay State University. She serves in the community, and is the Publisher of Convenient Shopper Magazine for more than a decade, the Founder of Leading Ladies, Executive Producer and Host of the Treva and Kevin TV Show on WUXP MY TV30, Host of the Treva Radio Show on WJZM 1400AM, and the Founder of Team Purpose a Women's Prison Ministry serving at the Tennessee Prison For Women.
The book Magnificent Men took 14 months to complete and will inspire all to win. The foreword is written by Wess Morgan and the introduction by Robert E. Gordon.
For further details or to sponsor call 409.365.6030.
The following 50+Authors are inside the book:
Adolph Dagan
Minister Alex Young
King Antonio
Billy Mason
Cylk Cozart
Ambassador Dr. Bobby Jones
Carl Gassoway
Coach Sam Smith of T Continental T-Belles Track & Field Club
Councilman Richard Reason Garrett
Damon King
Dr Al Wayne Miller
Dr Gregory Erien W Fryer
Dr. Aaron Chapman
Dr. William Luffman Ginger Luffman
Edward Eick
Pastor Frank Jackson
Tyrone "Hollywood" Brown
Pastor Horace Bracey Charnitric Lavon Cooper Bracey
Jerry Jerry R. Silvers Jodi L. SerinoBarbour-Makarios
John Keith
Joshua Rogers
Kelvin Braxton
Kevin C. Kennedy Kennedy Law Rhonda Kennedy
Lelan A. Statom Meteoroligist News Channel 5
Leroy Hyter
Malcolm Munro
Marvin Winans Jr.
Maurice Johnson
Pastor Anthony Daley
Pastor Dr. David Allen
Pastor Delbert Brown
Pastor Jimmy Terry Tabernacle Missionary Baptist Church Tabernacle Christian School
Pastor Joseph Morgan Yolanda Delmas Morgan
Pastor Luis Reyes
Pastor Shawn Melodie Scott Melodie Scott your Tennessee Realtor
Quenton White
Ralph Payne Laura Wooten Payne
Raymond Bender
The Rick Joyner Experience
Robert Gordon
Russ Murphy
Sean Guerrero
State Senator Mark Green
Shawn Hutchinson
Shedrich Websterr
Steve Sanders
Terry Boykin
Tony Carter
Tre' Corley Shawnel Corley
Christopher Kurtz
Wess Morgan
CJ's Photography & Talent