APSU Sports Information

Jackson, TN – Sophomore Alex Robles, of the Austin Peay State University baseball team, was twice named first-team All-Ohio Valley Conference in a vote of the league's head coaches and sports information directors.
The honors were presented at the annual OVC baseball awards banquet, Tuesday night, before the start of the 2015 OVC Baseball Championship at The Ball Park at Jackson.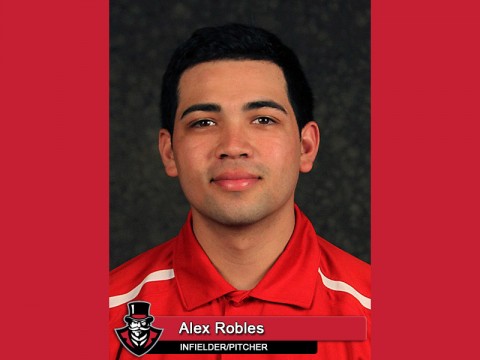 In addition to Robles' double-honor, sophomore second baseman
Garrett Copeland
and third baseman
Logan Gray
were named second-team All-OVC.
Robles, of Tucson, Arizona, becomes the first baseball player in league history to receive multiple first-team honors in the same season. He was named to the first team as both a utility player and starting pitcher.
Robles started at all four infield positions during the 2015 season, served as the team's designated hitter for the bulk of the year and was the Govs' No. 1 starting pitcher during the entirety of OVC play.
In 50 games, Robles made five starts at first base, two at second base, one at shortstop and four at third base. He also compiled 37 starts at designated hitter and made 11 starts on the mound.
Offensively, Robles batted .328 with 12 doubles, three home runs and 39 runs batted in. He compiled a .406 on-base percentage thanks to 21 walks and six times hit by pitch. Robles started all 30 OVC contests, finishing the campaign with a .312 batting average, three home runs and 22 RBI.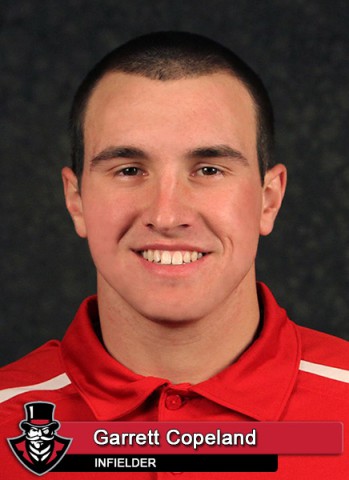 On the mound, the Govs No. 1 starter finished with a 6-3 record and 3.31 earned-run average – finishing third in victories and second in ERA. He ended the year with 84.1 innings pitched – equaling his freshman year output – and had 65 strikeouts while allowing just 17 walks. Robles also made five relief appearances during the year, finishing with three saves.
Robles, who was a second-team All-OVC pick and OVC Rookie of the Year last season, posted a 6-3 record and 3.61 ERA in 11 OVC appearances and amassed three complete game outings in league action. He compiled a 4-2 record against the six teams that qualified for the OVC Baseball Championship, finishing with a 4.01 ERA in those six starts.
Copeland, of Bartlett, was the Govs third-leading batter with a .345 batting average, while posting 15 doubles and 29 RBI. He also led APSU with 36 walks, a .463 on-base percentage and 18 stolen bases. It was a major step forward for the Govs sophomore, who improved his numbers across the board – posting a 117-point improvement in batting average, a 101-point improvement in on-base percentage and a 188-point jump in slugging percentage.
In addition to his offensive improvement, Copeland also made large strides defensively. He finished the year with just three errors in 235 chances. His .987 fielding percentage as a sophomore was 49-point improvement versus his freshman campaign.
Gray, of Leawood, Kansas, may have played just 38 games this season and only 21 OVC contests but made a major impact in that limited time. He led the Govs with a .366 batting average, 14 home runs and tied with Robles for the team lead with 39 RBI. Gray's 14 home runs came in his final 22 games before suffering a season-ending hand injury, April 24th, against Morehead State.
Much like Copeland, Gray improved his offensive output in nearly every way – a 117-point batting average jump, a 143-point improvement in on-base percentage and an impressive 301-point leap in slugging percentage. A semifinalist for the Dick Howser Trophy for National Player of the Year, Gray also led the Govs in OVC play with a .353 batting average, 10 home runs and again was tied with Robles with 22 RBI.
Southeast Missouri starting pitcher Joey Lucchesi was named the OVC Pitcher of the Year. Morehead State catcher Chris Robinson and head coach Mike McGuire were the league's Player and Coach of the Year, respectively. Tennessee Tech designated hitter Ryan Flick was the OVC Rookie of the Year.