Written by Colby Wilson
Clarksville, TN – Over the weekend, news trickled out that the Braves had kicked the tires on Jonathan Lucroy, injured All-Star catcher for the dumpster fire that is the Milwaukee Brewers. And this is not to knock Lucroy – a fine catcher who has proven to be worth his weight in pitch-framing and gap-to-gap power – but rather illustrate how disenfranchised the brass has become with Christian Bethancourt.
Seems odd to already be sniffing around for replacements for the Catcher of the Future after 183 big-league at-bats, yet here we (allegedly) are. Lucroy is 29, Bethancourt is 23. Math says Bethancourt is the play for the present and future. But he's hitting .190 and has ridden pine for much of the season behind A.J. Pierzynski, both because Pierzynski has been raking (13-game hitting streak to start the year, third on the team in hitting at a .281 clip) and because Bethancourt has looked lost at the plate and merely competent defensively.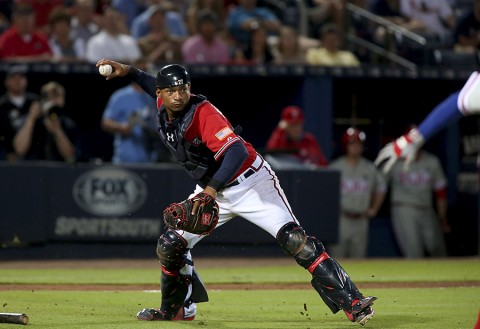 It's the last point that's frustrating because Bethancourt was never supposed to be a machine offensively; all the best projections pegged him as a '.265/15 homer/70 RBI' guy – and that's high-end projections. He was supposed to be a wizard defensively, though, the backstopping answer to Andrelton Simmons. Armed with a howitzer for an arm and a lithe-yet-sturdy 6-2, 205 pound frame, he was a 10-time Gold Glover waiting to happen.
And… maybe? That could still happen. In limited time this season, he's among the league's best in total zone runs by a catcher (3, fifth), defensive runs saved (2, 12th) and defensive WAR (2.4, tied for 15th). Those are good numbers for a guy that's spot-starting every so often.
Those are not the sort of other-wordly defensive shenanigans that can overcome a .188/.222/.275 slash line (destined for a slight improvement thanks to a ghastly .224 BABIP and 23.8 percent infield fly-ball rate, but the weak 12.1 percent line-drive rate won't do him any favors) but if the offense can improve from 'abominable' to merely 'not very good', it's workable.
Ultimately, your level of confidence in Bethancourt probably stems from what he did in the minors and how projectable that is in the future. He's never drawn walks and he's never hit well – the last time his on-base percentage approached above-average was in rookie ball and his best wOBA (or Weighted On-Base Average, which is one of the better catch-all stats for batters) came in 2009. Evidence strongly suggests that he's not very good offensively and he's not getting much better.
But again – he's 23 years old. He was the youngest Opening Day starter behind the plate in MLB this season. He remains one of the youngest players in the league, in one of the most demanding positions. It's impossible to make comparisons of catchers, because it is such a unique spot on the diamond – at 23, Buster Posey was winning Rookie of the Year and Brian McCann was enjoying his second All-Star campaign.
At the same age, Yadier Molina was in the process of hitting .216 and the aforementioned Lucroy was still earning his stripes in the minors. Some guys develop a little later than others – Yadi didn't become a short-list MVP candidate until his late-20s.
I get the concern that Bethancourt may never be a top-tier catcher or even a very good one. I have the same nagging doubts about the subject that no doubt led the John Hart Gang to see if Lucroy was simply available or 'very, very available please help us build for the future' (did I mention that Milwaukee is not very good?) and could eventually see his ouster.
In his brief tenure, Hart has shown no qualms about moving a guy he does not envision as part of the team's future. Hart moved fan-favorites and genuine cornerstones (as we've mentioned at length) – he'll have no problem dealing this guy struggling to hit his body weight if the price is right.
Right now, nothing screams '10-time All-Star' about Bethancourt… but that may have been what the Cardinals were saying 10 years ago about Yadier Molina.
What to Read
The on-again, off-again Juan Uribe deal appears to have gone through (at this writing, anyway), meaning Alberto Callaspo (a poor fit from the word 'go') and Eric Stults, among others, will be heading west and Juan Uribe (antagonist from this clip) and some dude who has had Tommy John surgery within the past 18 months (of course) will be heading to Atlanta. You can read something about it here, but I really just wanted to use this opportunity to wonder why Callaspo – clearly getting DFA'd within the next 10 days because he hasn't been near good enough during his duty – would squash a move to a contender, as he clearly wanted to do early when it looked like he might exercise his signing rights (whereby he couldn't be moved until June 15th since he was signed last offseason). His prerogative, I suppose – kudos to John Hart for getting a guy worth 4.0 WAR the last two seasons for a bunch of rubbish (pending, of course).
Stat o' the Week
I mentioned wOBA earlier and I'd like to revisit it, since the Braves are bad at it. That's a .304 mark as a team, 22nd in baseball, with guys like Jace Peterson (.298), Simmons (.308) and Callaspo (.250) contributing little to nothing to its improvement. This is a long-term issue as well; since 2010, the Braves team wOBA (.311) is 21st-worst in baseball. Of course, coming in 22nd on that list is San Francisco – and they won three World Series titles during that time.
If you only catch one game of the Giants series, make it…
Huddy! Our old friend Tim Hudson – fully recovered after that disastrous and frightening broken ankle at the first base bag a couple of years ago – is doing well for the Giants. He'll be the man opposite #FoltyFriday late from the Left Coast in game two of the four-gamer against San Francisco this weekend.
Complementary Old-Timey Baseball Quote
"Pro-rated at 500 at-bats a year that means that for two years out of the fourteen I played, I never even touched the ball." – Norm Cash, on his 1,081 strikeouts
Best Performance by a former Brave last week
The Pale Bear hit .296 and drove in seven runs thanks to five extra-base hits, including two home runs and two triples (!!!!!!!!) for the best team in baseball aka the Houston Astros aka God's proof that the universe is random.