Nashville, TN – Wayne Rich, of the Tennessee Wildlife Resources Agency, has been honored by the Shikar–Safari Club International as its 2014 Tennessee Wildlife Law Enforcement Officer of the Year.
Rich serves as a wildlife officer in Jefferson County. He was recognized at the May meeting of the Tennessee Fish and Wildlife Commission.
The annual award from the conservation-based organization honors the officer whose efforts during the year display outstanding performance and achievement among TWRA law enforcement personnel.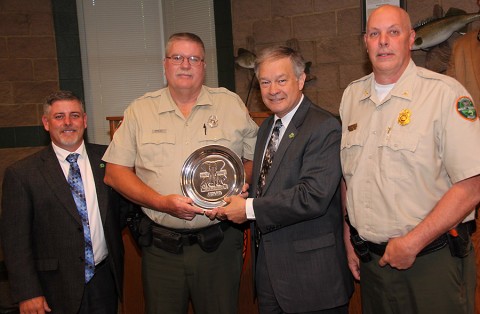 Rich is among distinguished group of officers nationwide to receive the honor.
During his daily activities, Rich inspected 1,382 hunters and fishermen, 280 motorboat operators to determine compliance with the hunting and fishing laws, agency rules and regulations, as well as other pertinent state and federal laws. This resulted in 86 written court citations and 15 written warnings.
He also assisted District 42 officers in 35 other hunting, fishing and boating related cases and court actions. In carrying out his duties on Agency WMAs, access areas and public waterways, Rich encountered several individuals which led to arrests for BUIs and other outstanding warrants. He also worked with other agencies and area district attorney's offices.
Rich worked the annual Appalachian Fair, the Jefferson County Fair, instructed or assisted with various school programs, coordinated a Jakes Day event which was held to introduce youth to the outdoors and was involved in several other annual area events. He also assisted or instructed eight hunter safety courses and five boating education classes which impacted more than 1,000 persons. He also assisted other agency divisions on accomplishing a variety of tasks.
Among his activities in public outreach, Wayne is heavily involved with the Scholastic Clay Target Program. He spent hours mentoring youth at Jefferson County High School. His efforts led the Jefferson County Patriot Shooters to being crowned National Champions in 2012.
Shikar-Safari Club International was founded in 1952 for the purpose of advancing knowledge concerning wildlife of the world, independently and in cooperation with zoological societies, universities and museums. Each year, the club sponsors an award for the Wildlife Officer of the Year in all 50 states and 10 Canadian provinces.