Clarksville, TN – On Saturday, June 6th, 2015, from 7:30am until 9:30am, the Tennessee Wildlife Resource Agency (TWRA) and the Clarksville Parks and Recreation Department will be holding the annual Youth Fishing Rodeo at the Liberty Park pond.
The event coincides with Tennessee's annual Free Fishing Day is Saturday, June 7th when anyone may fish free without a license in the state's public waters.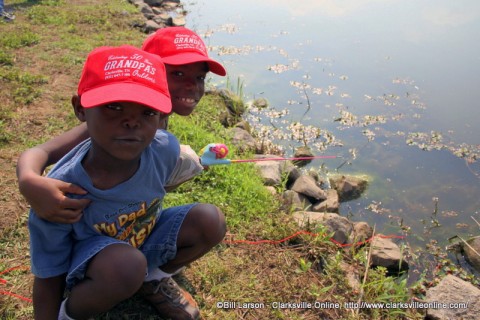 Children from infant to 16 years of age may take part in the event. Registration begins at 6:30am.
The Liberty Park pond is stocked with catfish. Bring bait for catfish and small sunfish. One (1) fishing pole per child allowed for fishing.
This year's sponsors include Grandpa's Outdoors, Walmart and numerous others.
Over 300 youth are expected to attend (300-500 total people).
Clarksville's Liberty Park is located at 1188 Cumberland Drive.
For more information about the fishing rodeo, contact Dale Grandstaff or Jereme Odom at 781.781.6500 or email them at Dale.Grandstaff@tn.gov or Jereme.Odom@tn.gov . Addition information is available at www.state.tn.us/twra/
The Tennessee Wildlife Resources Agency provides the free day in hopes of increasing interest in fishing. The day allows anyone the opportunity to try this great outdoor sport, especially children. In addition, children ages 15 and younger may fish without a license beginning on Free Fishing Day through the following Friday (June 12th).