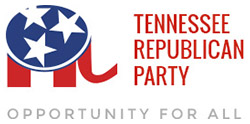 Nashville, TN – The Tennessee Republican Party released the following statements from Tennessee Federation of Republican Women President Linda D. Buckles and TNGOP Chairman Ryan Haynes about Hillary Clinton's latest campaign reset:

Buckles noted, "As a grassroots leader for Tennessee women, I assure you we stand ready to tell the truth about Hillary Clinton's failed leadership. Once Democrats conclude their Clinton coronation, Hillary would be wise not to step in Tennessee. The TFRW and Tennessee Republican women have a long history of turning out voters. With Clinton's dishonesty, ethical issues, and wrong policies, we'll do so again. She's wrong for women, wrong for Tennessee, and wrong for America."

Chairman Haynes stated, "While Democrats are crowning their leader, Republicans are going to have a dynamic conversation about the direction of our country with the most diverse primary in our history. Once we've selected our next Republican nominee, all of us are ready to stop Hillary, especially in Tennessee."
Background
When Hillary Clinton originally launched her campaign, the TNGOP released this statement.
The RNC has placed the ad "Wrong for America" on television and the web across the country.
Throughout the day, the TNGOP will release other statements pointing out Clinton's failed record, dishonesty, and numerous ethical issues. They may be accessed here.
The Republican National Committee recently conducted a poll of independent voters in battleground states that had some key findings applicable across state lines including:
Hillary Clinton is clearly vulnerable and already has a net unfavorable rating with independents.
Hillary Clinton's supposed strength with women is a myth.
The most significant driving factor to Hillary Clinton's perceptual issues is a question of trust.
The TNGOP Facebook page will feature multiple posts throughout the day on Clinton's problems nationally—and in Tennessee.
Sections
Politics
Topics
Hillary Clinton, Linda D. Buckles, Nashville TN, Ryan Haynes, Tennessee, Tennessee Federation of Republican Women, Tennessee Republican Party, TNGOP