Program Will Assist Veterans With Commercial Driving Experience Finding Jobs As Commercial Drivers

Nashville, TN – Tennessee Governor Bill Haslam, Safety and Homeland Security Commissioner Bill Gibbons and Veterans Services Commissioner Many-Bears Grinder today announced the launch of the "Highways for Heroes" program that will help veterans and active military personnel who drove commercial grade vehicles during military service more easily find jobs as commercial truck drivers.
Under legislation passed by the General Assembly in 2013, the road skills test may be waived for qualified military personnel applying for a Tennessee commercial driver license (CDL). Applicants, however, are required to pass the applicable CDL knowledge test.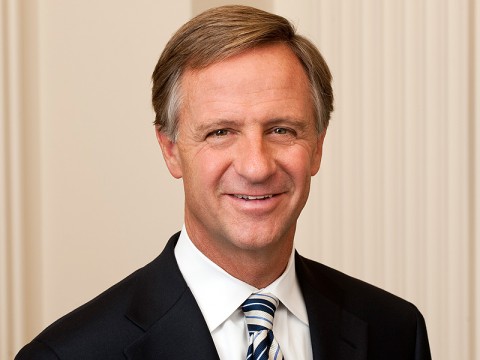 Qualified active duty military personnel who held a military operator's permit within the past two years are eligible for the basic road skills test waiver. This applies to current National Guard and Military Reserve personnel, and veterans who have been discharged within the last year. A CDL is required in Tennessee to operate large trucks and buses.
The Department of Safety and Homeland Security, which issues commercial and non-commercial driver licenses, unveiled two new mobile driver license units that will allow the agency to issue non-commercial and commercial driver licenses (CDL) outside of driver services centers.
The mobile units will be used to help implement the "Highways for Heroes" program as they travel to various locations and veterans' events to issue CDLs. The Department of Safety and Homeland Security and the Department of Veterans Services have partnered to reach as many veterans as possible across the state.
"Tennesseans are proud of their veterans, and this program will help our veterans find quality jobs in transportation and give a boost to the workforce with dedicated and professional workers," Haslam said.
"'Highways for Heroes' will provide veterans who have commercial driving experience an efficient transition into the civilian work force," Gibbons said. "We plan to travel across the state in our mobile units to offer veterans easy access to commercial driver licenses that will ultimately lead to more job opportunities."
"The 'Highways for Heroes' program is an excellent way to honor those who served our country. This initiative will help honorably discharged veterans and retired military find employment in the transportation industry, and provides a convenient process to obtain the commercial driver licenses required for those jobs," Grinder said.
In order to qualify for the road skills test waiver, an applicant must:
Be a Tennessee resident currently holding or eligible for Tennessee driver's license;
Be active military or discharged within the last year. The following documents can be submitted as proof of active or discharge status:

S. Active Duty/Reservist Military I.D. Card
DD-214 (Military Discharge)
Enlisted Record and Report of Separation (WD-AGO)
Honorable Discharge Certificate (DD-256)
Report of Separation and Record of Service (NGB-22);

Be certified by their commanding officer or designee to be in possession of a  military operator's permit, or have at least two years' experience driving the same type of vehicle that the applicant plans to drive with a Tennessee Commercial Driver License (CDL);
Successfully complete the written CDL knowledge exam; and
Possess a safe driving record
The standard $46.00 fee for a commercial driver license applies for veteran applicants.
The Department of Safety and Homeland Security purchased the mobile units through a federal grant from the U.S. Department of Transportation. The grant also funds two examiner positions, travel, and maintenance of the vehicles.
While the mobile units will primarily be used for the "Highways for Heroes" program, they will also be used to issue non-commercial driver licenses during peak renewal times of the year to help reduce the wait times at driver services centers.
For more information on the Highways for Heroes program, please visit http://tn.gov/safety/driverlicense/cdlt2t.shtml
The Tennessee Department of Safety and Homeland Security's (www.TN.Gov/safety) mission is to serve, secure, and protect the people of Tennessee.