Fort Campbell, KY – Campbell Crossing, Lend Lease's privatized military family housing community located on Fort Campbell, is excited to announce that new home improvements are underway.
Heavily focused on legacy homes located in the Barker Court, New Drennan Park, Werner Park, Gardner Hills, Pierce Village, and Turner Loop neighborhoods, the goal is to improve the quality and performance of these homes and better serve the needs of Campbell Crossing residents.
The renovations, which began fall 2014, are expected to be complete spring  2018 and include projects such as kitchen upgrades, flooring, new lighting fixtures, plumbing, new siding, roofing, carport enclosure, interior/ exterior paint and privacy fencing.
"Our focus is on continuing to improve the quality of housing in order to meet the needs of today's military families at Fort Campbell," said Mike Goodwin, project direct for Campbell Crossing. "Through these improvements we will also achieve smarter and more efficient home maintenance. Residents are pleased with the improvements made to date and we are excited to continue delivering improvements over the next couple of years."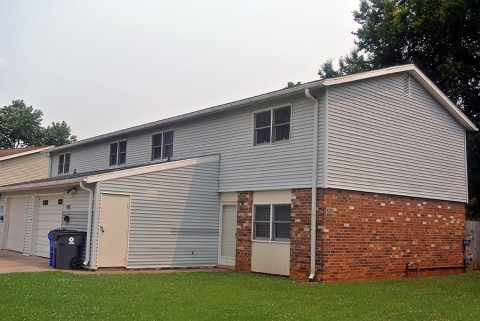 To date, interior renovations have already started in Barker Court, New Drennan Park, and Werner Park. Exterior renovations are underway in Gardner Hills as well as in Pierce Village. Updates in Pierce Village have consisted of new insulation, sheathing, siding, and new energy efficient windows and exterior doors, giving the neighborhood a new curb appeal. Campbell Crossing expects 630 homes to be complete by the summer of 2016.
Residents can expect to see new garages in place of carports in 55 Gardner Hills' homes by this summer, and interior renovations completed in 48 Barker Court homes by this fall. Work expected to begin this year also includes interior renovations on 35 Turner Loop homes, along with privacy fencing upgrades throughout the Campbell Crossing community.
During the renovations, safety is of utmost importance for our residents and workers. Some renovations happen on vacant houses and some will be on occupied houses, but there will be "exclusion zones" set in place including fenced in areas around projects to provide public protection. These areas should be avoided at all times, even if work is not actively taking place.
Front or rear entrances of homes may be restricted when work is occurring directly over them; however they will never be restricted at the same time.  At least two means of entering the home, including through the garage, will be available at all times. Due to use of heavy machinery, some parking and sidewalks may be closed off, but residents will be informed ahead of time of any closures that will take place.
"We know some of this may prove to be inconvenient, but we are doing this to keep everyone safe while we improve the homes and neighborhoods," said John Bredehoeft, Development Manager for Campbell Crossing. "We greatly appreciate the Campbell Crossing community for their patience and understanding during this time. Our ultimate goal is to make these improvements to housing to provide Soldiers and their families with a home they both desire and deserve."
For more information on the upcoming renovations project, please visit www.campbellcrossingllc.com/Current-Residents/Announcments/Community-Renovations