APSU Sports Information

Clarksville, TN – Julian Terrell, a former Vanderbilt standout who has served as the program's director of video operations the last two seasons, has been hired as Austin Peay State University men's assistant basketball coach.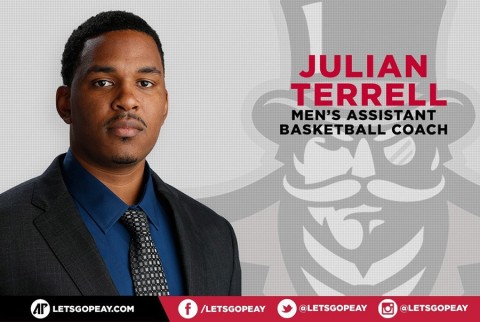 That was announced Wednesday by head coach
Dave Loos
. Terrell replaces
Corey Gipson
, who left last week for an assistant's position at Missouri State.
The 6-8 Terrell, a former Commodore post player from 2003-06, returned to Vanderbilt in 2013 after playing seven seasons overseas in Germany, Portugal, the United Arab Emirates, Belgium, Finland and Kosovo.
"Julian is a very bright young man with a solid basketball background," said Loos. "The fact he played for and worked for Kevin Stallings and his staff at Vanderbilt was very attractive to me. He comes highly recommended.
"His background certainly indicates he will have an immediate impact with our post players but Julian will be involved in all aspects for us."
Terrell will have the opportunity to further develop 6-8 senior center Chris Horton, who averaged a team-leading 13.1 points per game last season while leading the Ohio Valley Conference in rebounding (11.1 rebounds per game).
"I am from Nashville and know a lot of about Clarksville and Austin Peay, a little bit of the history about the program." Terrell said. "For me to get a chance to come up the road a little bit and add to the success of what has happened here is very appealing to me."
From 2003-06, Terrell started 81 games for the Commodores, averaging 7.0 points and 5.1 rebounds per game for his career, shooting better than 50 percent from the floor. He was a starter for a Commodore team that advanced to the 2004 NCAA Sweet 16. As a senior in 2005-06, the post player averaged 10.7 points, shooting 52 percent from the floor, and 7.2 rebounds per game.
The Ezell-Harding graduate was a two-time team Commodore captain (2005-06) and was the 2006 Roy Skinner Award recipient that goes to a Vanderbilt player who "exhibited excellence in leadership, perseverance and performance during his career."
"Julian is a person who understands the value of an education," Loos said. "Coach Terrell will be a terrific role model for our student-athletes. We welcome Julian and his family to Austin Peay."
Terrell graduated from Vandy in 2006 with a degree in Human and Organizational Development and Leadership. In other words, his entire college playing and coaching centered around Vanderbilt until he accepted the Governors position.
Ironically, his first game as APSU's newest assistant coach will be against the Commodores.  APSU will face Vanderbilt, November 13th, at Memorial Gymnasium as part of the Maui Jim Maui Invitational.
"I am happy where I am at—I am looking forward to taking that next step in my coaching career—and I will embrace that," Terrell said, "I have walked into that gymnasium many times for games but to walk in there as an opponent, to be on the opposite sideline will be different—it will be an exciting experience.
"I met with all the players (Tuesday) night. They said to me 'this will be interesting.' I told them 'I hope I have the Vanderbilt scout because I have things about them they don't want other people to know.'"