Austin Peay Sports Information

Clarksville, TN – When Austin Peay State University football team starts the 2015 regular season against Mercer, September 5th, it will welcome fans to the second season of competition at refurbished Governors Stadium and the game day culture surrounding APSU's new home.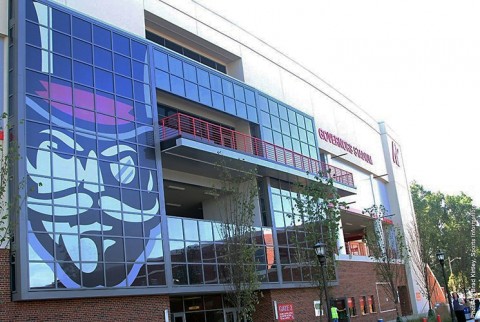 Governors football season tickets are on sale now as well, starting as low as $50.00 for the season with seating locations determined by Governors Club donation level.
The inaugural season at new Governors Stadium featured a sold-out Club Level and prompted a waiting list to help move season-ticket holders into Club Level seats as the come available.
There are two ways to advance on the waiting list – buy season tickets (priority based on number of season tickets held since 2014) and join the Governors Club (priority based on total annual donation since 2014).
It all begins three hours before kickoff when Tailgate Alley opens up for fans of the red-and-white to grill, mingle and party before filing into the stadium. Free tailgating slots are offered within easy walking distance from your seats inside Governors Stadium, aligned on either side of the walkway where the Gov Walk will take place 90 minutes before kickoff. Fans can reserve Tailgate Alley spots by visiting www/LetsGoPeay.com/Tailgate
The home for student tailgating again will be The Gilroy Tailgate Zone within Tailgate Alley. Students and fans can enjoy live DJs. Governors Club members, meanwhile, are invited to an exclusive catered tailgate for each home game.
The Kids Zone at Tailgate Alley, located in the grass near Morgan Brothers Soccer Field, will be available three hours before kickoff, with inflatables and games available for our younger fans.