Clarksville, TN – District Two Patrol and Traffic Officers were dispatched to the scene of a van which crashed into a building at 132 College Street shortly before 1:00pm today, July 22nd, 2015. The first officers arrived at 12:56pm to find that a white Ford van had left the roadway and come to rest partially inside the cinder block building.
At least five of the six family members in the van were injured in the crash, but none of the injuries were believed to be life-threatening.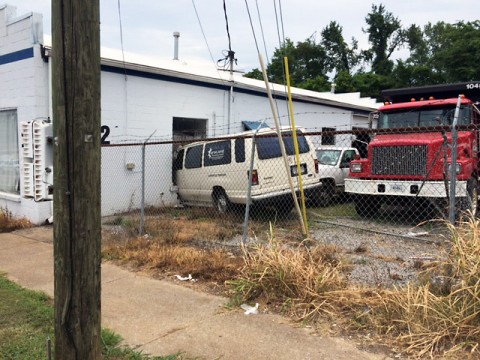 Four teenage sisters in the back of the vehicle received numerous lacerations and some possible broken bones; the mother of the teens, who was the front seat passenger, was also injured. The father was driving.
Malfunctioning brakes are being investigated as a possible cause of the crash.
CPD Traffic Officer Jennifer Szczerbiak stated, "The driver said he tried to use the fence to slow down when he realized he had no brakes." Szczerbiak said that impact with the fence was not sufficient to stop the van, which went on to strike a pickup truck and a dump truck before striking the building.
Clarksville Building and Codes Official David Kimberling inspected the structural integrity of the business and said, "The building is structurally sound with minimal damage except to the impact area."
No charges have been filed at the time of this release; the crash remains under investigation.
Photos