Written by Staff Sgt. Sierra Fown
2nd Brigade Combat Team, 101st Airborne Division (AA) Public Affairs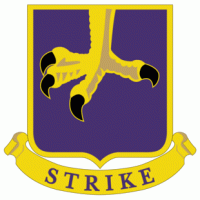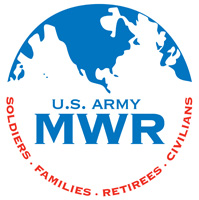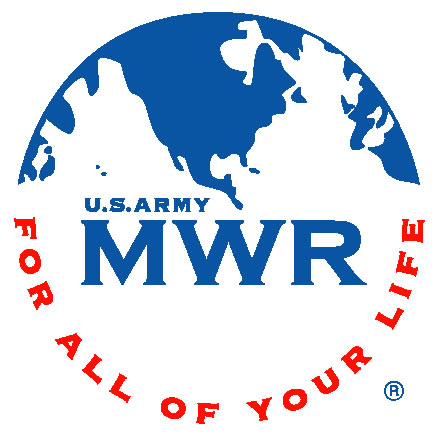 Fort Campbell, KY – Over 200 Soldiers, family members, retirees and community members joined the 2nd Brigade Combat Team, 101st Airborne Division, and Fort Campbell's Morale, Welfare and Recreation for a colorful fun run here Saturday.
A color run is a 5k "fun run" in which participants are blasted with brightly-dyed corn starch throughout the course.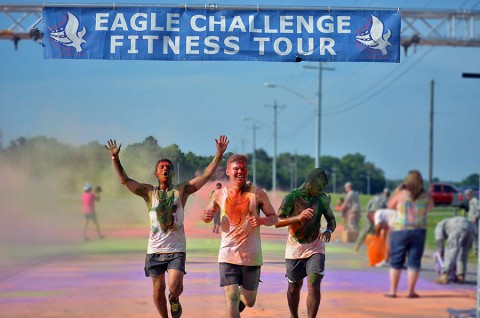 The run was held as part of the Eagle Challenge Fitness Tour, a yearlong series of physically challenging yet fun events to encourage Fort Campbell families and the surrounding communities of Clarksville, TN and Hopkinsville, KY to get active.
"The Eagle Challenge Fitness Tour was developed and designed to promote a healthy lifestyle and resiliency amongst our Soldiers and our family members," said Catherine Walker, MWR special events manager. "It's such a great program because it offers something for everyone. There is something for the Soldier, something for the vets, and something for the children. There are events targeted in a competitive nature and some events are just for fun."
Walker said pressure-free events like the colorful fun run are geared toward those individuals who might otherwise feel intimidated to come out and participate in a 5k. Many of the events in the Eagle Challenge Fitness Tour vary in intensity, so it offers something for everyone, regardless of their fitness level or capabilities.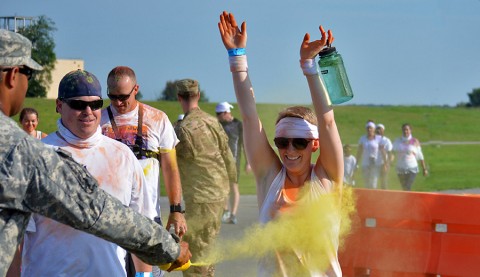 The run kicked off with a warm up where participants clad in white and colorful tutus stretched out to music provided by a DJ on site. At the starting line, 2nd BCT Strike Soldiers were there to blast red, green, orange and blue powders onto the runners as they took off. At the conclusion of the event, nearly all those who started were painted with bright colors and even brighter smiles.
The run, like all of the other events included in the Eagle Challenge Fitness Tour, was open to Soldiers; family members; veterans; and Hopkinsville, Clarksville and Oak Grove communities. Martelles Pierre, a 21-year Army veteran who served with the 101st Airborne Division for nearly a decade, said he tries to partake in as many of the ECFT events as possible.
"It gives me that esprit de corps and comradery that I find myself missing since my retirement," said Pierre. "I can come out here and run alongside Soldiers like I used to do."
Pierre was one of the first runners to complete the race, finishing before his personal goal of under 25 minutes. Pierre is training for the Go Commando run, a half marathon that will take place in October in Clarksville, Tennessee, and is another event featured as part of the ECFT.
Spc. Danielle Cooper, a medic with 1st Battalion of the 506th Infantry Regiment, 1st Brigade Combat Team, 101st Airborne Division, ran with her husband, Michael Cooper of Clarksville, Tennessee. She said the Color Run was the first ECFT event they have done, but look forward to participating in more.
"It's just a great way to spend time with my family and still get out and get a good workout in," said Cooper.
Spc. Ali Karim, Pvt. Andrew Neuman and Pvt. Christian Martinez, all Soldiers with 3rd Battalion, 187th Infantry Regiment, 3rd Brigade Combat Team, 101st Airborne Division, participated in the run to challenge themselves outside of normal physical training done with their unit.
"It helps us keep up the standard, and it's just a fun way to do PT," said Martinez.
For more information on upcoming ECFT events, visit the MWR's website at http://Campbell.armymwr.com