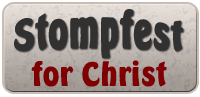 Clarksville, TN – It's back and better than ever! Stomp-fest for Christ! Clarksville and the surrounding areas are welcome to come out and enjoy live music and entertainment at 6:30pm on Saturday August 1st at the APSU Clement Auditorium.
Several churches will use their God given talents to lift up the name of Jesus through various means of entertainment.
The show will start off with live music from the talented gospel diva Dionne Jermia.
She will set the atmosphere through praise and worship with cover songs as well as songs from her latest cd. The show will be hosted by gospel comedienne and entertainer John Keith. Kieth says that he will bring "a nice mix of funny and song to the show".
Other performances that will take place between these awesome and gifted ministries will include a solo dance piece from the talented dance sensation Steven Hawkins, and songs by the harmonious family group New Fortune! New Fortune is a group of brothers that range from 11 to 17 years of age. They are young, but they bring to the table a nice blend of old school and contemporary sounds.
Admission is only $5.00 and you can expect to see a great performance with this awesome line up! These groups are prepared to minister and usher in the praise!
The groups that are scheduled to minister are one of the crowd favorites "Crunk for Christ" from Westgate Christian Center, also blessing the stage again is Garment of Praise from Columbia TN, and for the first time the crowd will be ministered to, and blessed by the Vessels of Faith from Christ the Healer.
The Danzoras de el Reino Ministry wowed the audience last year and is expected to do it again this year. Also performing will be the Littles of the Community Church they have taken their ministry to another level. You can feel the power of God as they minister, and the second mime ministry is "Surrendered Mime", who is sure to bring a powerful anointing to the stage.
The show will have a major impact from the start as the Alpha XI Steppers take the stage and set the tone for the show after the praise and worship segment! The crowd should also be pleased to hear the soulful sounds of local teen talent Mercedes Johnson. She is an awesome singer who has recently released her first single!
This is a show that the entire family can enjoy. Come on out and have a good time. Refreshments will be available to purchase as well as DVD's of the show.
For more information please call 931.614.4193