Austin Peay Sports Information

Lexington, KY – For a third consecutive year, Austin Peay State University's volleyball team was one of a record 146 Division I women's volleyball programs to receive the American Volleyball Coaches Association's Team Academic Awards, Wednesday.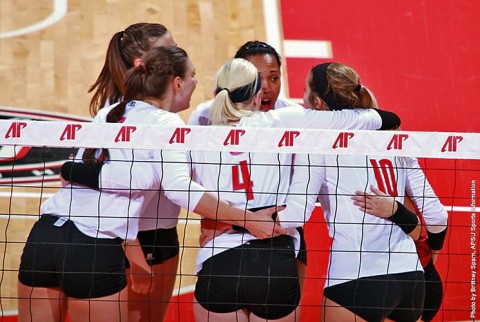 The AVCA Team Academic Award was initiated in the 1992-93 academic year to honor collegiate and high school volleyball teams displaying excellence in the classroom. Teams are recognized by maintaining at least a 3.30 cumulative team grade-point average on a 4.0 scale.
It is the fifth time since 2000 an Austin Peay volleyball team has been recognized, joining the 2001-02, 2003-04 2012-13 and 2013-14 squads.
"Our academic success hasn't been by accident, the team and staff have worked hard to maintain our success in the classroom," said Lady Govs head coach Taylor Mott. "I want to congratulate our players for their performance and thank our academic support staff for their efforts. We look forward to working on winning this award for a fourth straight year."
During both semesters last year, Austin Peay's volleyball team had four student-athletes named to the President's List with a perfect 4.0 grade-point average for the semester. They were part of nine student-athletes named to both the Athletic Director's Honor Roll and the Dean's List.